Global Airport and Passenger Symposium 2019
15th October 2019

-

17th October 2019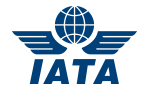 The 2nd edition of GAPS (Global Airport and Passenger Symposium) will address in depth the impact of existing processes in the passenger journey and explore how future needs, trends and solutions will shape the way we travel.
With air travel expected to double by 2036, the industry will not be able to handle the growth or evolving customer expectations with the current processes, installations and ways of doing business. Accommodating growth with even bigger airports will be increasingly difficult – if not impossible.
GAPS has been established to examine the processes that touch the passenger journey, on the ground and in the air, and impact related airport processes and operations. The future passenger journey will not be remiss, and delegates will have the chance to collectively shape future solutions through panel discussions, innovation sessions, and partake in the development of the future passenger journey storyline.
This Symposium will bring together airline and airport executives and managers who cover everything from terminal and ramp operations, baggage operations to security screening as well as government and authority representatives, technology and solution providers.