Cognex Corporation

Cognex Airport Baggage Handling Identification (ABH-ID) Solution
Reading the 10-digit barcode on a bag tag fast and accurately is critical to the operational success of both the airline and the airport. Cognex ABH-ID Solution is the first automatic tag reader (ATR) system that incorporates only image-based barcode readers to minimize luggage processing times and enhance system efficiency. Regardless of bag orientation, tag position and tag degradation, Cognex technology delivers significantly higher read rates than laser-based systems to ensure bags reach their intended destination.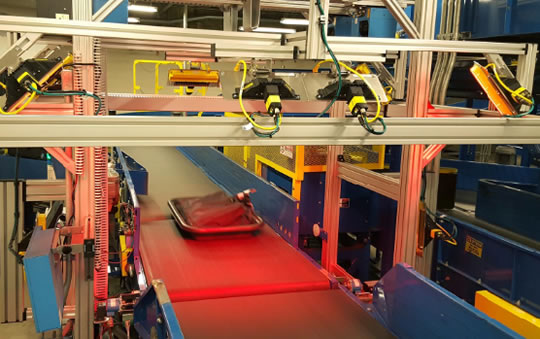 High read rates
The ABH-ID solution features DataMan barcode readers and industry-leading barcode reading algorithms to read damaged tags in the most challenging environments. As bags travel through the baggage handling system (BHS), tags naturally suffer increasing damage and degradation of readability. Cognex technology provides the ability to read difficult tags that would typically be unreadable by laser scanners.
Understand cause of "no reads"
Cognex offers an image-capture feature that acquires full-color photographs of the barcodes allowing users to visually analyze the cause of 'no reads' as bags are processed through the system. System operators also use these images to improve baggage handling practices, hygiene and read rates.
Wide belt coverage
Patent-pending Xpand™ technology increases the field-of-view enabling BHS applications to be solved using fewer readers. This allows airports to simplify project installation and setup time and reduce overall system cost.
IATA compliance
The new International Air Transport Association "Resolution 753" obliges all member airlines to demonstrate the acquisition and delivery of baggage at points throughout baggage journey. Cognex barcode readers, including the MX-1000 vision-enabled mobile terminal, quickly and accurately read damaged tags. Fewer 'no reads' increases total system efficiency, reduces manual intervention and improves customer satisfaction through fewer bags missing their flights.
Cognex is proud to be an approved partner of the following airline industry consultants:
BNP Associates, Inc.
Vic Thompson Company (VTC)
CAGE, Inc.
Logplan, LLC
JSM & Associates, Inc.
Swanson Rink
AECOM
Studdiford Technical Solutions, LLC
Cognex is a leader in image-based barcode readers for logistics, airport baggage handling, retail distribution and parcel/postal and offers solutions for many applications such as those used in automated sorting, hand sorting, and bulk sorting. By leveraging the power of machine vision, an image-based system offers visual performance feedback for review of data, and has no moving parts which results in greater product life and reliability.