Vanderlande Industries

Vanderlande Industries – Airport Check In Equipment, Baggage Sorting Systems, Hold Baggage Screening
Vanderlande Industries is among the world's top three suppliers of Airport Check-In Equipment and Baggage Handling Systems. Providing fast, safe and robust security screening, storage, sortation and transportation of departure baggage from check-in to departure gate, as well as transfer and arrival baggage.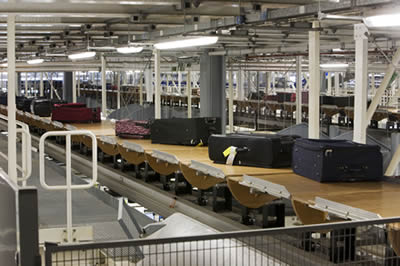 Vanderlande Industries offers all available baggage handling technologies including integration of robotics, from concept analysis and design to long-term services including Operations and Maintenance. These enable airports to effectively address the pressures on cost, handling quality and security, as well as to deal effectively with increasing passenger numbers and baggage volumes.
Airport Check In Equipment
Vanderlande Industries offers a range of modular airport check-in equipment that are thoroughly proven in service. More than 4000 check-in units have been supplied to airports around the world. Conventional manned check-ins of various designs as well as baggage drop-off kiosks and self check-in systems have been implemented successfully. Vanderlande Industries check-in solutions enable rapid and efficient movement of passengers and their baggage, with special attention for ergonomic, passenger-friendly operation and styling that unobtrusively matches airport architecture.
Hold Baggage Screening
Vanderlande Industries knows that Hold Baggage Screening is more than just a few screening machines. Therefore at Vanderlande Industries we offer a concept, which ensures all baggage is safe by integrating the screening machines in the overall baggage handling system. This results in an efficient workflow and acceptable life cycle costs while maintaining the passengers' safety and ease of use.
Airport Baggage Sorting Systems
For sortation of all kinds of baggage, Vanderlande Industries offers a wide range of Airport Baggage Sorting Systems and technologies varying from vertical sorting by the VERTISORTER or lift or horizontal sorting by a VERTIBELT, parallel pusher or VIPER. For sorting with higher capacity needs the HELIXORTER tilt tray sorter is the perfect solution. The BAGTRAX and TUBTRAX DCV systems offer the ultimate in high speed and high capacity baggage sorting. Finally Vanderlande Industries offers the innovative BAXORTER loop sorter, especially designed for small and medium sized airports. However terminals of large airports can also take advantage of this system which is based on the proven technology of the TRIPLANAR carousel of which over 1,000 units have been installed.
Baggage Storage Systems
For transfer baggage or baggage which has been checked in early, our Baggage Storage Systems for temporary storage is a very effective solution. This baggage can be retrieved from its temporary storage based on departure time or priority. Storage capacity is designated to be one of the most important parameters. Vanderlande Industries offers a wide range of manual or automated storage concepts using carts or containers, belts, TUBTRAX, BAGTRAX, or the BAGSTORE Automated Storage and Retrieval System.
Airport Baggage Claim Conveyors and Carousels
By making optimum use of the available space the ultra silent Baggage Claim Conveyors and Carousels of Vanderlande Industries offers the highest possible efficiency. We offer a variety of flat or tilted systems, such as TRIPLANAR, EASYCLAIM or CRESPLANAR. These systems can have different finishes, adjusted to the situation in the arrival area.
Baggage Handling Software and IT
Vanderlande Industries offers a standard solution through the Vanderlande Industries Baggage Execution System (VIBES) software; this Baggage Handling Software enables the complete operational management of Baggage Handling Systems. VIBES is a flexible and modular solution.
The VIBES.SAC (Sort Allocation Computer) module ensures smooth operations of the basic tasks like sorting, EBS management and flight preparation.
VIBES.BPI (Business Process Intelligence) provides insight in the process performance of all Baggage Handling Systems.
This enables:
• a decrease of corrective service needs;
• an increase of preventive service and maintenance possibilities;
• reduction of operating costs.