It is just over two years since Istanbul Airport officially opened its doors to passengers, bringing with it one of the world's largest airport terminals and the potential to expand capacity to up to 200 million passengers per year, with six runways. The 1,400,000m2 terminal currently has capacity to handle 90 million passengers per annum, with three independent runways. 
The airport opened in October 2018 to great fanfare. The construction phase took just 42 months and created jobs for almost 200,000 people. According to the Istanbul New Airport Economic Impact Analysis report prepared in 2016, the economic value created from airport-related activities in 2025 will correspond to 4.89% of the GNP.
Kadri Samsunlu, CEO and general manager of iGA Airport Operations, the operator of the airport, says, "Istanbul Airport is the largest infrastructure investment ever put into practice in the history of the Republic and the most significant economic asset of our nation. The airport is a key player in airport quality standards and offers many unique features: first, a geographical location that is perfect for an international hub, reaching 141 destinations in Europe, Asia and Africa, where 1.5 billion people live, in less than three hours."
According to Samsunlu, the first full year of operation went extremely well for Istanbul Airport, with the hub handling approximately 52 million passengers in 2019. "2020 also started off pretty well for us," he says. "The performance of the airport in the first two-and-a-half months of the year were in line with targeted growth. We were forecasting almost 10% growth in passenger numbers in 2020 compared with 2019. We were looking forward to a very strong summer, but unfortunately because of the Covid-19 pandemic all these plans went down the drain."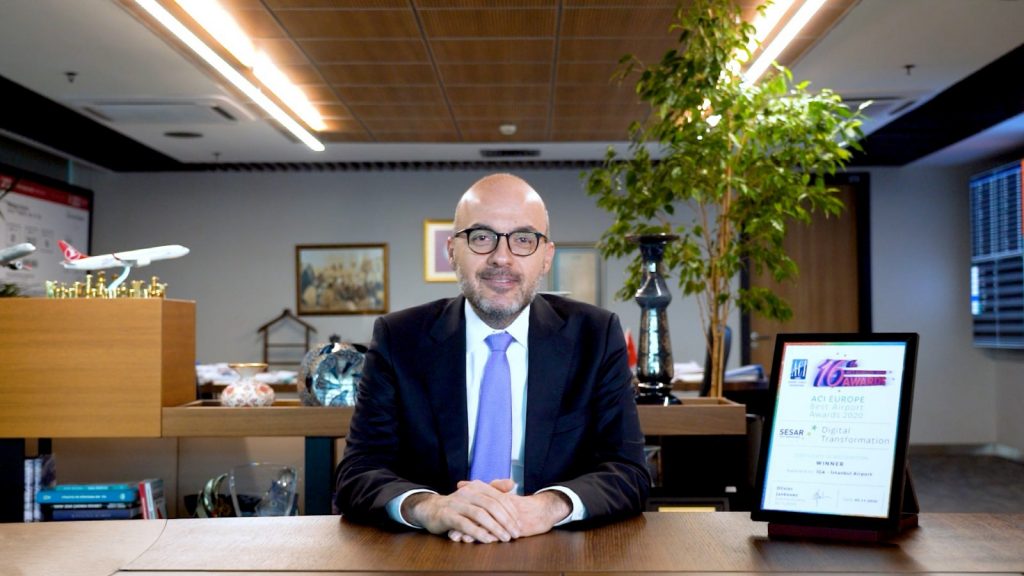 The Covid impact
Like most airports around the world, Istanbul saw passenger volumes decline sharply in March, and then experienced almost "zero volumes in April and May, except a few repatriation flights and cargo business", adds Samsunlu. "The domestic side of the business recommenced at the beginning of June, between Istanbul and various other cities in Turkey, but this still isn't back to pre-Covid levels." 
At the time of this interview (September 2020), Istanbul was serving around 500 flights per day and between 65,000 and 75,000 passengers a day. "We expect that these numbers will continue like this until the end of the year. I would be very happy if we even see around 90,000 passengers a day. This corresponds to just 50% of 2019 passenger numbers," he adds.  
To keep costs down at the airport, the team is actively managing its facilities and volumes. "We need to keep costs under control," says Samsunlu. "The terminal is very big and at the moment we are only using half of it. Some retail and F&B outlets are closed due to low demand, for example. Due to this and the fact that we have fewer passengers and aircraft, our business model has taken a big hit financially.
"Having said that, our revenues are still good enough for us to pay our operational expenses, which is an important part of our financial obligations in the concession agreement we have to run Istanbul. We are currently not receiving any financial support from the government. However, we are closely monitoring the situation because we need a fast recovery from this pandemic for us to be able to reinstate our revenue flows and continue to fulfill our obligations."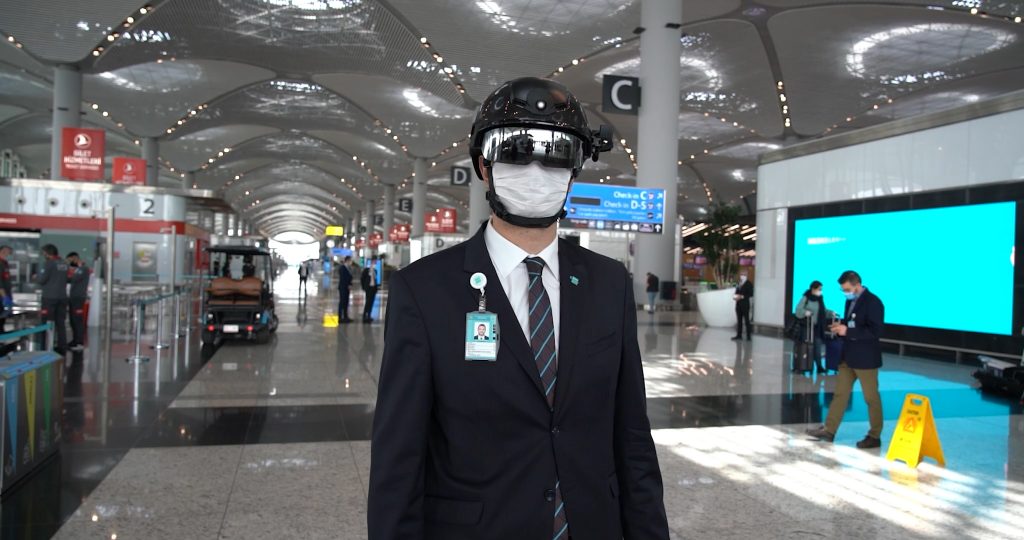 In addition to closing half of the airport terminal, Istanbul is implementing significant cost-cutting measures, such as rescheduling capital expenditures and only carrying out the most important projects – the third runway being one of them. "We are very lucky that almost 95% of our investment was already completed before the pandemic hit. Our infrastructure is very new, which has put us in a good position to tackle the pandemic. For example, we are benefiting from very low maintenance and repair costs at the airport," Samsunlu explains. 
He also points out that there is no need for the airport to carry out any capacity investments as the hub currently has more than enough space. "The airport can handle 2,800 air traffic movements per day, which is almost 2.2 times more than the highest movements seen in 2019. Therefore, there is abundant capacity on the airside."
Airport recovery
For Samsunlu, the only way the aviation sector will recover from the Covid-19 pandemic is through a collaborative and standardized approach worldwide. "We need to have a permanent solution for the sector to recover," he says. "The only way out of this is either through a vaccine or if Covid-19 suddenly lost its negative impact on the human body. Otherwise, whatever measures or actions we take within airports are only short term."
For now, Samsunlu believes that short-term measures need to convince passengers that traveling is safe and reliable. "Unilateral travel restrictions and very unclear perspectives on how to lift travel bans are the biggest hurdles we face right now," he says. "We need a consistent global approach to lifting travel bans. Unfortunately, this is not happening right now. Even within the EU there are lots of different noises about how to manage the pandemic and open borders again. I also find quarantine measures very discouraging. They are killing the sector. I believe countries should refrain from implementing quarantine measures. People don't want to travel if they don't know what they will encounter when they come back from their destinations. 
"We need to build travel confidence again, and rather than quarantine we need to push more testing facilities inside the airports. There should be a global plan of travelers taking a test before they board a flight, so we know they are safe to travel. I think all the players in the sector, including the airports, airlines and authorities, are doing their very best to accommodate passengers and build their trust in using our facilities, but the uncoordinated approach around the world and the different standards imposed by different countries are creating confusion and uncertainty in passengers' minds. This will slow down the recovery." 
A modern experience 
Despite the Covid-19 restrictions and challenges, Istanbul has continued to gain attention around the world thanks to its modern, passenger-friendly infrastructure. In November, for example, the airport won the Digital Transformation Award as part of the 16th ACI Europe Awards. The award is an initiative of the SESAR Joint Undertaking in collaboration with ACI Europe and recognizes a European airport that has embraced digitization and adopted innovative technologies and procedures to improve the safety, capacity, efficiency and environmental footprint of its airside operations.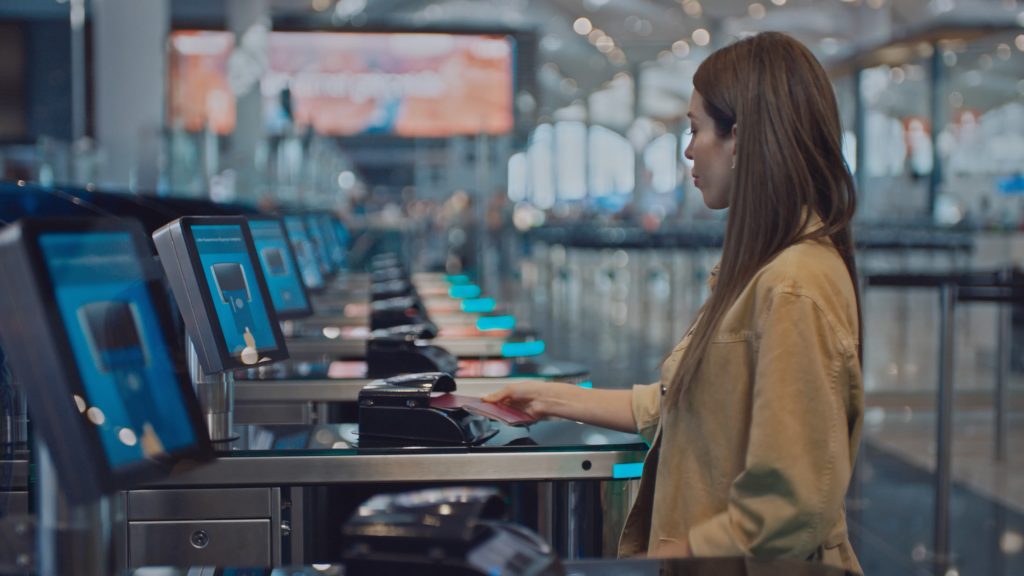 "We have placed digitization and technology at the center of Istanbul Airport from the very beginning," explains Samsunlu. "We offer our passengers a unique digital journey experience thanks to the smart solutions that we provide. To increase the speed at which we carry out digital integration, we plan to boost airport management to 'technological management' in the near future. The first step of this process will be a digital wallet application, followed by a commercial platform called 'ist-buy', which will be a marketplace for the airport. All of our outlets within the airport will have the opportunity to market their own products on the platform, and it will hopefully act as a remedy for the negative impact Covid-19 has had on our retail revenues.
"We will also be looking to implement more contactless solutions. This can all be done using biometrics and our app. One example is using facial biometrics to do shopping. Additionally, thanks to our AI-based smart chat system project, we will provide our passengers with instant notifications at the airport and have the opportunity to provide 24/7 support." 
Istanbul Airport is also using AI to better track passengers and ensure that overcrowding does not occur within the terminal. "Data analytics and AI are being used to improve passenger flow," Samsunlu continues. "We are able to carry out density analyses through artificial intelligence in check-in areas, restrooms and prayer rooms, for example. Thanks to the use of IoT sensors, we can see the degree of density in all parts of the airport and manage our teams and resources accordingly. 
"I wholeheartedly believe that success as an intelligent, sustainable and people-focused airport is subject to passenger satisfaction. Keeping such satisfaction sustainable, on the other hand, requires proper and effective exploitation of the opportunities the digital world offers us, by taking it, from time to time, beyond the edges of our imagination."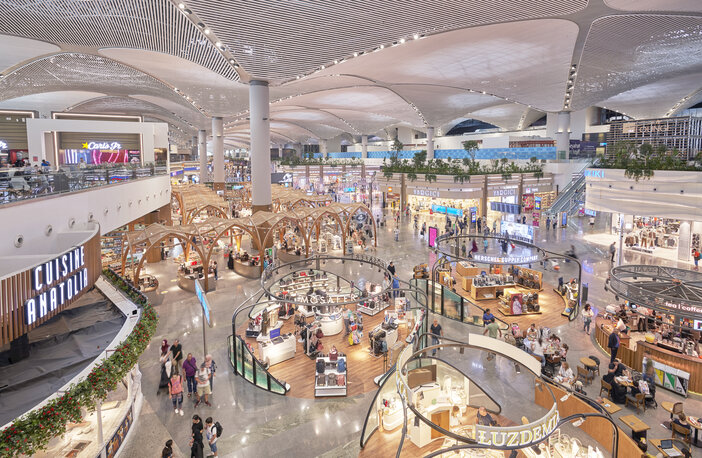 The future
Istanbul Airport was developed with passenger experience at its heart, and it continues to implement solutions that assist all kinds of passengers. In July 2020, for example, the airport launched a Privileged Service for passengers aged 65 years and over. As part of this service, passengers receive fast-track and buggy services free of charge, and discounts on other services such as meet and greet, lounges and sleep pods.
"Catering for passengers over 65 is very important to us because our terminal is very big and it can be difficult to navigate," says Samsunlu. "We want to make their journey as hassle-free as possible. We are also prioritizing families with children and we are at an advanced stage of creating five playground areas at the airport."
Istanbul Airport is also focused on creating a clear sense of place for its passengers. Retail outlets are a mixture of international and local brands. The Bosphorus Zone, for example, was inspired by the narrow natural strait of that name that runs through the middle of the city of Istanbul. "We also want to ensure our staff greet passengers in the best way possible and create a traditional Turkish greeting when they arrive at the airport," Samsunlu explains. "With this in mind, we are providing all employees with extensive training in customer service. And we have opened a 1,000m2 museum airside, which gives passengers the chance to experience our culture and history while they are with us."
Samsunlu admits, however, that passenger experience has changed due to Covid-19. "Trust and confidence now make up the best passenger experience," he comments. "Building these up needs to be part of every airport's business model right now."