In a push to further drive digital transformation in the aviation industry, Siemens Postal, Parcel & Airport Logistics (SPPAL) has opened a new innovation hub, referred to as the MindSphere Application Center, in Dubai. The focus of the center is to create innovative digital tools to simplify passenger processing and increase convenience.
The center in Dubai is part of a larger global network of 20 MindSphere Application Centers, each focusing on a particular industry. In total, some 940 software developers, data specialists and engineers work on digital solutions at the centers. For many customers, they are an initial point of contact to explore digital solutions and further drive the digital transformation in their organizations. When it comes to airports, a focal point has been on keeping operations running dependably.
Smart maintenance
It goes without saying that airport infrastructure is complex. For smooth and seamless operations, all physical assets – whether buses, tank trucks, elevators or baggage handling systems – have to function dependably. Essential here is regular maintenance – or in the ideal case, a predictive maintenance strategy in which activities are implemented before any breakdown or damage can occur. Taking this a step further, service work is only carried out when necessary. The chance for unexpected downtime is kept to a minimum. Thanks to digitization and the work of Siemens engineers in Dubai and beyond, such a maintenance approach is possible today.
A case in point is the maintenance of baggage handling systems. SmartTray, part of SPPAL's VarioTray portfolio, is an innovative tool for the automatic inspection of tray systems. When data from VarioTray is combined with data from other sources within the system, such as vibration sensors, noise pattern recognition and motor power analysis, proposals for predictive maintenance can be made. Advanced Service 4.0 solutions like this one are based on MindSphere, the cloud-based, open Internet of Things (IoT) operating system from Siemens.
Exactly what customers need
Co-creation plays an important role with MindSphere apps and the approach taken by the MindSphere Application Centers: "Siemens invites customers to work together on new solutions as co-creation partners," said Khaled Nabli, head of the MindSphere Application Center in Dubai. "In this way, we develop applications that are tailored exactly to their requirements. That adds maximum value and gives customers a significant competitive advantage. And for us, we gain a deeper understanding of market needs."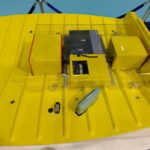 Siemens has already established partnerships of this kind with airlines and airport operators like Munich, Dubai, Hong Kong and Bengaluru, many of which aim to simplify maintenance. Another focal area is to use big data strategies involving multiple stakeholders to increase passenger comfort, for example by obtaining a holistic view of each baggage item through continuous baggage tracking, as called for in IATA Resolution 753. An intelligent application developed at the center in Dubai provides real-time baggage tracking along the complete journey. The solution helps to reduce mishandled bags, enhance baggage handling processes, and improve the overall passenger experience.
Digitization is gaining more and more momentum in airports and airlines and revolutionizing entire processes. Moreover, it is enabling collaborative decision-making. By using data intelligently, SPPAL and the MindSphere Application Center in Dubai are opening the door to Aviation 4.0. The result: smooth and seamless airport processes and an enhanced passenger experience.