Daniel Ruggiero, a specialist in airport planning and design, puts forward his argument for a new system of mobile boarding rooms to help airports cope with increasing passenger demand.
Global demand for air transportation is increasing steadily, with passenger numbers growing year-on-year by 7.5% in 2017. Airport operators must expand their terminals to accommodate this growth, but the challenge is doing this without impacting operations and passenger experience.
It should also be kept in mind that not all airport terminals are flexible enough to be expanded and operators sometimes have to build an entirely new passenger terminal building to meet demand. In these cases, these buildings operate autonomously, with the added complication of connecting flights that involve the transport of passengers from one terminal to another.
There is, however, an alternative for airports looking to meet the capacity demand – mobile boarding rooms. This system would enable airports to increase their capacity for short periods of time, such as peaks in seasonal demand or for special events. They are not intended to replace medium- and long-term expansion projects, but can help increase the capacity of boarding areas in the face of an increase in demand not foreseen in the airport's masterplan.
Mobile boarding rooms also provide a solution when there is not enough capacity during expansion works, enabling airport operators to provide sufficient capacity with minor investment.
Passengers would be processed through the main airport terminal as usual, then enter the mobile boarding area and be transported to the aircraft for embarkation. The only requirement for the use of this system is to have sufficient space on the airport apron for the mobile boarding vehicles to move freely to the aircraft, and for them to be stored when not in use.
The new proposal is to create a system of mobile pre-boarding rooms that can be installed in remote positions on the airport apron. Each mobile unit will connect with the aircraft through a telescopic bridge – similar to those used in mobile lounges – and it will be possible to use the units independently or in groups of four with a central service module. Passengers would enter via this central service module and then use the stairs or elevators to access the pre-boarding rooms. The central module will include commercial services, restrooms and two airline offices.
Each pre-boarding module will be able to service aircraft with up to 210 seats, such as the Boeing B-737 and B-737 MAX and the Airbus 319, 320 neo and 321 neo. For widebody aircraft, operators could use two modules to accommodate more passengers, although the telescopic bridge and aircraft service platform would need to be modified, so this proposal is currently only for the smaller aircraft mentioned.
In the event that a single module is used, and the central services module is not required, access to pre-boarding system would change. A bus would be used to transport the passengers to the mobile boarding room and passengers would access via a covered walkway. Once all the passengers have entered the mobile unit, it would be raised to the aircraft level for boarding.
There are two types of construction methods proposed for the mobile units – Alternative A and Alternative B. Alternative A would have two sub-modules that include the seats and can be transported using a 'scissor' lift, and a telescopic boarding bridge transported using ramp equipment. The dimensions of each sub-module are 20m x 7.5m (65ft x 24ft) that can be folded down to 20m x 2m (65ft x 6ft) for transportation.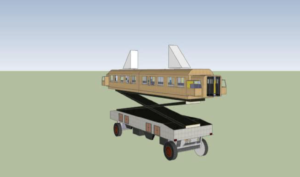 Alternative B uses three sub-modules that are fixed to a central structural core, into which the telescopic boarding bridge is inserted. The central core would be made up of roof, floor and side panels that are unfolded using hydraulic cylinders, and swing doors are used to separate the airside and landside. The internal equipment such as the seats are included in the panels and can be retracted when the system is not in use. The central core would be transported using the 'scissor' lift and the whole unit would measure 20m x 18m (65ft x 59ft) including the telescopic boarding bridge, with an internal height of 3.5m (11.5ft). The benefit of this system over Alternative A is that all the elements needed for mobile boarding would be contained in one unit.
Conclusion
Passenger numbers continue to grow at a faster rate than the capacity airport operators can offer, so this new approach to providing immediate capacity could result in a significant improvement in the quality of services provided to passengers and airlines with minimal disruption.
Further developments could be to introduce check-in and baggage clearance systems within the mobile units that can be performed autonomously by the passenger, as well as biometric security controls that remove the need to queue. The systems could be replicated in old infrastructures such as Air Force bases, providing further capacity options for airport operators in times of increased demand.