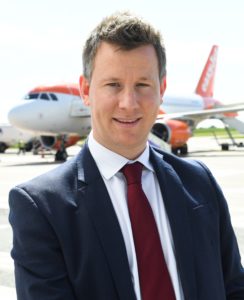 Jonathan Pollard, chief commercial officer, London Luton Airport, provides an insight into how airports can maximize the value from their retail offering by providing an experience passengers won't forget
If you pick up a newspaper or turn on the evening news on any day of the week, you'd be forgiven for thinking that the retail sector is doomed. Each day seems to bring news of another major retailer entering into Company Voluntary Agreement (CVA), or announcing swathes of job cuts.
However, while many traditional high street brands continue to grapple with the combination of rising business rates and declining footfall, the reality for travel retail is almost polar opposite, with the sector experiencing a significant and ongoing upturn.
Indeed, we've seen an increasingly strong focus on airport and travel retail by the major brands, with many reporting revenues that out-perform the equivalent units on the high street. Take WH Smiths, for example, which saw sales across its travel retail portfolio grow by 7% last year.
The situation at London Luton Airport (LLA) is no different. We have seen a strong and consistent uplift in sales per passenger in recent years, which has been aided by the significantly expanded provision of additional retail and catering units (a 140% increase in available commercial space) as part of our major transformation program, which will soon complete. Doubling the retail and dining space is a central component for the new LLA experience, providing a widely varied offering that best meets our customers' needs.
Recent notable openings at LLA include our new Chanel standalone unit, a global first in travel retail for the brand; Oliver Bonas has opened its first ever airport store; and we'll shortly be announcing a very exciting concept for our second Executive Lounge. In total, we've welcomed over 20 new brands to the airport so far, with further openings due before the end of the year.
However, key to LLA's commercial success, or indeed any other airport, is not simply ensuring we have lots of brands open and trading. In the same way that high street operators are focusing much deeper on the overall retail experience, the same is very true of airports. It has become increasingly common for airport retailers to offer experiential promotions in stores, or food and drink tastings, as a way of encouraging shoppers to linger a while longer, ultimately stimulating interest that then converts into a sale.
Having spent a significant amount of time since arriving at LLA better understanding the emerging trends within the airport retail sector, there appears to me to be a number of ways that airports can continue to drive further value from their retail offer.
My first observation is that there is an increasing need for airports to focus on using online channels to allow passengers to browse, research and buy, even when they are not physically within the terminal environment. By creating an 'intention' or 'interest' to purchase in advance of arriving at the airport, airports can achieve a greater concentration of potential spending passengers, similar to how online businesses use tailored and engaging content to draw in highly relevant and engaged customer traffic.
Secondly, airports must ensure that their retail offer tightly aligns with the needs of the passenger, and recognize that these needs change based on the time of day, day of week, and even the week of the year.
For example, at LLA, we're currently developing a food and beverage offer that seamlessly shifts throughout the day, from croissants and pastries first thing in the morning, through to sit-down meals and wine in the evening. Not only does this recognize the changing consumption habits of an individual, but also their potential willingness to spend (and on what), across the day.
Similarly, airports must make an effort to help people find what they're looking for. Our long-term goal at LLA is to ensure that all customers who pass through the airport do so having been wholly aware of the full retail and catering offer available to them on their way to the gate. If we can't do that properly, then we're consciously limiting potential spend.
Finally, airports shouldn't underestimate the value and potential of data. By paying meticulous attention to analyzing sales data, identifying trends and taking relevant actions, the available rewards are huge.
Airports really are a unique environment, for which the starting volume (that is, the number of departing passengers) is already known. This presents a huge advantage in the form of clarity on the total opportunity, meaning that the focus then centers upon harnessing available data to improve conversion rates and increase sales volumes.
This is a tremendously exciting time for airport retail. Continuing to better understand and meet customer needs, remains the fundamental principle for driving ongoing success.