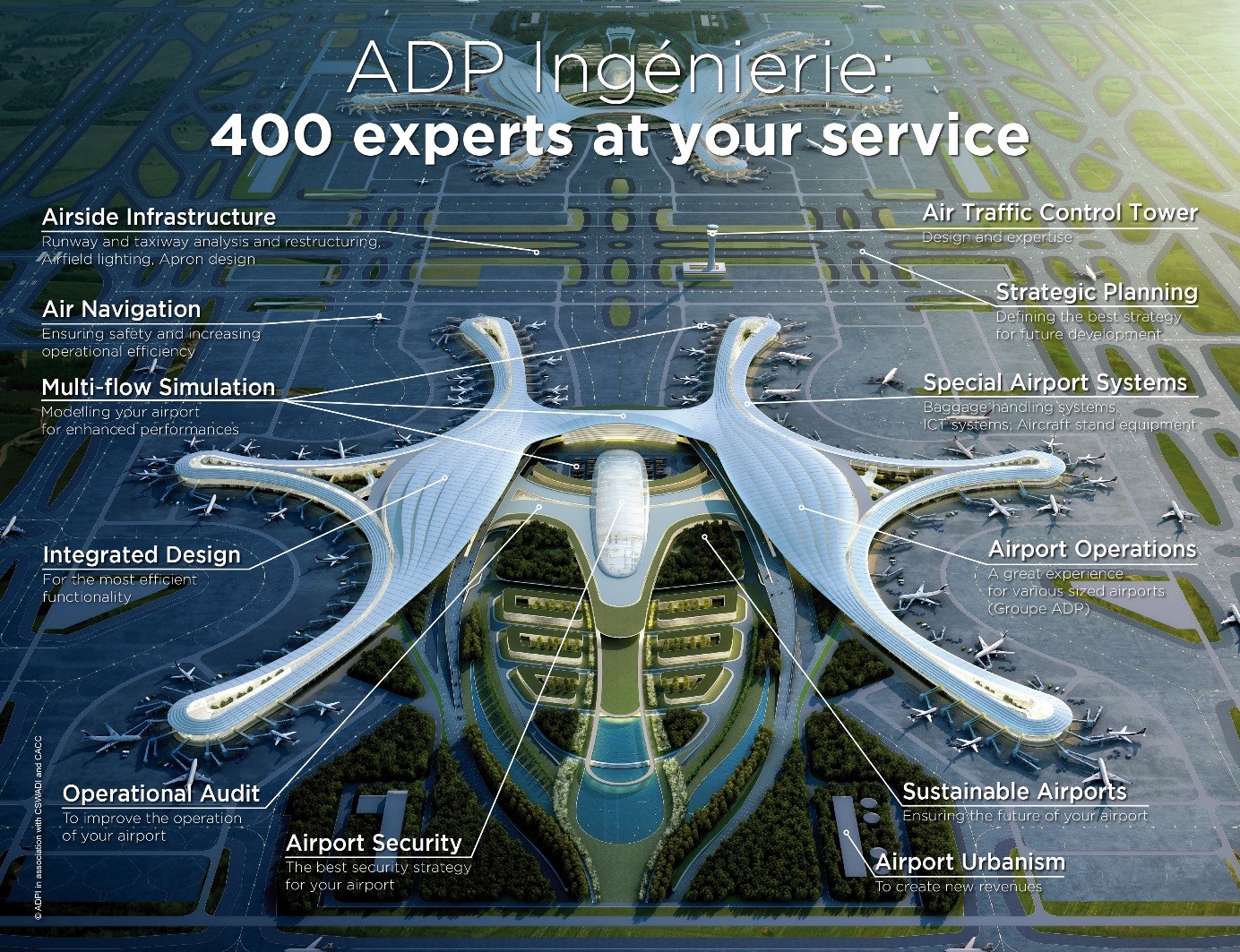 ADP Ingénierie, a Groupe ADP subsidiary, is a French engineering company that carries out consulting and engineering activities, worldwide, in relation with the development or the improvement of any type of airports' infrastructures.
ADP Ingénierie is one-of-a-kind among its competitors, being a true solution provider, 100% dedicated to airports and providing 360° expertise to its customers.
With 420 employees of 46 nationalities, working in 19 countries, and currently involved on more than 140 projects, you can be sure that ADP Ingénierie is never far away from your doorstep or from your expectations!
With a clear understanding of the issues and trends, ADP Ingénierie is able to anticipate the expectations of its customers and to offer innovative solutions. Proud of its history, and rich of more than 750 references, ADP Ingénierie is resolutely turned towards the future, promotes innovation in all areas and paves the way for the airport of tomorrow.
Experts at your side
ADP Ingénierie can mobilize a great variety of expertise. Either collectively on a comprehensive project's scope or individually in the framework of technical assistance or consulting missions.
Whatever the problem that an owner or an operator faces, ADP Ingénierie can provide technical assistance:
To elaborate a strategic plan, traffic studies, a business plan; to select a new airport location;
To propose technical solutions or solve issues relating to the design of an airport infrastructures, BHS, air navigation systems, safety, IT;
To improve operations and efficiency (optimize, upgrade, follow-up of the evolution of regulations…) of an asset.
The ADP Ingénierie partnership approach applies not only during project's development phase, but also "upstream" and "downstream", being able to assist clients in defining projects and programs at the very early stage, and to stay present at the client's side during operations or modernization phases.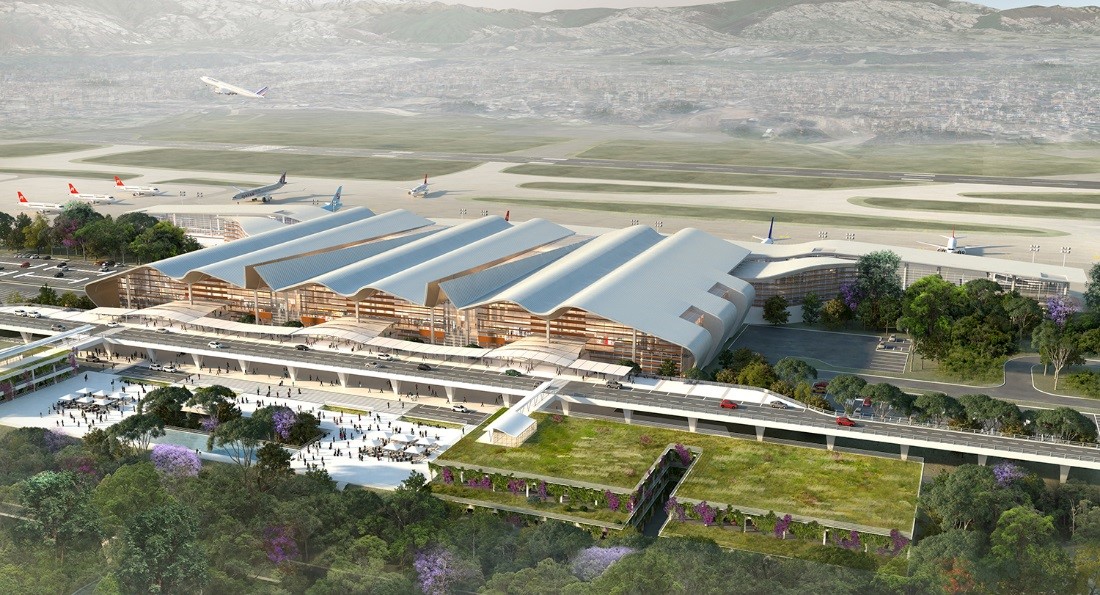 View of the future international passenger terminal of Katmandu airport
Taking into account what is specific to an airport or to a country
The company's trademark relies in its capacity to take into account all specific aspects of a project such as environment, history, architecture, culture, to address all functional aspects and integrate all technical requirements (architecture, design, special airport systems, airside infrastructures…) and by being close to its clients, act as a real partner, throughout the project's development.
Besides its historical setups in western Europe and in the Middle-East, ADP Ingénierie extended its permanent presence over the years to Africa, Asia and to the American continent. Being involved in any kind of greenfield or brownfield projects, mega-terminals or mature platforms, ADP Ingénierie can provide valuable benchmark or assessment on any kind of airport.
Understanding and addressing the objectives of its customers
Subsidiary of one of the world's largest airport operators, ADP Ingénierie always keeps in mind the objective of its clients: enhance passenger experience and satisfaction, while controlling costs and maximizing revenues.
Thanks to its unique experience in airport's design and operations, ADP Ingénierie can carry out on the spot or periodic audits and diagnosis of airports' assets and efficiency, in order to anticipate evolution requirements (short-term and long-term) or to identify improvement opportunities.
It can assist the operator in correcting shortcomings, or in planning future investments in an optimized manner. ADP Ingénierie can also act as the "maintenance arm" of an operator, to improve operations and efficiency, on a day-to-day basis.
Further information: https://www.adp-i.com/