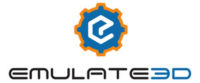 Emulate3D Software Addresses Baggage Handling System Controls Testing and Throughput Simulation Requirements
Emulate3D develops controls testing and throughput simulation software for Baggage Handling System (BHS) engineering. Its use reduces investment risk and provides quantitative support for BHS design decisions. Continued growth in airport construction drives requirements for robust, thoroughly tested BHS, delivered on time, and within budget. The reputation of an airport stands or falls with the ability of its BHS to deliver bags to the right place, on time, every time, in a fast-changing environment where accurate short-term planning is often impossible. Add to this the risk of incurring operational penalties each time the system falls short of contractual obligations, and it becomes easy to understand why the use of Emulate3D Controls Testing and Sim3D is so widespread within this industry.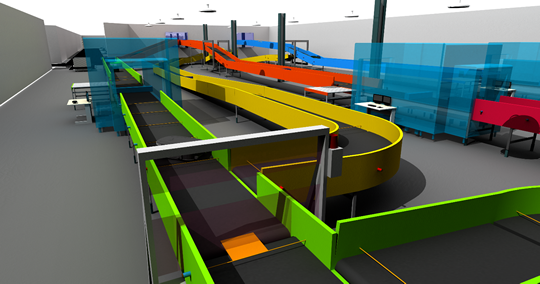 TAKE CONTROLS TESTING OFF THE CRITICAL PATH
Emulate3D Controls Testing provides a flexible test bed to ensure BHS controls will operate to specification, be delivered on time, and within budget. By replacing the real BHS with an accurate model, users test the controls before the real system exists, taking logical controls testing off the project's critical path, and reducing on-site time and costs. Testing can take place in parallel with the system build, reducing overall project time, and users run and test the virtual system on several computers simultaneously, accelerating the process. Virtual baggage arrivals are under the control of the user, so the system response can be accurately observed.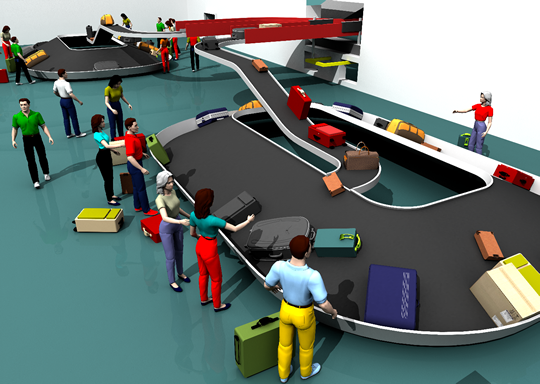 BENEFIT FROM THE EMULATE3D MODELING FRAMEWORK
The Emulate3D modeling environment is a flexible framework – not only are industry-standard equipment catalogs supplied, but users can also import CAD or even generate model layouts automatically from a wide range of formats such as Autodesk Inventor, SOLIDWORKS, SketchUp, and many more. The range of automation equipment users can include in their models is unlimited, as the framework supports the creation of systems with their own proprietary behaviours. Standard systems include:
Check-in
Conveyors and vehicles
Tilt tray sortation
Early bag storage
EDS
Crane and rack
Mini-loads and totes
Merges and diverts
…
Emulate3D BHS models can be connected to, and driven by, controls at both a high and low level, from flight dispatching systems to Programmable Logic Controllers (PLCs). Supported systems include:
Allen Bradley
Siemens
Misubishi
Beckhoff
…


EMULATE3D REDUCES BAGGAGE HANDLING SYSTEM COMMISSIONING COSTS AND RISKS
By taking the logical controls testing off the project's critical path, your testing program is no longer subject to manufacturing and installation delays. Testing in a virtual environment can begin earlier in the project cycle, be available 24/7, be more exhaustive and traceable than would otherwise be possible, and still be completed within schedule. Removing the majority of testing from the end of the project also removes much uncertainty from the schedule, making both cost and time estimates more accurate.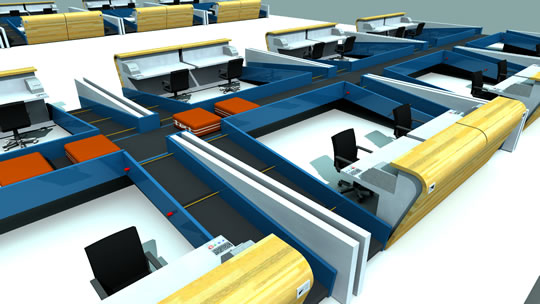 SIM3D IS THE BACKBONE OF BAGGAGE HANDLING SYSTEM DESIGN
BHS simulation models answer questions about system response to passenger and baggage arrival rates, transport equipment choices, storage capacities, staffing levels, and so on, under a range of operating strategies. BHS dimensioning requires a numerical approach to reinforce equipment choices, and Sim3D provides this support. Ensuring stakeholders have a shared vision of the project throughout development is important – Sim3D provides users with visualization options including videos, a wide range of Virtual Reality devices, and a smartphone app.

DESIGN BETTER BHS WITH EMULATE3D
Sim3D reduces the risk associated with designing complex systems, and helps communicate your solutions effectively to project stakeholders. Your reputation depends on delivering a high quality system on time and on budget, and Emulate3D technology is an essential tool to help you achieve that.