LEITNER AG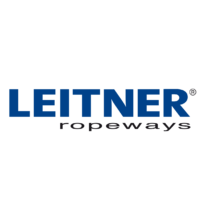 From the highest peak to the liveliest part of town – LEITNER ropeways takes you around the world
LEITNER ropeways is one of the world's leading manufacturers of ropeway systems. It offers high-tech solutions, innovative design, top quality, and functionality, thus paving the way for convenient and environmentally friendly passenger transport. With its products, LEITNER ropeways demonstrates its qualities as a premium provider, while also responding individually to a wide range of requirements. What was learned in a small workshop back in 1888 has not lost its importance today. The company is part of the High Technology Industries Group which also includes the brands PRINOTH (snow groomers and tracked utility vehicles), DEMACLENKO (snowmaking systems), POMA (passenger ropeways), AGUDIO (material ropeways) and LEITWIND (wind turbines).
LEITNER ropeways provides technological excellence worldwide in all kinds of areas of application, ranging from winter sports through to urban passenger transport.
An innovative rope-hauled system produced by LEITNER ropeways and POMA is the so called MiniMetro – the ideal airport transport solution. MiniMetros are a rail-based, fully automated means of transport. As funiculars or inclined elevators they cover short routes with bends and considerable differences in altitude, rolling on steel wheels, pneumatic tires, or gliding on air cushions. They can be used in small and medium-sized towns as the main transport system, as well as providing effective connections between airport terminals.
An interesting MiniMetro project is the MiniMetro PisaMover in operation since 2017 in Pisa, Tuscany (IT). The ropeway takes passengers from Galileo Galilei airport to the main train station in the city center in five minutes, sustainably solving complex traffic problems.
At Frankfurt Airport a MiniMetro system by LEITNER ropeways links the car park with the main building, THE SQUAIRE, thus impressively demonstrating that comfortable and reliable passenger transport is possible at low cost and with a high level of environmental sustainability.
POMA has provided the Miami International Airport with a two-lane MiniMetro. It links the main terminal at Miami with the satellite building at Concourse E and is cabaple of transporting more than 2.800 passengers per hour in each direction. In its first two years of operating, the MiniMetro delivered 99,98% system availability.
Since 2012, a MiniMetro built by POMA is in operation at Cairo International Airport in Egypt. Two 170-passenger trains connect two terminals, the carpark and shopping center and transport 8,5 million passengers per year. The system uses Air Levitation technology: Speed, silence, comfort and availability meet the specifications of this means of transport.