Voice Alarm, Public Address and Commercial Audio Systems for Airports
To answer the challenge of complying with safety requirements while enhancing passenger experience, airports need at their side professional partners offering high-quality integrated solutions.
Founded in 1934 in Kobe, Japan, TOA has accumulated over 85 years of experience in research, development and manufacturing of safety systems and commercial audio equipment.
TOA has grown to be one of the world largest suppliers of commercial Public Address equipment developing innovative products to provide its customers with the ultimate sound performance and peace of mind.
Thanks to 31 branches and a strong network of local certified partners, TOA can give its customers the best support in over 120 countries around the world.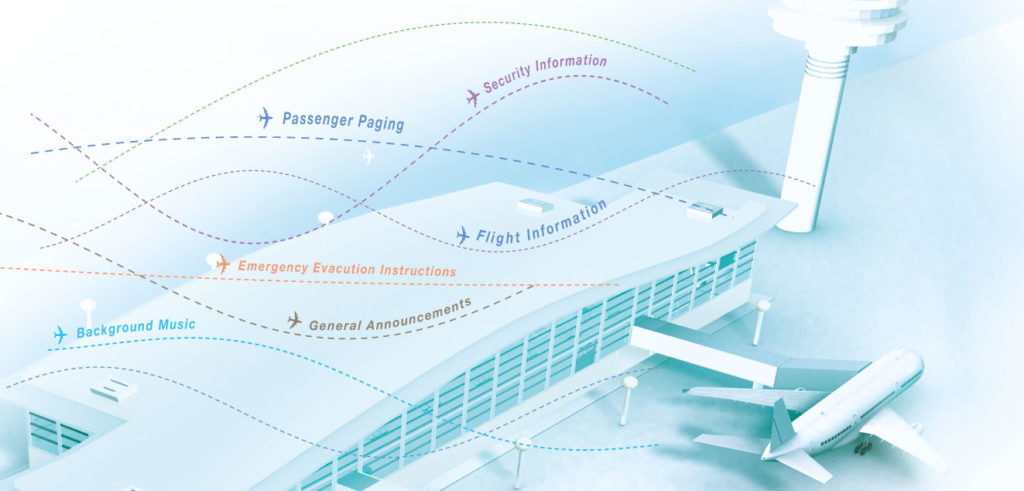 Safety and audio systems are an indispensable service for the airport industry. Through its large portfolio TOA is in the position to fulfil all the airports requirements by providing them with all-in-one solution for PA, safety, and excellent sound. TOA is offering security through the integration of flexible Voice Alarm and Public Address systems with excellent speech intelligibility as well as Intercom Systems for a decentralized, reliable, and convenient communication in everyday life and increased safety in the event of danger. Commercial Audio solutions round up the offer by providing high-quality sound in the concession areas such as restaurants and retail outlets.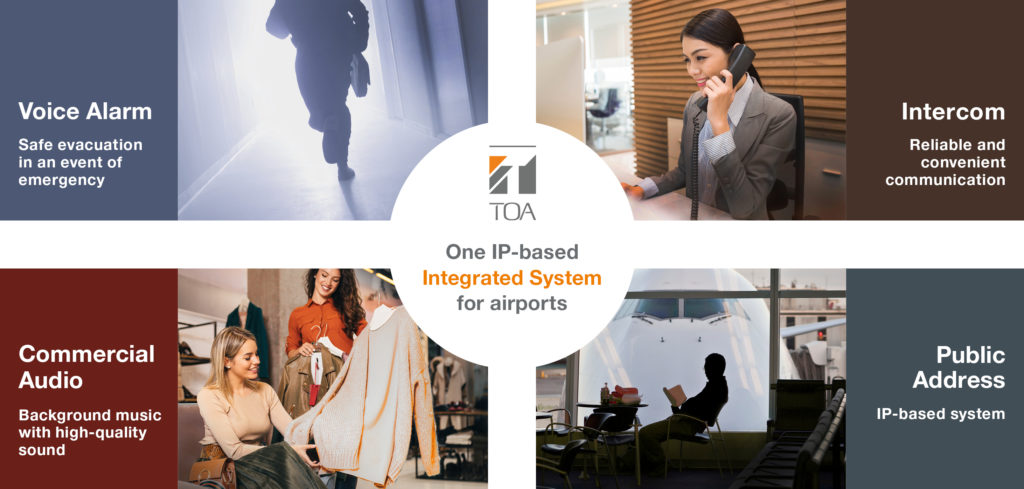 High-quality equipment is not all it takes, designing and acoustic simulations capabilities for optimum integration of the equipment in the airport architecture also contribute to make passenger's journey through the airport a safe and enjoyable experience.
"We supply sound, not equipment". TOA strives to achieve the optimum sound with high-quality devices providing professional audio solutions for all kinds of applications – e.g. schools, concert halls, shopping malls, airports or stadiums.
The TOA product range includes:
EN 54 certified Voice Evacuation Systems and loudspeakers
Intercom Systems
Public Address Systems
Ceiling, wall, column, line array, variable array, pendant, horn and projection speakers
Commercial Audio for restaurants and retail shops
ProSound Systems
Wireless Microphone Systems
Conference Systems