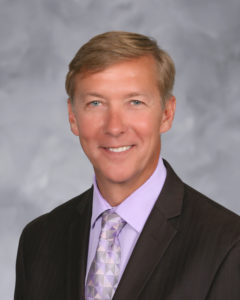 In September 2018, John Wayne Airport, Orange County, California, retained top spot in the Large Airport category of JD Power's 2018 North America Airport Satisfaction Study, with an overall score of 815.
The airport's aviation director, Barry Rondinella (left), says the continued success is thanks to an airport-wide customer-centric mentality and the ability to make the most of the resources at hand.
John Wayne Airport recently came top of JD Power's passenger satisfaction survey for large airports, can you tell me what this means to you and your colleagues and how you managed to achieve it?
In all the years that JD Power had been running the survey, we never even managed to crack the top 10. That was until two years ago, when we went straight to the top.
About three years ago we began an effort to elevate the guest experience. We made it very clear throughout the organization and beyond, to the TSA, our concession partners and the local police, that one of our top goals was to provide a superior guest experience. The consecutive results mean we are on the right track.
It's not uncommon to see a TSA agent picking up trash to make the place look better. It's just a phenomenal culture we've managed to instill here.
What have been the key factors in improving the passenger experience?
First of all, there's the universal effort to elevate the guest experience. We also paid a lot of attention to the color schemes of the terminals. We like to reduce stress by using neutral colors and keeping sign and advertising clutter to a minimum. The number of digital displays and televisions in restaurants and bars are kept to a low level because all of those distractions add to the traveler's stress levels.
We've recently begun something we call JWA Live, which includes live performances from acoustic guitar players, piano players and singers throughout the terminal. It helps to bring that vibe of a relaxed party atmosphere, further relieving stress levels for passengers and bringing a sense of place through local artists.
Additionally, we've quadrupled the speed of our wi-fi, doubled the number of antennas and made it a hassle-free, advertisement free, one-click experience. So, travelers simply walk in and can access the wi-fi for four hours free-of-charge. We're also adding electrical outlets to every seat in the terminal.
John Wayne Airport served just over 10 million passengers in 2017, have you seen a significant increase in passenger numbers in recent years?
It's important to mention at this point that John Wayne Airport is capacity constrained. We have agreements with the local community that caps our passenger movements at 10.8 million travelers until 2021. We're about to reach 10.6 million this year and we reached 10.5 million last year, so we're right up against the limit.
We also have to make sure that we stay a few thousand passengers away from the limit so we don't go over it. If we were unconstrained, we estimate that we would be serving around 16 million passengers annually. But we've been at our cap for about three years now.
In 2021 our cap will be expanded by another million passengers to 11.8 million, and if things stay the way they are we can jump to that immediately.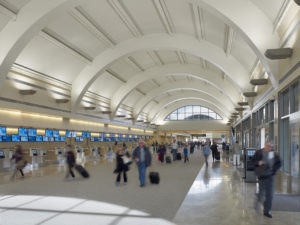 Do you suffer from bottlenecks at peak periods as a result?
Part of the reason we won this award is because our TSA security lines are so short. We have liner terminals and three checkpoints, and each of those checkpoints gets you to the same place, they're all interconnected. We've been working with the TSA to make sure that passengers are distributed evenly. If checkpoint A gets crazy busy then we'll move some of the passengers to checkpoint B. So, we manage to avoid long wait times.
Where we have seen problems is on our lower roadway, where the rise of Uber and Lyft has created terrible congestion. In response, we've moved the taxi ranks to our three parking garages which has improved things significantly.
Are you undertaking any developments presently? Do you have plans to expand in future?
Not only are we capacity constrained but we're also space constrained. We have to operate using 503 acres, whereas Sacramento International Airport for example, operates at similar levels but with 6,000 acres.
Having said this, we're still looking to reimagine the whole general aviation side of the airport, which will be raised and rebuilt over the next six years or so.
We've also been able to carry out a refresh and modernization program to terminals A and B, bringing them up to the same standard of Terminal C, with LED lighting and various structural improvements.
We're also in the middle of an RFP package where we're looking to introduce local concessions and restaurants to bring a taste of Orange County to the airport by 2021.
What does the future hold for John Wayne Airport and airports generally in the USA?
I think we're all struck with the idea that as Uber and Lyft handles more of our ground transportation needs, and as we move toward the idea of adopting autonomous vehicles, our parking structures are likely to become a thing of the past.
Therefore, as an industry, we all need to be thinking about how we repurpose our garages, or in the case where we can't repurpose, perhaps tear them down and build something like a hotel or mixed-use facility.
We've been approached by Uber Elevate representatives about developing a facility to accommodate Uber flying vehicles capable of transporting five or six passengers between the airport and urban areas. I've been told they expect to be running test flights by 2020, which isn't that far away. It will be interesting to watch how the technology develops and what effect that will have on the industry as a whole.
To read about JD Power's other big winner, McCarran International Airport, and to hear from other business leaders around the globe, read our CEO update in the Annual Showcase by clicking here.