Jonathan Meier, senior project manager at HOK, shares steps to take the guesswork out of designing for a great user experience at airports.
For many airports, user experience is a top priority. They want the competitive edge and financial reward that comes with providing a great experience for their passengers and staff.
However, the process of designing and delivering a great airport experience can be abstract and subjective. How can airports effectively engage their multiple stakeholders, capitalize on their assets and work toward the same experience-driven outcomes?
Experience-driven design is an approach that adapts the processes of user journey mapping, outcome-driven design and business strategy into the architectural design process. It helps airports be more strategic in their decision making about design and investment in the future.
Here's how it works.
Map the user journey(s)

The user journey is a linear diagram that shows all the stages, or 'touchpoints', that the user encounters. The goal of this step is to discover and notate all the stages from start to finish.
User journeys can focus on passengers, airport employees and partners, such as airlines, concessionaires and the US Transportation Security Administration. Depending on the level of detail required, airports can define multiple user journeys or user groups, such as economy and business class travelers.
Define user needs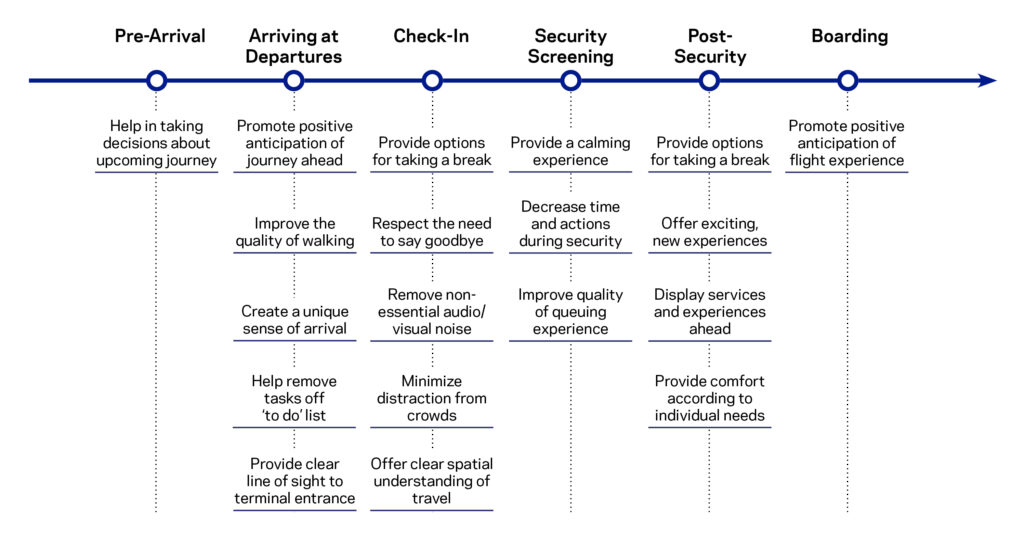 Using the user journey map(s), airports and designers can articulate the most important user needs at each stage. Before doing so, consider the following three points:
User needs should address both functional and emotional needs. It is important to recognize that satisfying functional needs alone are not enough to create a positive experience. Satisfying emotional needs, or cognitive-driven factors, creates the conditions for the functional need to be perceived positively. Cognitive factors include:
●     Predictability – Knowing what is ahead.
●     Agency – Feeling in control of the journey.
●     Sensory stimulation – How exciting the environment is.
●     Social dependency – Relying on help from others.
●     Emotional valence – How positive or negative an experience is.
●.    Working memory usage – How mentally tasking the experience is.
User needs vary by time and place. What does the user need in each moment? Is it information? Someone to talk to? Directions? Excitement? Calmness? For example, predictability for passengers is great until they reach their gate. But what if their flight doesn't leave for two hours? In this case, passengers might want some unpredictability in the form of entertainment to kill time – escape room anyone?Another example is sensory stimulation. A high-sensory environment may be great when you have time to kill, but not when you are trying to find your way through an unfamiliar environment.
Define user needs consistently and with a clear sense of directional improvement. Try to frame each user need in the form of a desired outcome:
Direction of improvement + unit of measure + object of control + contextual clarifier
Minimize + the time + waiting in queue + at security screening
This step helps establish the most important user needs at each moment. Understanding these specific needs is the foundation for delivering great service and innovative design.
Align user needs to the airport's capabilities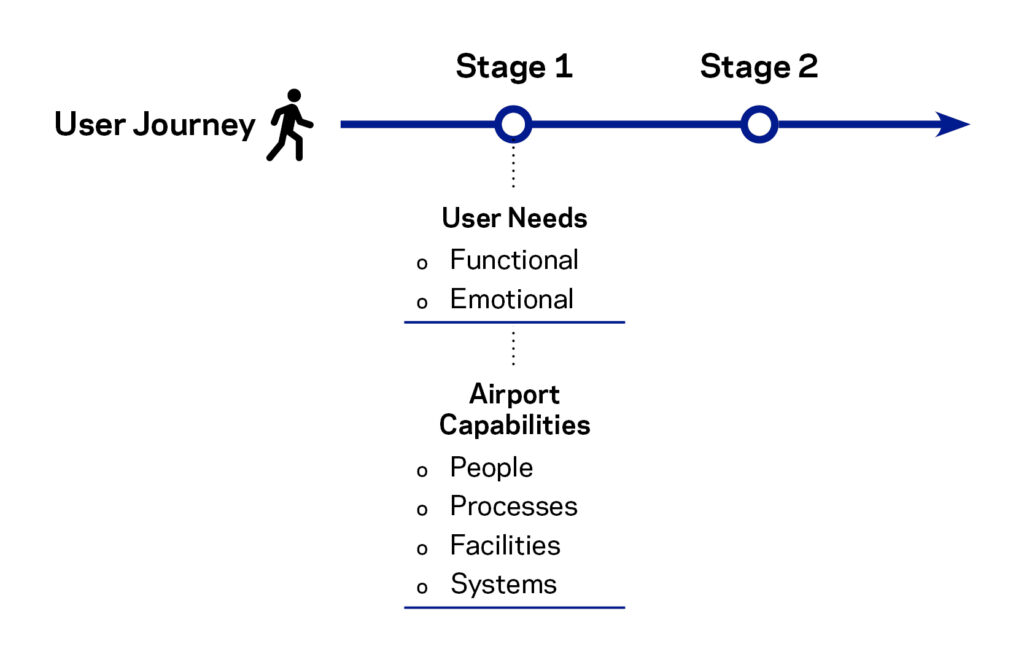 The flip side of defining user needs is having the capability to meet them. If an airport lacks capabilities to deliver a positive experience, the chance of failure increases operationally, financially and reputationally. For airports, capabilities that improve experiences can be placed in four general categories.
People – The airport staff who manage airport processes.
Processes – The activities conducted by staff.
Facilities – The physical infrastructure of the airport, including its design.
Systems – The airport's current, planned and emerging business technology systems.
The goal of this step is for airports to best meet user needs in the moment and should focus on:
Maximizing capabilities that serve multiple needs.
Minimizing capabilities that serve few needs.
Developing capabilities that serve needs better.
Technology is one of the best ways to develop new capabilities to serve needs better. By considering new and emerging technologies, airports are effectively creating a strategic technology roadmap. For example, biometric identification is an emerging technology that can help minimize processing times and queues at multiple touchpoints. But is it needed at every stage? Does the airport have the staff, processes and facilities in place to deploy it effectively?
Every step up to this point can be done on a whiteboard, with user journeys running horizontally (left to right) and needs and capabilities stacked vertically at each stage.
Get creative, strategically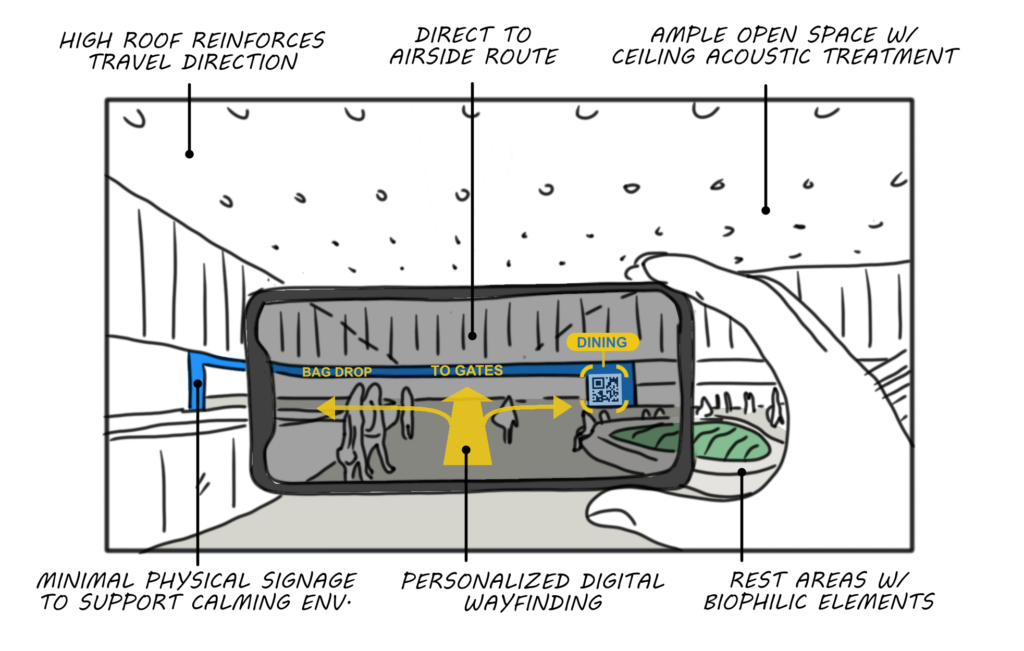 By this stage, airports should have a design framework to engage their stakeholders. The goals, objectives and guiding principles are clear and can guide the current design and even future investment. In a sense, these are the workings of a storyboard – providing everyone with knowledge of the characters (users), the plot (journeys), and what needs to happen in each scene (meeting needs with capabilities).
In this context, it can help to storyboard the design like a movie with vignettes drawn from the user perspective. Having a picture of what the user sees will make it easier for everyone to understand the processes, the interfaces, the design — in short, the experience — and uncover hidden opportunities.
This final step helps create solutions that meet the most needs with the fewest capabilities. Airports may find opportunities where multiple needs can be met with the same capabilities, such as using the roof or floor to help with wayfinding.
Airports may also find occasions to prioritize certain capabilities or filter out unnecessary ones. For example, if wayfinding needs can be met through art or architectural elements, then certain signage may be removed altogether.
The methodology outlined in this article helps airports and designers deliver experience-driven outcomes more effectively. Stakeholders are aligned on the user needs, capabilities and design solutions for each stage. When working toward the same goals through these steps, airports open the door for true innovation and success.