Agati Furniture

Agati designs seating and furniture solutions that provide the comfort, function, and style travelers crave with the durability that airports demand. This includes contemporary lounge, pull-up, and privacy seating that pairs with a diverse selection of powered tables for terminals, dining areas, and lounges. The Agati Powerbar charging table, our most popular airport furniture solution, stands out in a crowd due to clean modern lines, a stainless steel base, and a multitude of solid surface and stone surface options.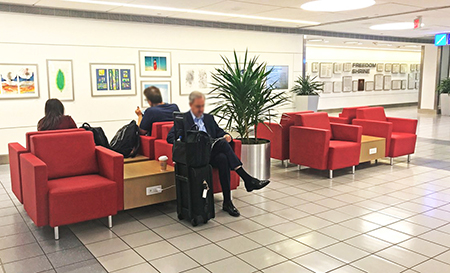 Airport terminals have evolved significantly in the last 15 years. Previously, terminals used beam seating and approached terminal furniture strictly through a utilitarian lens. Today's travelers expect terminals to offer a variety of seating and table options that are more comfortable and aesthetically-pleasing, with easy access to power.
Many airports have also learned that most commercial furniture products offer style and function, but are simply not durable enough to last in an airport terminal. Agati is one of the only companies that designs furniture exclusively for high-volume public spaces, providing a unique and diverse product offering for our Airport clients.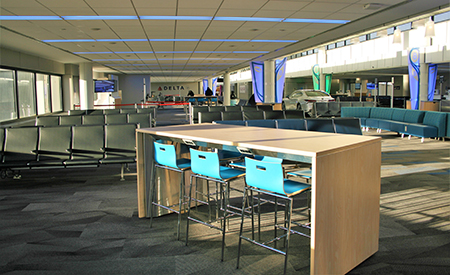 Beyond standard product, Agati has the ability to modify existing designs to meet your Airport's needs or design completely custom solutions that will thrill travellers as they pass through your space.
Agati's history designing solutions for high-use public spaces has fostered a design philosophy and acumen that produces solutions offering a unique combination of style, function, and exceptional durability.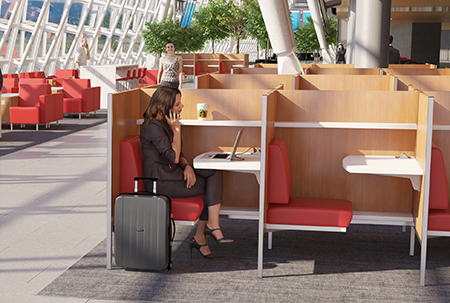 Our interior and furniture design team works with top Aviation Architectural and Design firms to create layouts and solutions that exceed the expectations of their most demanding aviation clients. Learn how Agati Furniture can help make your airport terminal a haven that travelers look forward to as much as their final destination.