Cognitec

Cognitec develops market-leading face recognition technology and applications enterprise and government customers around the world. Various independent evaluation tests have proven the premier performance of the FaceVACS® software. Cognitec's portfolio includes products for facial database search, video screening and analytics, border control, ICAO compliant photo capturing and facial image quality assessment. Corporate headquarters are located in Dresden, Germany; other offices in Miami, FL; Rockland, MA; and Sydney, Australia.
Cognitec's face recognition technology is widely used for security applications, including electronic passport control gates in airports, law enforcement investigations, passport or driver's license issuance, video screening and analytics, and physical access control. Our technology can also be used for convenience and productivity in web and photo album applications, and for event photography, VIP recognition, and digital signage. Cognitec's software development kit brings the FaceVACS Technology to integrators and allows the development of new face recognition applications.
Cognitec Systems has delivered more than 100 units of its FaceVACS-Entry product for installation in eGates at various European airports. The technology combines smart hardware for image acquisition with market-leading software for verification processes. The latest product release incorporates a new face matching algorithm, improving the overall biometric performance. The feedback monitor now displays enhanced user guidance features to direct the traveler toward the optimal standing position within the gate in less time.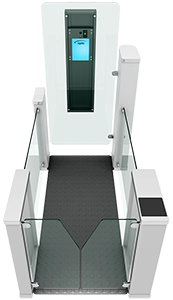 After a person enters the gate, the system detects the person's face, adjusts the position of the cameras according to the person's height and then captures frontal images. The software instantly verifies the live images against biometric photos stored in passports, other ID documents and/or facial image databases.
Cognitec optimized the system to ensure efficiency and ease of use for travelers while capturing best-quality images that guarantee high verification accuracy, thus fully complying with guidelines set by the European Border Police (Frontex). The technology also contains a presentation attack sensor for checking human faces versus artifacts such as masks, printed images or movies.