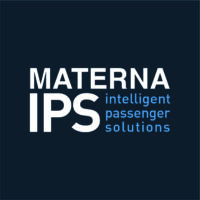 Materna IPS GmbH, the aviation company of the Materna Group with its headquarters in Germany, is an international service provider for automated passenger handling for airlines and airports. From kiosk check-in and self bag drop hardware through to software implementations as well as service delivery and maintenance – Materna IPS has huge expertise in this sector with lots of successful customer-projects around the world.
The company´s well-proven software portfolio includes Common Use-based applications for kiosk, online check-in, self bag drop and solutions for secure access and self-boarding. For a seamless travel experience, biometric identification as well as RFID technology and payment services are also integrated into the respective solutions.
With over 150,000 daily bag drops and a leading number of installations, Materna IPS takes No 1 position in self bag drop. These solutions provide fast, easy and secure baggage drop-off processes, which can easily be implemented into existing infrastructure at the airport. The numerous options stand for flexible and customizable systems but all have a unique user experience.
Their international branches in the USA, Canada, India and the United Kingdom enable Materna IPS to support their customers individually and to react quickly and professionally to market requirements.