Moment Factory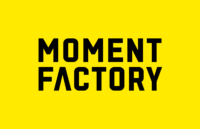 Moment Factory is a multimedia studio with a full range of production expertise under one roof. Our team combines specializations in video, lighting, architecture, sound and special effects to create remarkable experiences. Headquartered in Montreal, the studio also has other addresses in Tokyo, Paris, New York City and Singapore. Since its inception in 2001, Moment Factory has created more than 525 unique projects worldwide, including the Lumina Night Walk series. Productions span the globe and include such clients as Changi Airport, Notre-Dame Basilica of Montreal, Disney, Arcade Fire, Microsoft, Sony, Boston Museum of Science, Madonna, Cipriani, Universal Studios, the Toronto Zoo and the Reims Cathedral.
Moment Factory's projects in transportation hubs include the recently opened Terminal A at Newark Liberty International Airport, Hamad International Airport, Hong Kong International Airport,  Singapore Changi Airport, Los Angeles International Airport, Moynihan Train Hall and Shinjuku Station. Our expertise allows us to seamlessly blend moments of entertainment with the operational needs of these busy spaces, which enhances overall passenger satisfaction and engagement, from curb to gate.
We're passionate about public space. We do what we do because it gives us unparalleled opportunities to bring people together, create connections, and set the stage for memories that will last a lifetime. It's at the very heart of how we define ourselves – at Moment Factory, We Do It In Public.
We're constantly experimenting with new ways to activate public environments, from city streets, to festival venues, to airports. We believe that immersive multimedia entertainment has the power to build social solidarity, bringing people closer together while adding wonder and delight to the world. We work with our clients to help put places on the map – generating excitement, attracting worldwide media attention, and building innovative urban identities.