Discover how Minneapolis-St Paul's Digital Canvas project has transformed the airport's ability to communicate with passengers, with more than 900 digital displays now controlled through a single CMS, in an exclusive feature first published in the September 2023 edition of Passenger Terminal World magazine. 
Mounted above Terminal 1's North and South Exit escalators, a pair of brand-new, direct-view LED screens are the most obvious example of Minneapolis-St Paul International Airport's (MSP) recent revamp of its digital media, with both perfectly placed to grab the attention of arriving and departing passengers.
MSP, which is managed and run by the Metropolitan Airports Commission (MAC) on behalf of the Minnesota State legislature, is currently undertaking a US$400m pre-security T1 modernization program that began in late 2016 and is due to finish by the first quarter of 2025. 
"The MAC supports innovation and technology investments at MSP to improve systems and processes that save time and costs while enhancing the travel journeys of passengers," explains Eduardo Valencia, MAC's CIO. 
One of the authority's primary innovation investments has focused on the consolidation of disparate and independent digital display content management systems (CMS) into one system that will operate a digital canvas of more than 900 screens across both of MSP's terminals. 
The assets that make up the canvas display passenger wayfinding, operational information, advertising and emergency guidance content. Content from concession partners does not form part of the system. 
"The fundamental goal was to have one converged enterprise CMS that would allow us to use all the digital displays as one cohesive canvas," explains Valencia. "This is seen in many industries outside the airport sector, particularly in sports and entertainment. When you attend a sports event or a concert, there's a certain amount of production of how all the audiovisual is going to be coordinated to create an experience. 
"We wanted to position our organization to be able to do the same thing while simplifying our technical environment and positioning our operations and commercial management for digital transformation. This allows us the flexibility to display content across many different areas, from different partners, for various purposes and audiences. It also gives us capability to quickly pivot if screens are needed for other purposes, or to utilize them temporarily for emergency alerts or other passenger guidance information."
MAC has supported the development of the unified digital canvas over the last several budget years, partly via the revamp of Terminal 1 and through lifecycle refreshment programs everywhere else. "It requires ongoing investments for equipment lifecycling, CMS licensing and creative content support," says Valencia.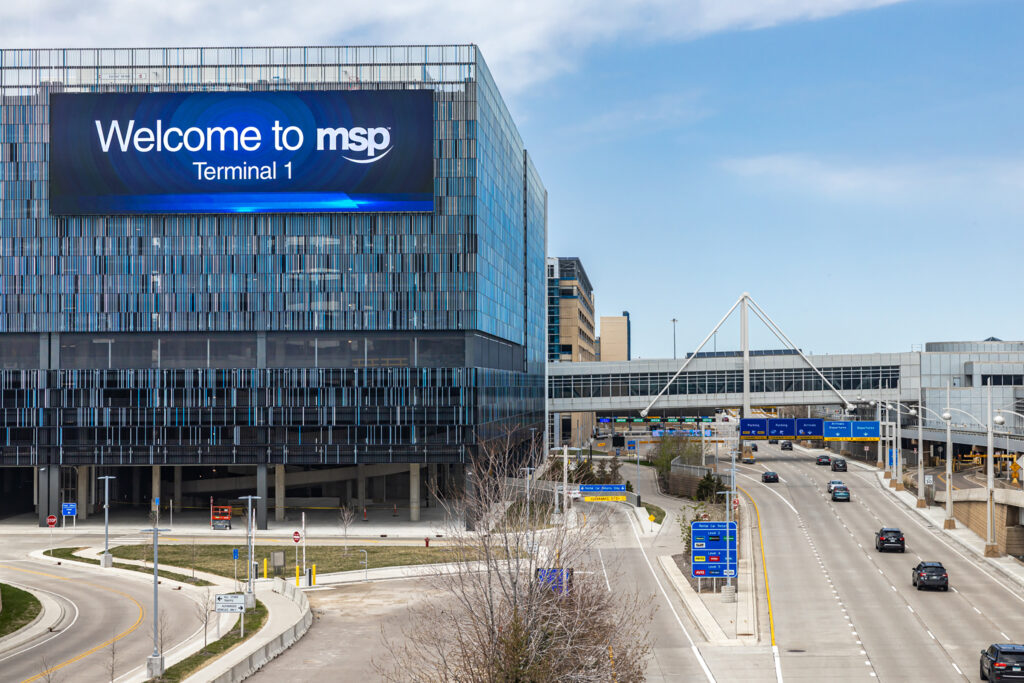 Project background
Describing himself as "relatively new to MSP", despite having been in role for seven years, Valencia can instantly recall his first impression of the airport's signage. "We had a lot of digital displays, a lot of screens – it was a very visually rich environment. However, the systems behind them didn't always work well with each other. My background in technology management was all about the elimination of variability – fewer moving parts make for greater consistency. At the time, our displays had too many solutions driving them, and they were very single-purpose." 
As part of his new job, Valencia was invited to hang out with leading tech executives at some of the Twin Cities' largest venues: "The region has a big mall and some major sports stadia, and my peers in those facilities were really focused on using audiovisuals to create a much more cohesive and entertaining environment." 
A Minnesota Twins ballgame at Target Field proved pivotal: "The baseball alone can sometimes be a little boring but by using the displays and audio within the stadium, they were able to transform the visitor experience. They had made investments to consolidate the management of all their displays, with the ability to tailor the delivery of content to individual screens, to better meet the needs of fans in certain zones." 
Fortunately, Valencia's arrival at MSP coincided with the decision to overhaul T1's pre-security areas, providing the ideal opportunity to put his findings into action. "We decided straight away that all our digital assets on campus should be controlled via a single CMS that could drive them for purposes way beyond what they were used for before. We also wanted an enterprise-grade CMS where business users could, with just a few clicks, change the content and manage their campaigns as they saw fit, instead of having to deal with all these obscure IP systems that oversaw advertising, flight information or wayfinding."
To improve maintenance and ensure seamless continuity across its digital signage network, MSP decided to switch to single suppliers: LG for its displays and Omnivex for its CMS. 
Mixed messages
The 900 or so screens that now make up MSP's digital canvas exist in various shapes and sizes, from a giant building billboard through to road signs and a mix of smaller informational displays inside terminals and across the concourses. 
"Given the fact that we've got all kinds of different form factors, there is not a one-size-fits-all solution. We have a significant building billboard, large welcoming digital signs over our Terminal 1 exits to baggage claim and hundreds of smaller LG displays throughout the campus," explains Valencia. 
The eye-grabbing screens over the exits are particularly impressive: "These allow us to maximize the use of overhead space at our exit escalators, which was previously used to hang printed messages," notes Valencia. "We can now schedule and convey important information and offer local businesses a big, bright, bold way to get their messaging in front of visitors."
Each escalator area now includes a large 2.9mm pixel pitch DVLED display mounted above a smaller ticker-type display with a 2.5mm pixel pitch. The huge South Exit main display is vertically oriented, standing at 4.5m wide and more than 6.5m tall; the North Exit main display is mounted in landscape orientation and measures 4.5m wide and 2.5m tall. 
By having a single CMS and the ability to manage all the various displays collectively, MSP can strategically position advertisements and promotions that are most effective for each unique campaign. 
"We can leverage the canvas to provide first and last impressions on travelers visiting MSP for large events (Final Four, Super Bowl, Big Ten championships), taking advantage of its dynamic nature to make event guests and standard passengers feel like they are in the middle of the action," says Valencia. 
"Data is driving big changes in digital marketing and advertising," he continues. "Thanks to technological advancements, we are making progress to effectively market to a segment of one, treating passengers as guests. Our investments in the digital canvas support this capacity and unlock innovative advertising opportunities that inform, engage and enhance the customer journey."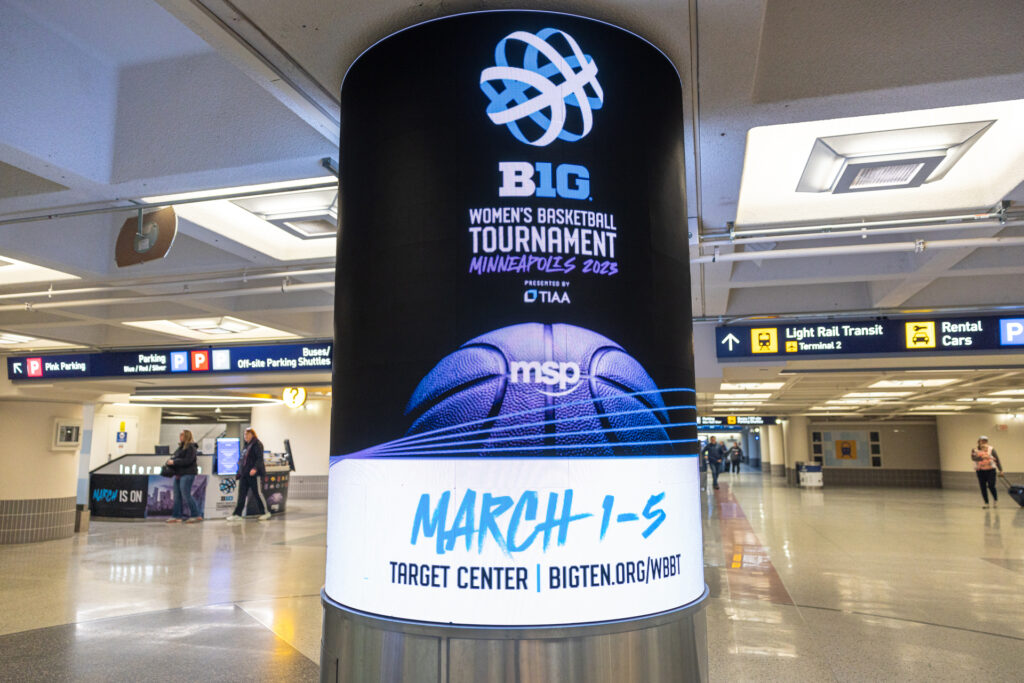 Single-minded
To create a custom user interface for the DVLED displays, MSP partnered with Radiant Technology Group to fully leverage the Omnivex digital signage software platform.
"We created a personalized application for MSP using Omnivex's platform to optimize workflows and manage content for the large DVLED walls," explains Doug Freutel, VP and visionary at Radiant Technology Group. "Behind the scenes, our digital signage controller creates operational efficiencies with the ability for authorized staff to customize and schedule graphics, personalized messaging and more in a simple and secure manner."
The new personalized digital signage controller enables MSP and authorized end users to create automated daily content schedules and deploy new graphics immediately through a single click. The airport's digital signage network syncs real-time data to present updated information such as new arrival times without requiring any human interaction or manual trigger.
The platform also supports multiple formats. "As an enterprise-grade OEM toolset, our CMS allows for quite a bit of flexibility that we are leveraging in many of our digital assets," says Valencia. "Flat content, dynamic content, video and data-driven content can be mixed within the same CMS."
As a result, the CMS can quickly and easily create curated experiences and cohesiveness throughout MSP's campus. "We have separated the content, integration, CMS and presentation layers and are managing each piece independently via enterprise-grade methods, to develop more creative, timely and important messaging for our passengers and visitors," continues Valencia. 
"For instance, we have technology connected to our sign network to reduce congestion on our terminal roadway," he adds. "If you drive a height-restricted vehicle to the airport, the signs are going to sense that, change and direct the driver to stop – hopefully preventing a traffic tie-up that would impact others on the roadway. That is a heck of a digital experience."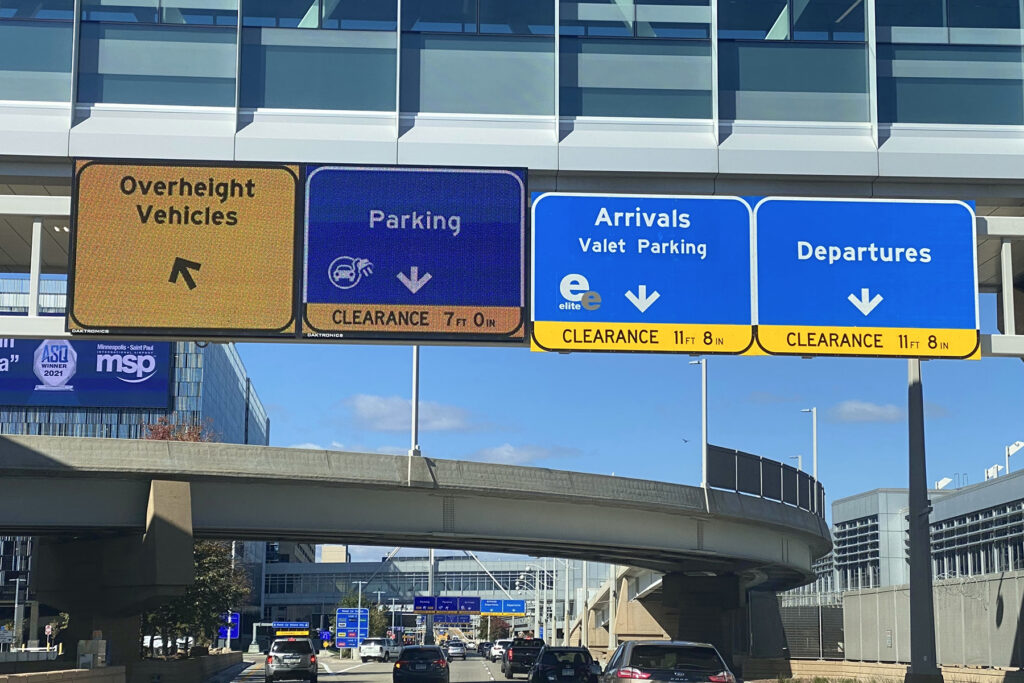 Place maker
From neighborhood dining options to art exhibitions, including a stunning mural dedicated to the musician Prince, you don't have to look hard to find Minnesota influences and flavors at MSP. Valencia says the new digital canvas offers even more possibilities to reflect local values and culture: "We strive to showcase the best of the region to build pride among locals and make a strong impression on visitors. The digital canvas strengthens our ability to do that. For example, we once used our digital assets to deliver a personalized greeting to two local athletes, Suni Lee and Grace McCallum, returning from the Olympic Games, where they both took gold in the Olympics. What may have been an ordinary arrival turned into a memorable celebration at the airport, all thanks to the agility of our digital canvas."
The canvas is also helping to improve accessibility, with certain audible passenger paging simultaneously transmitted to visual paging on screens throughout the terminals for deaf and hard-of-hearing people. "We're testing technology to activate visual paging for airline
gate announcements, too." 
Finally, the digital canvas can also provide a bit of fun, helping to brighten the usually rather dull confines of a baggage hall. "Instead of the usual factory preset 'beep', the imminent turning on of a carousel is communicated to passengers by a unique audiovisual cue, inspired by the region's reputation as the land of lakes," explains Valencia. "The ceiling above is illuminated in a way that evokes a lake's surface, while a chorus of loon [Minnesota's state bird] song emerges at the same time. We're really trying to communicate to passengers exactly where they have landed, and this is probably the first experience they have upon arrival. We want it to feel like the local area is reaching out to them."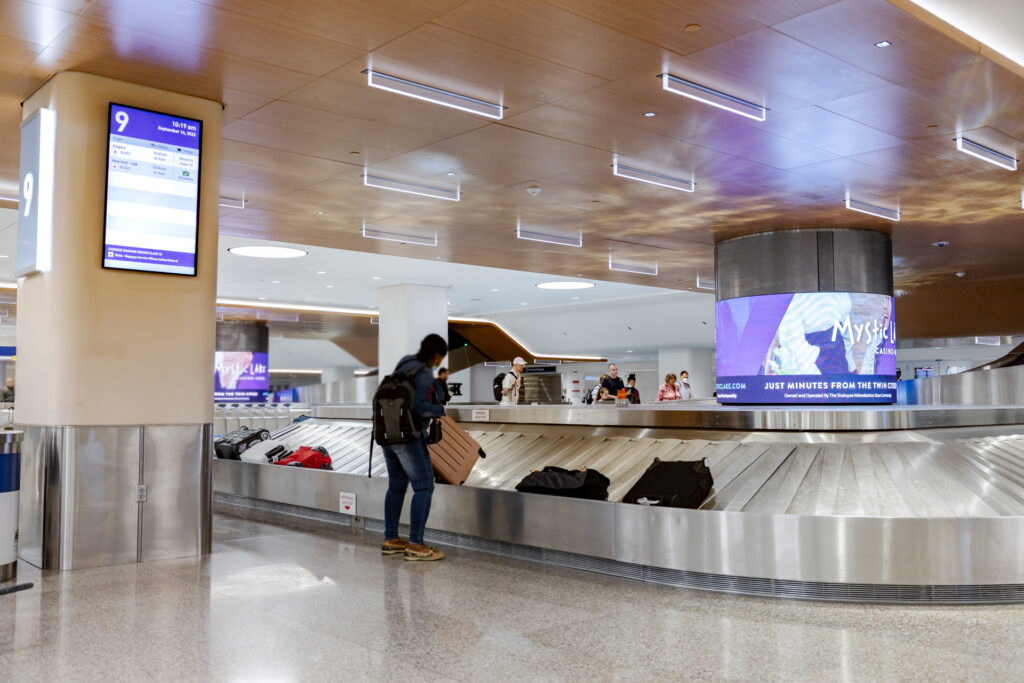 Future forecast
Valencia expects that the airport will increasingly drill down into passenger flow data to create more targeted messaging to match certain criteria. 
"We are very well positioned to be able to create context-aware and location-aware messaging," he says. "This simply means we can pursue further customization of messaging for certain audiences and passengers, depending on their location and the situation around their passenger journey within the airport. For example, we could display messaging in multiple languages near gate areas for international flights. We could also offer concourse-specific messaging [passenger alerts or public safety messages] that may be different from messaging in other concourses or terminal areas. This is very important to our overall operational efficiency and commercial viability."
This article originally appeared in the September 2023 issue of Passenger Terminal World. To view the magazine in full, click here.