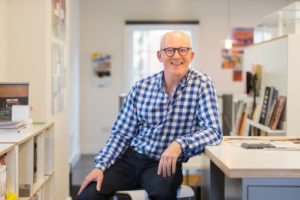 Travel experiences are among the most memorable a person can have, but too often airports are remembered for the wrong reasons. Now a leading interior design expert is urging airport operators to change that by learning from the hospitality industry
Chris Radcliffe (left), head of interiors at architecture practice Maber, has advised hundreds of clients in the retail, travel, hotel and leisure sectors. He believes that airports of the future will have to be much smarter to compete for passengers, whose demands will not only include better customer service but also a commitment to the environment and other contemporary issues. He says the key to this could be in emulating the strategies employed by top hotels and restaurants.
"The hospitality industry, with its insistence on superb customer service at every customer contact point, shows the direction where airports should be going," Radcliffe says. "The hospitality sector's attention to detail, and above all its focus on cleanliness, illustrate how airports should be positioning themselves, not just with their customer service but in the terminal architecture and interior design of their buildings."
Radcliffe points out that the travelling public are increasingly concerned about issues such as the environment, sustainability, health and wellbeing, and says airports ignore these hot subjects at their peril. "Hospitality businesses globally are already tailoring their offers to address these issues," he says. "This is more than a marketing angle to be exploited, it is a fundamental shift in our society that responsible businesses are addressing, and it has the potential to be a huge driver for change across the world."
At first glance, an airport's role is bout managing the movement of passengers and luggage through the terminal to or from the aircraft. While Radcliffe acknowledges that this will always be paramount for airport operators, there is much more to take into consideration when designing and running terminal buildings.
Radcliffe urges management to think about the customer journey: "It begins with your arrival at the terminal building, complete with luggage and perhaps friends, family or colleagues to see you off. They, of course, are another kind of customer that airports should be considering.
"Entrance into the terminal building is a kind of ceremony. Then there is the journey through the terminal to the check-in counters, then to the concourse beyond the screening checkpoint and finally to the departure gate. The route through the airport for departing passengers can be stressful and complicated, and this alone is potentially the difference between a poor experience that is memorable for the wrong reasons and a great experience for the right reasons."
Radcliffe advises airport operators to seek to bring, order, clarity and even beauty to that journey, creating what should be "a positive sensory experience". This will be affected by the color, texture and illumination of the space and even by smells, which could be pleasant, such as fresh coffee and baked bread, or unpleasant, such as cleaning fluids and toilet odors. "These are all things that will contribute to a person's recollection of the environment," he says. "Every vertical and horizontal surface communicates something about the experience."
Radcliffe praises airport building and interior design that provides clear lines of sight, views and vistas that enable people to navigate to all the services they need. The list of these services is long: travel information, check-in points, meet and greet hubs, centers of retail, food and beverage, toilets, baby change and feed areas, accessible facilities, security personnel points, currency exchange, smoking areas and prayer rooms.
There are also design aspects that can make the experience more enjoyable, including internal landscaping and greenery, views of the sky and viewing lounges.
When it comes to terminals, size matters. As Radcliffe explains: "Because of the scale of airport buildings, they must be well designed and considered holistically, not only in two-dimensional space but also in volumetric terms."
Another key aspect that he forecasts will become increasingly important is integrating technology into buildings: "Equipping social and functional spaces with enabled technology will play a major role in the customer experience. Designing versatility into spaces that allow for connectivity while on the move will be an important differentiator."
As the most globalized part of the transportation sector, he accommodate the varying demands of the world's diverse cultures. Gender and ethnicity, with sometimes competing sensitivities, must be catered for to avoid discrimination.
Meanwhile, other factors such as age, physical and cognitive conditions that affect a person's ability to comprehend information must be considered too. That means thinking about user and visitor demographics when deciding how to present eye-level data.
"Ultimately, all of this is about thinking about the needs of customers first, designing places that improve their travel experience and making a commitment to manage customer service to the highest standards," says Radcliffe.
"Technology, diversity and other issues make this more complicated, but they also present opportunities to take airport experiences to a new level."