San Francisco International's (SFO) five-year strategic plan was not intentionally aligned with the Fitwel healthy building rating system, but the overlap is evident. So much so, according to SFO's healthy and resilient buildings program manager, Anthony Bernheim, that the scheme's requirements were met by the new Harvey Milk Terminal 1 without the need to even tweak the building's design.
Bernheim is responsible for the management of the Net Zero Energy and the Activation Planning Services programs within the airport's planning design and construction function. As such, he has played a key role in the move toward Fitwel certification. 
Bernheim explains that SFO's strategic plan is – in terms of its terminals – four-pronged. The airport's priorities are: reduced carbon/net zero energy; zero waste; water conservation; and healthy buildings. Having set these objectives, Bernheim recalls, the team asked itself, "How do we do this, and how do we know that we've actually done something?"
The answer was certification. SFO had split its Terminal 1 refurbishment into two projects, intending, Bernheim explains, "to divide the work up among as many architects, engineers and contractors as possible". The first part of the project was Terminal 1 Center, consisting of the terminal's entry area, where passengers arrive, check in and go through security. The second part, post-security, was known as Boarding Area B.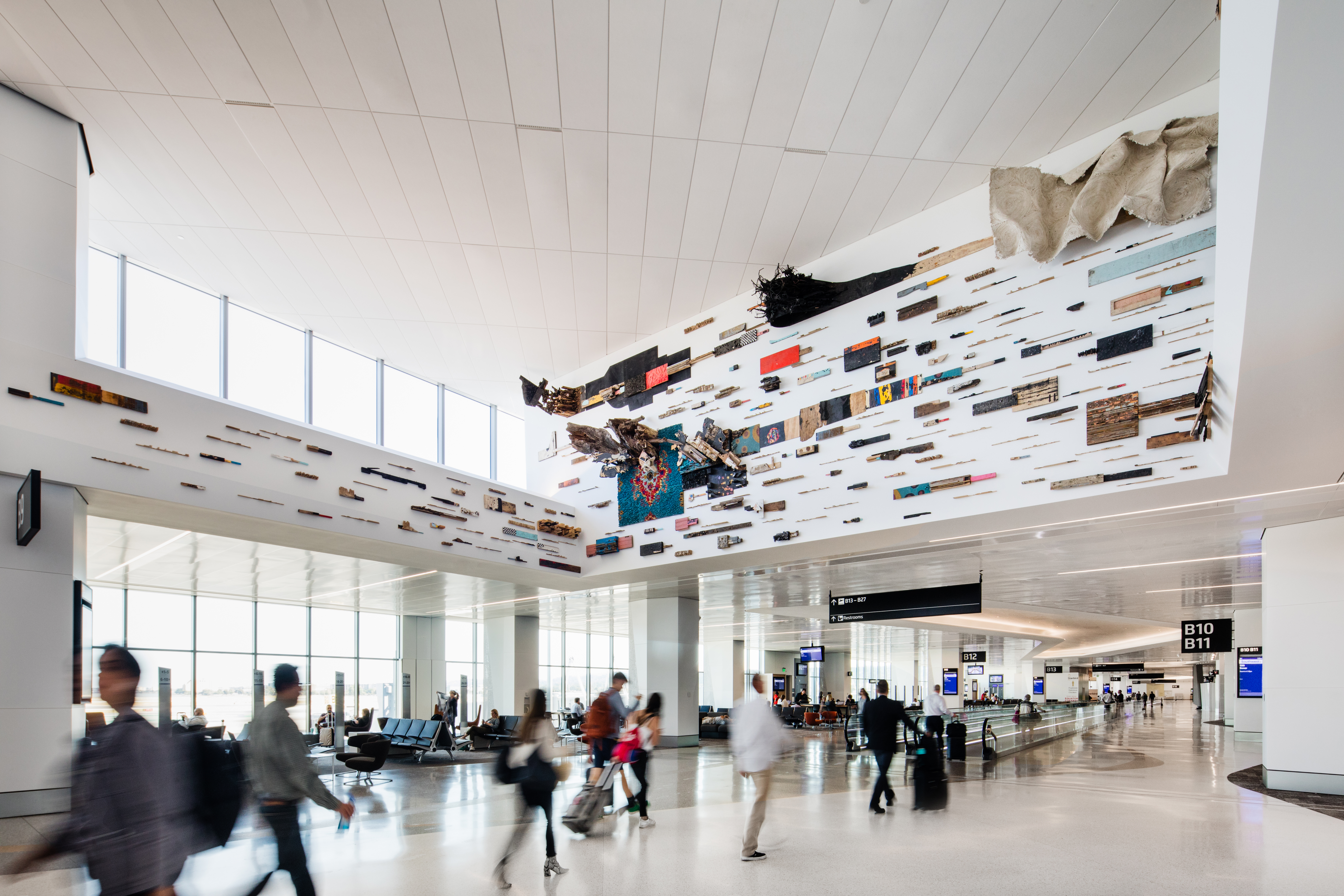 Pursuing certification
Having decided to work toward certification, acting on the advice of the team behind Terminal 1 Center, Bernheim and his colleagues decided to pursue Fitwel certification for that part of the building. Developed by the US Centers for Disease Control and Prevention (CDC), together with the General Services Administration (GSA), Fitwel is operated by the Center for Active Design (CfAD), which is also responsible for third-party verification of the certification.
For the back part of the terminal, the team would work toward the Well Building Standard. "We thought this would give us the opportunity to compare the different certifications for large airport terminals, to see which one might be better or more applicable for use in future," explains Bernheim. "It would also help us develop our own standards for health and well-being at this airport," he adds.
Furthermore, he says, "It was a way to demonstrate to the public and airport employees that the airport is providing the healthiest indoor environments that we can, based on science and medical research." 
SFO was in an enviable position, in that money was available for certification. Bernheim explains that some years ago, Erin Cooke, airport director of sustainability, set up the ZERO (Zero Energy and Resilient Outcomes) Committee, on which Bernheim sits. 
He says, "The airport went to the airlines and obtained a large sum of money for projects that had been programmed but not necessarily in terms of sustainability. The ZERO Committee's initial task was to distribute some of that money for energy efficiency and conservation, and more broadly for other sustainability measures that hadn't been thought about." The Fitwel and Well Building projects were therefore both funded by the ZERO Committee. 
The path to Fitwel
SFO uses the design-build process, according to Bernheim, whereby a contractor brings an architect on board, in this case, San Francisco-headquartered Gensler, which also led the Fitwel certification process. Two or three Gensler team members were joined by Bernheim and director of sustainability Cooke, as well as a member of the airport's project management support services team and an engineer – the latter responsible for collating airport documentation required for certification.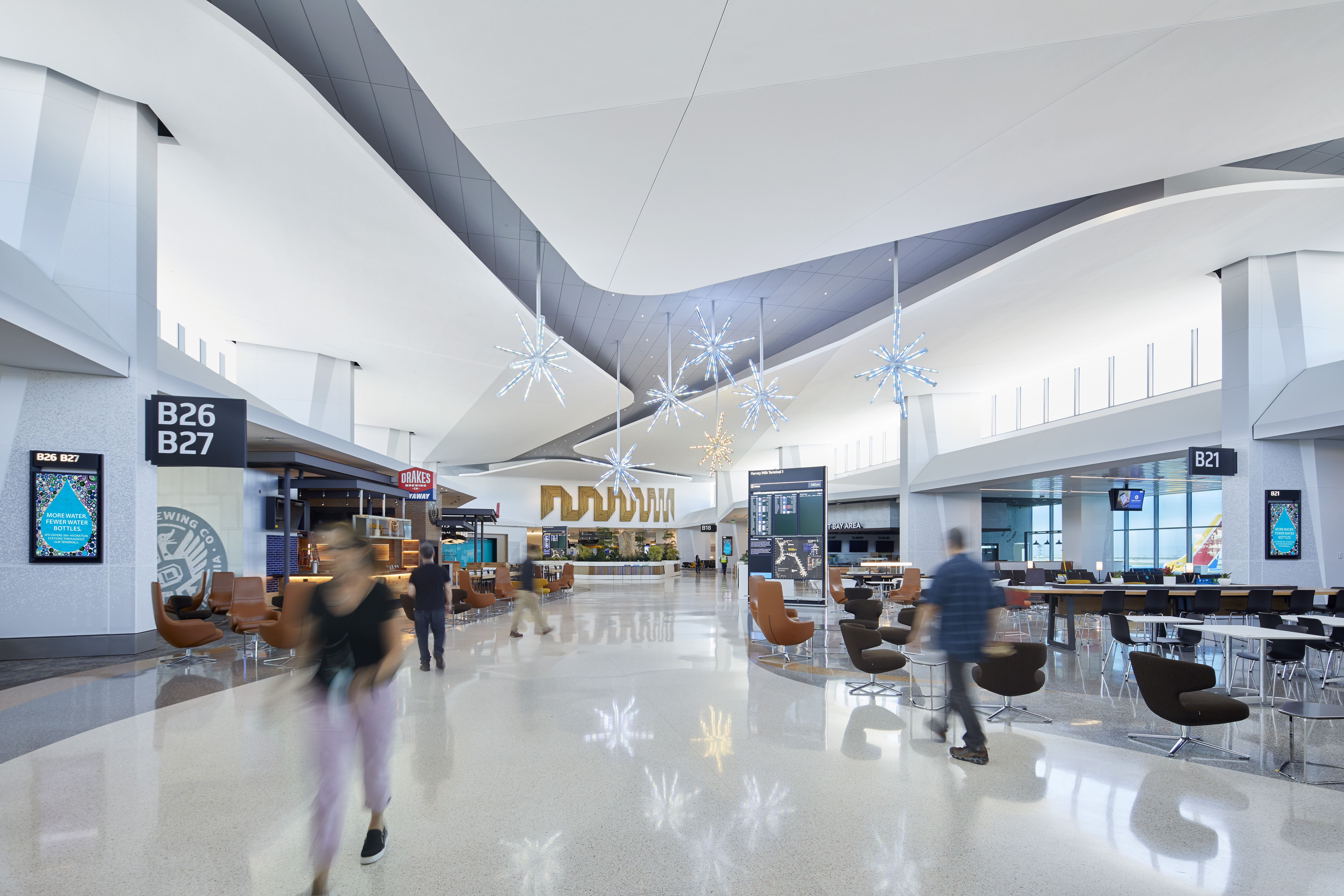 Bernheim describes the process as running smoothly, with meetings progressing from weekly to monthly over the course of three years, and is keen to point out that the airport already had in place many of the necessary elements, among them a highly efficient air filtration system which, at MERV (Minimum Efficiency Reporting Value) 14, is of a higher level than that required for catching aerosolized Covid-19 particles. 
Other features of Harvey Milk Terminal 1 that helped the building win Fitwel certification include dynamic glazing, increased stair visibility, and materials that are safer for the building's occupants.
First of its kind
While Fitwel was clearly a good fit for SFO, being the first airport to participate in the scheme brought its own challenges. As Bernheim points out, "Fitwel was developed for an office building and we were dealing with a very large terminal facility – so when you try to figure out how to make features work for the program, it's complicated." 
Reena Agarwal, co-founder and chief operating officer at CfAD, the sole licensed operator of Fitwel, explains, "The challenge was that there were many different users of the buildings and spaces – full-time airport employees, temporary contractors, and transient travelers, each user profile representing a different set of opportunities." 
Agarwal adds that while some building users would benefit more than others from certain elements of the design, such as the on-site bike parking, it was important "that the needs of full-time employees were considered, since they spend the majority of their day in the building". Among the facilities Agarwal was keen to see for these users were dedicated lactation rooms, outdoor seating and restorative gardens. 
Bernheim agrees that accounting for Terminal 1's users was difficult, saying, "In an office building, you have a lot of people sitting at desks and you can count them, whereas most of the people working in the terminal come and go."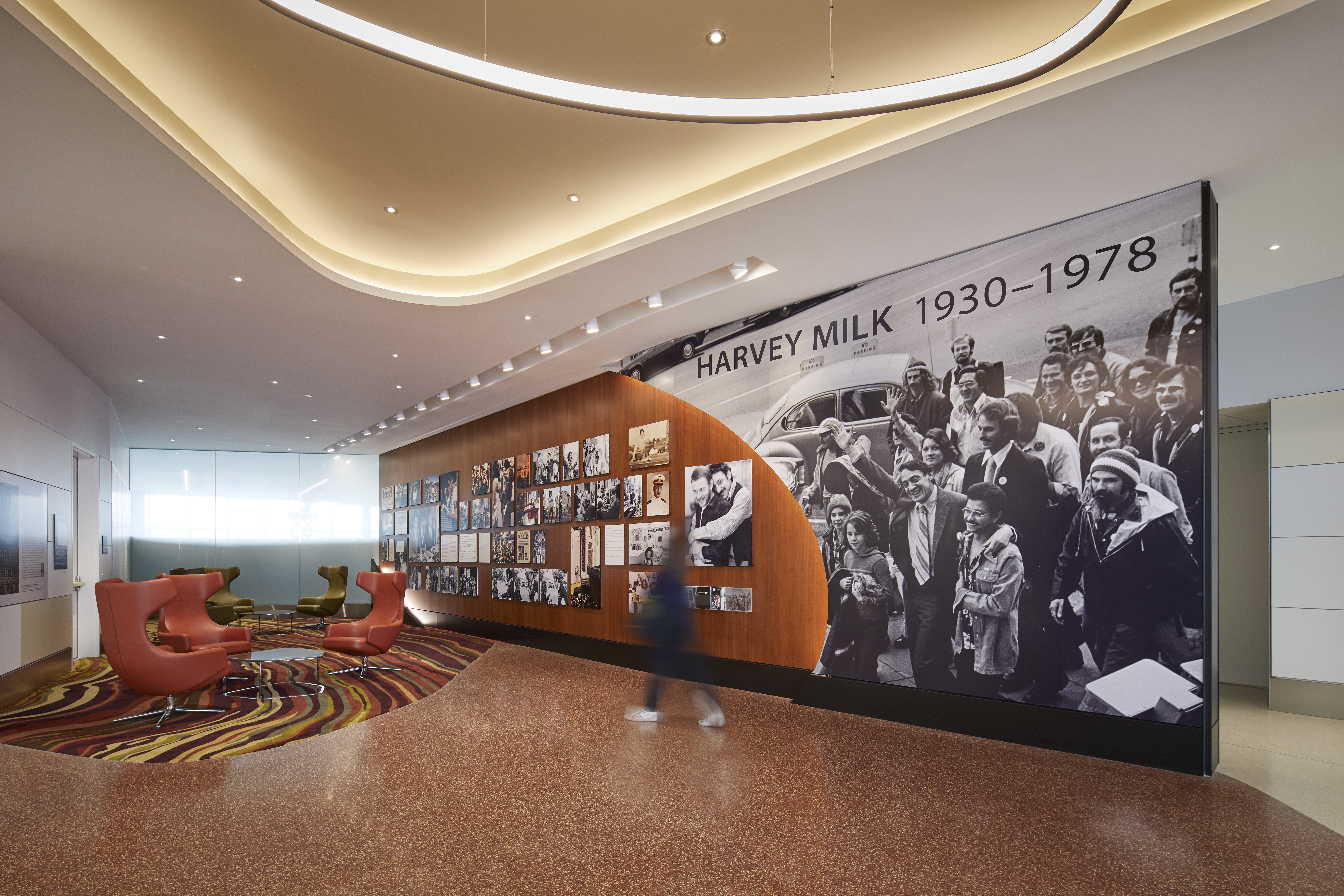 To accurately reflect the building's users, Bernheim and his team had to come up with a number that included everyone from police officers to cleaning and maintenance staff. He said of the experience, "We had to follow their rules to get there, but we're going to engage in discussions with the Fitwel organization, to help them understand if they want to certify other airports, there needs to be some thought about how to collate occupant load. We're doing a comparison right now about how LEED [Leadership in Energy and Environmental Design] calculates occupant load versus Well and Fitwel. We'll probably be having discussions with all three of them on that topic." 
CfAD has also learned from SFO's Fitwel experiences and what set the airport apart from other Fitwel applicants. Agarwal explains, "We recognized there are critical security protocols and priorities that had to be considered. Taking these protocols into account, we were able to collectively strategize on how to integrate some of the health-focused amenities, so that people could still access and use them in a way that did not denigrate the safety protocols in place. For example, the team made sure to place features such as a children's play areas where it was easy to access by travelers who had already navigated through the security systems."
Whatever the challenges, Agarwal is complimentary about how SFO tackled the certification process: "Our process benefitted from working with the innovative teams at Gensler and the airport. We were able to establish a feedback loop, where Fitwel provided the science-backed strategies to impact occupant health, and the teams at Gensler and SFO provided practical insights into standard approaches and design considerations on how the strategies may be implemented. Although our certification approach was not altered, we did work with the various teams involved to account for nuances and practicalities of working in an airport context."
Advice for other airports
Asked what advice CfAD would offer other airports considering Fitwel certification, Agarwal says, "We recommend that an inter-sectoral team is established from the onset. Teams that include design, engineering, operation and HR professionals are recommended to efficiently move through all of the strategies. Once the team is in place, it's important to establish a health vision and set priorities for how to achieve each of the relevant strategies." 
For airports that are not in an active renovation or new design, CfAD recommends that teams benchmark their existing airport facilities against the Fitwel Standard. "When using our digital interface, the Fitwel Portal, to benchmark facilities, the system will provide a gap analysis on what specific strategies can be prioritized within an existing space to incrementally improve health outcomes over time," explains Agarwal.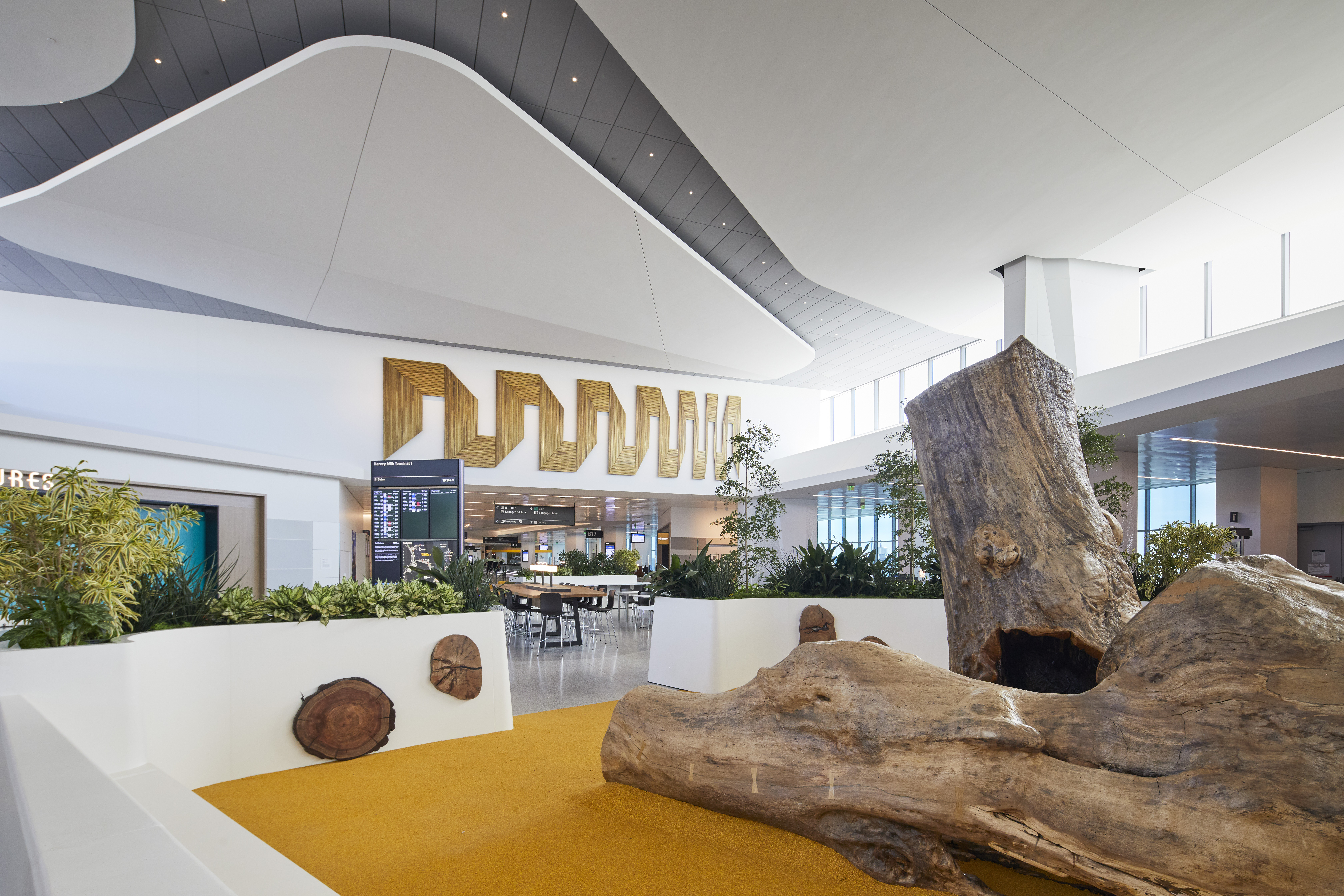 Looking ahead
Fitwel certification is valid for three years and Bernheim is already thinking about repeating the process. He says, "We did the first one for design and we're going to do the second one when the building is complete. In about two and a half to three years we'll do it again for the complete construction, for the whole building."
While the elements required by Fitwel were already part of the plans for Terminal 1, Bernheim acknowledges the benefits of the program. Applying for certification has prompted the airport to consider several new initiatives, including expanding transit benefits and amenity access; developing a healthy F&B policy; increasing indoor access to nature; and encouraging building users, whether staff or passengers, to walk more. 
Of course, the kudos involved in being the first Fitwel-certified airport should not be underestimated. For the team, there is also satisfaction in knowing that in healthy-building terms, they were on the right track all along. 
As Bernheim says, "What was great about Fitwel, and really interesting, was that we did not have to do any redesign to the building to achieve it. The part of the terminal that was built and the part that is going to be built meet the Fitwel standard. This was a very nice recognition, to achieve the two-star ratings without any changes."
In terms of what's next, he says, "We are looking ahead, at the things we can do better in terms of airport policy when we do the next certification. It's a case of continuous self-improvement."
In the short term, the airport is working to ensure it meets the requirements imposed by the Covid-19 pandemic. The airport is clean and ready for public use and Bernheim is one of several SFO people working with the ACI on a whitepaper addressing a short-term mechanical systems response to the virus. The airport has long-term ambitions too. "We are the seventh largest airport in the USA and we are looking to expand capacity. Air traffic will come back as people start to travel again," Bernheim concludes.
This article was originally published in the September 2020 issue of Passenger Terminal World.