Caroline Massart, head of Schiphol Group Aviation Solutions, explains how the airport's digital systems are helping other airports optimize passenger experience and operational efficiency
Schiphol Group Aviation Solutions was at Passenger Terminal Expo 2023 to showcase its expertise in digital solutions to help fellow airports improve the passenger experience, drive operational efficiencies and meet sustainability goals. The recently formed team is on a mission to accelerate innovation in the aviation industry and scale Schiphol's solutions to airports worldwide.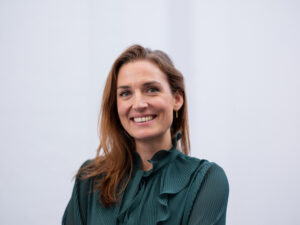 "Royal Schiphol Group is regarded as one of the most innovative airports in the world, developing and innovating on a range of digital products, in-house," explains Caroline Massart, head of Schiphol Group Aviation Solutions, who previously worked in IT consulting, leading innovation projects in the retail and consumer goods sector.
"However, in general, we see that the pace of innovation in the airport industry is low, compared with other industries," she continues. "Schiphol has the objective to drive collaboration across our industry, as airports have similar challenges and business needs and can learn from each other. On top of that, there is a need for cost-efficiency." 
Thus, Schiphol Group Aviation Solutions was launched in 2021 to bring proven digital solutions, developed in-house or with partners, to the market. "By doing so, we accelerate our own digital transformation and create more impact from the solutions that we develop," notes Massart.
Innovations on display at the expo included the company's Deep Turnaround, AIrport Inspector, Self-Service Unit and Position Assignment System, as well as its recent collaboration with security technology company Pangiam to make the screening of hand baggage quicker and safer. 
Reduce delays
Deep Turnaround is a deep-learning solution that uses AI to strengthen collaboration and improve turnaround predictability. It leverages computer vision technology to translate camera images from more than 30 subprocesses, such as fueling, pushback and catering, into data that is used to identify and predict causes of delays. 
"The turnaround process is a complex collaboration between the airlines, the airport, air traffic control and the ground handlers," comments Massart. "For many airports, it is still a complete black box, with around 50% of delays occurring within the turnaround process. At Schiphol, we're now using Deep Turnaround, which uses AI and camera technology to help bring everyone closer and improve collaboration, and it allows us to make accurate predictions for the turnaround. Deep Turnaround is now operational at multiple airports, and we invite other airports to start using it as well." 
Deep Turnaround has been in operation at more than 60 stands at Schiphol since 2021. According to Massart, it has radically improved collaborative decision making, reducing missed runway slots by 25% and last-minute gate changes by 50%. "By using this technology, airports should be able to increase their on-time performance by at least a couple of percentage points, and less disruption and fewer last-minute gate changes mean passengers can stay in shops and restaurants for longer," she says.
The solution flags anomalies and highlights procedures ripe for improvement: "In one example, we saw that it actually took just as long to disembark a nearly empty aircraft as it did for a full aircraft," notes Massart. "We also noticed delays associated with bringing PRMs on board. After looking at the data from the cameras, we found that in most cases, it was because the aircraft door was closed for too long – the passenger, vehicle and assistant were there on time, but then they were having to call to get the door opened," she adds.
Better data also enables sharper prediction, ensuring greater gate utilization: "We can improve the targeted off block time (TOBT) from being about 40% correct '15 minutes before off block' to being 80% correct, allowing you to give potentially missed runway slots to waiting aircraft."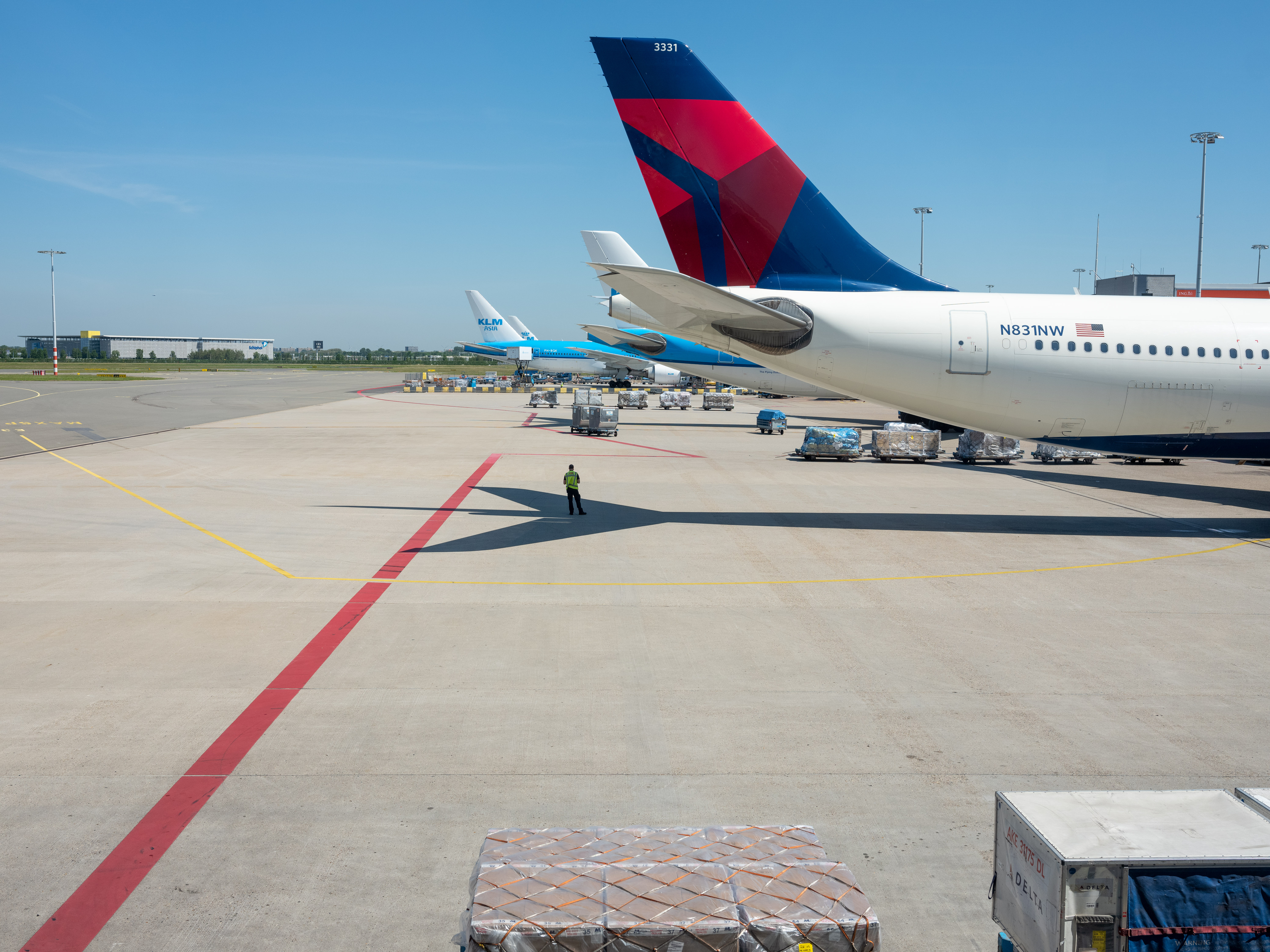 Better asset management
AIrport Inspector, which helps improve airport asset management, was first used at Schiphol in 2022. The tech is designed to assess the state of runways and aprons to minimize delays in operations and replace the sample-based visual inspections that are still common.
"For AIrport Inspector, we use AI and laser technology to survey runways and aircraft stands," explains Massart. "This gives a much more detailed and objective understanding of the quality of the surface. For example, because we can now inspect 100% of assets, we can identify and repair small damages that would normally have been undetected and would have led to faster degradation. This degradation tracking, which wasn't possible before, helps us increase the lifespan of the concrete and asphalt. We can even survey at night, and at speeds of up to 100km/h, minimizing the operational impact of our inspections. Extending the lifespan of these airport-critical assets results in lower costs, less operational impact and reduced material and energy use, directly impacting sustainability goals."
Seamless passenger flow
Schiphol was one of the first major airports to switch to using CT scanners to check hand luggage, allowing electronics and liquids to stay in bags and helping to speed passengers airside. It is also the first major European airport to support Project Dartmouth, a collaboration between Pangiam and Google.
Royal Schiphol Group has since partnered with Pangiam to pioneer a new process that uses AI and algorithms to analyze images of hand baggage and identify prohibited items and other security risks even more quickly and safely. The technology can be applied to existing hardware and equipment and will soon be tested at other interested airports.
"We're continuing to trial and pilot this technology ourselves at Schiphol," notes Massart. As such, we don't yet have any efficiencies at scale. However, it has the potential to improve the process substantially, with huge benefits to be gained."
Passengers who prefer a smooth journey will also welcome the company's Self-Service Unit, which has been designed to be a digital colleague that provides flight information, wayfinding, personal assistance and answers to passenger questions. This service helped Schiphol win the Skytrax Best Digital Services Award 2023. Expo attendees were able to interact with the Self-Service Unit for themselves, and check their flight status to determine what time they needed to leave the show. 
Finally, the company also presented its Position Assignment System, a smart wayfinding system for security lanes that guides passengers to the quickest available lane and divest position, optimizing throughput and decreasing wait times.
"All the solutions that we bring to market are proven solutions operational at Schiphol that contribute to improving the areas critical to being a successful airport," says Massart.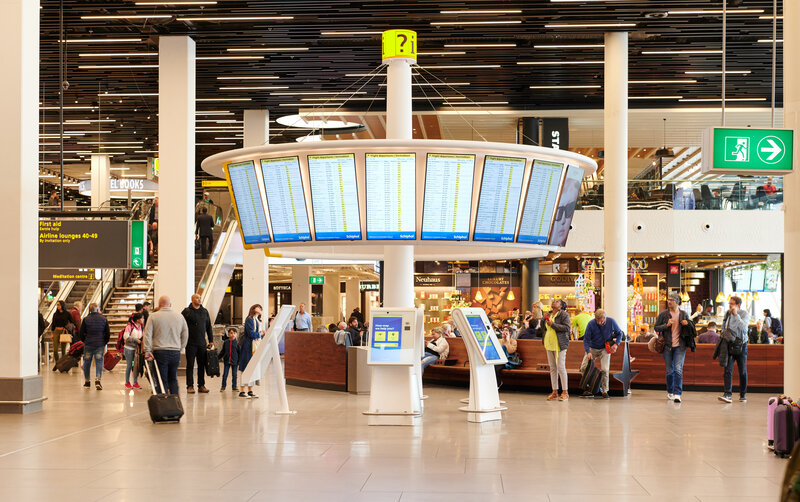 "Exhibiting at Passenger Terminal Expo has helped us share our various products with other airports and airlines. Although it might seem unusual at first, that an airport is making products available to other airports, it does make a lot of sense the more you think about it. We have the same challenges and similar contexts, and we truly understand what it takes to implement a solution and deliver the business benefits. Airports who use a product from our portfolio can skip lengthy and uncertain development cycles and go straight to the phase of using a finished and proven product that will deliver results, just like it has done at Schiphol."
Ultimately, the relationship between solutions provider and user benefits both: "This isn't a one-way street – we're not here just to sell to airports and airlines. The past year has taught us that the feedback of other airports makes our products better – for our own operations and for all customer airports," concludes Massart. "Airports around the world want to continuously improve passenger experience and optimize operational performance, all while minimizing environmental impact. But success doesn't come easily. Innovation takes time and requires capital and hard work. And even with the right investments, innovations are not always successful. That's something we want to change, with proven airport solutions."
This interview was originally published in the April 2023 issue of Passenger Terminal World magazine.