5G has the potential to transform airports into highly efficient IoT-connected hubs that are responsive to passenger needs
Passengers traveling through Helsinki Airport's non-Schengen area of Terminal 2 may have encountered Tellu rolling toward them. With a 5G badge beaming out of its white body, this 1.5m-tall robot, which is equipped with a 360° camera to monitor its surroundings, has been roaming the terminal since December 2018. Powered by a new dedicated 5G network installed at the airport, Tellu is a joint project between Swedish telecommunications company Telia and Finnish airport operator Finavia.
"In the first phase of the project we have been trialling and studying how passengers perceive robots and how the robot can operate in congested terminals, and tried simple monitoring use cases by remote controlling the robot," says Heikki Koski, chief digital officer, Finavia Corporation.
How have passengers reacted to encountering it? "With a lot of interest and a lot of selfies," says Koski. This interest is partly driven by the huge hype behind 5G technology, which in general promises to be transformative, revolutionary and game-changing. Over the past few years tech companies, service providers and network operators have been working hard to be in on the race to 5G, and now the technology is finally coming out of the labs with the start of trials and real-world deployments.
Some of these deployments have been in airports. While Helsinki Airport became the first airport to roll out a 5G project, more have followed suit around the world. Most are small demonstrations and trials because, at least from Koski's point of view, the aim is to initially explore and test 5G technology before making any huge investments in specific technology applications. "We'll see what opportunities arise as the technology matures, but we anticipate interesting possibilities for the future," he says. "For example, assisting passengers using semi-autonomous robots, getting a 360° real-time feed from terminals or the apron, and having autonomous vehicles or drones."
Speed, latency and bandwidth
What exactly is 5G capable of? It is the fifth generation of mobile communications technology, following 2G, 3G and 4G. Compared with these previous mobile generations, the headline benefit of 5G is speed.
Passengers at Manchester Airport in the UK experienced this speed for themselves during a 5G demonstration held at the airport in February as part of a joint collaboration with Vodafone. Sitting inside Vodafone's 'blast pod', they were able to download an episode of the crime drama Tin Star on streaming service Now TV in just 45 seconds, and the whole series of 10 episodes in 6 minutes 7 seconds. Vodafone says this was over four times faster than 4G, which took 26 minutes 8 seconds.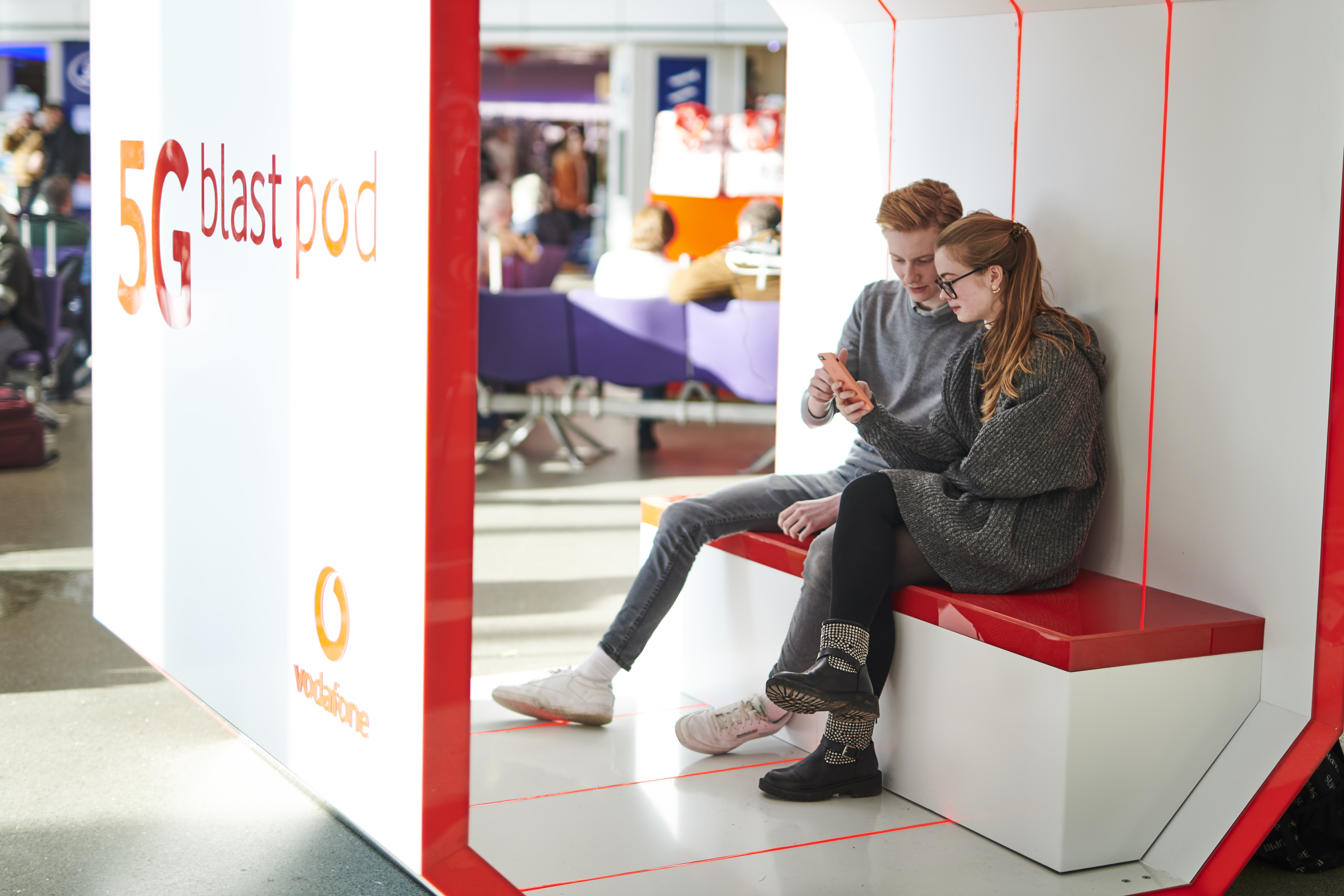 Arguably a bigger benefit than speed is low latency, because whereas 4G was built to power smartphones, 5G will power the Internet of Things (IoT). Some industry analysts estimate there will be nearly 21 billion connected devices by 2020. With all these devices online and connected, there cannot be any delay between command and response, as is often the case with 3G and 4G.
Of course, with all these people and things connected, 5G requires much higher bandwidth than 4G, as well as more capacity to serve densely populated areas, such as inside airports. Of the three wireless spectrum bands, the low and mid bands are becoming increasingly congested, so one of the most promising areas for 5G is in the high or millimeter-wave (mmWave) band between 28GHz and 300GHz, which has an enormous amount of spectrum available.
However, despite its increased capacity, the major challenge with mmWave is its inability to transmit as far and penetrate physical objects as well. To combat this, new 5G networks will rely on small antennas spaced more closely together to improve overall coverage and enable higher density of use. This has already been implemented in an airport environment with Huawei's small cell solution – low-power base stations that cover small geographic areas – which has been installed at Guangzhou Baiyun Airport in China and Istanbul New Airport in Turkey.
At Helsinki Airport the data transmission and control of Tellu is powered by Nokia's 5G network, which uses the 28GHz frequency band and is carried over a 5G base station installed at the airport.
While still early days, the Tellu project team is currently conducting research with passengers and airport staff into how they think such a 5G autonomous robot could enhance the passenger experience. "In the next phase we are planning to increase the services Tellu can provide to passengers, such as enabling them to connect to a customer service agent using Tellu to get a more personalized service remotely," comments Koski.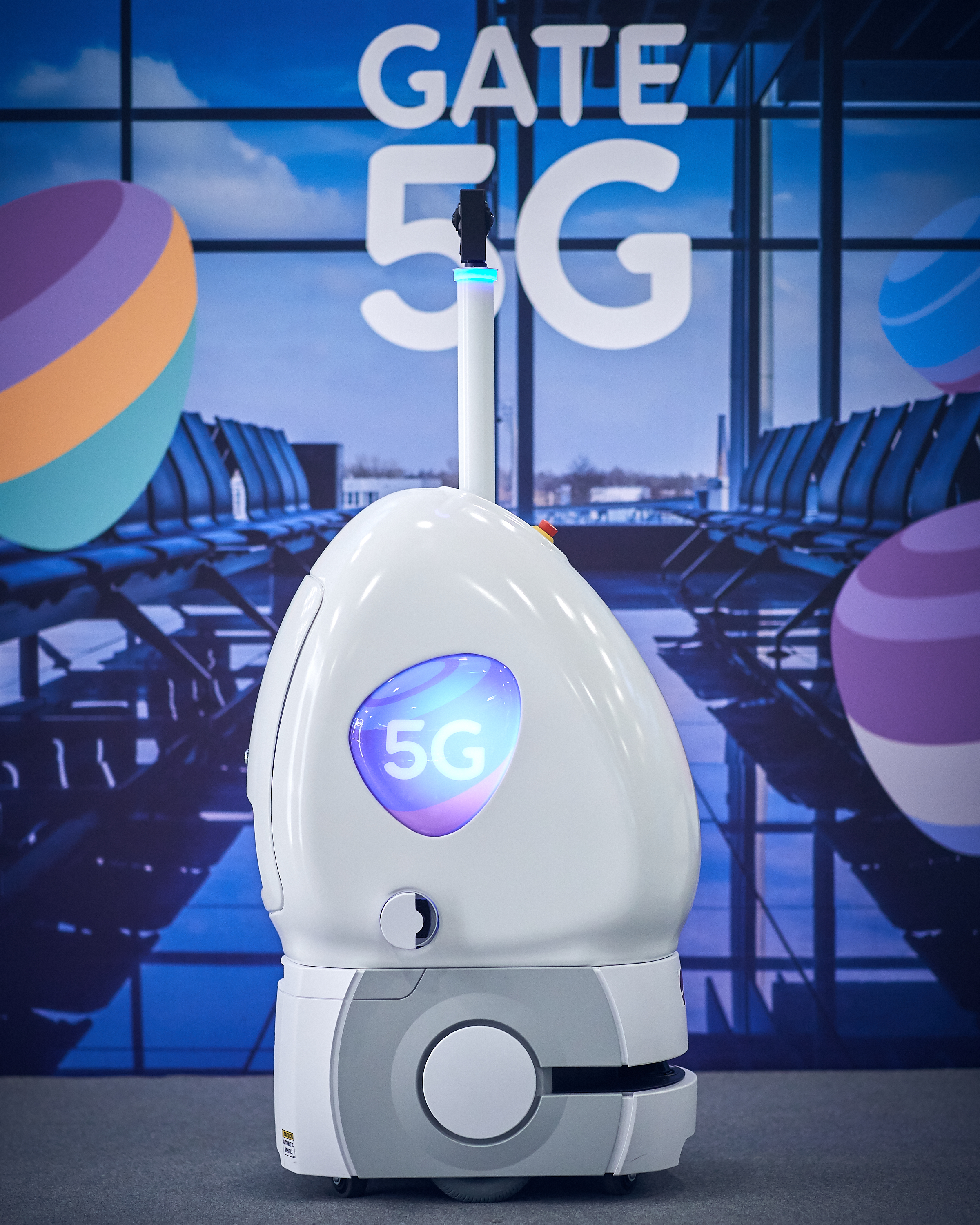 Use cases
The speed, low latency and connectivity of 5G also open up opportunities for airports to improve operational efficiencies. One company keeping a very close eye on the capability of 5G technology and how it can best be used in an airport environment is SITA. "Areas where I see 5G making a big difference include baggage handling, catering, turnaround optimization, passenger flow and resource management," comments Gilles Bloch-Morhange, VP of portfolio management at SITA Platforms. "It will also accelerate the growth of smart airports, with next-generation facility and building management."
Another key area, which is often the biggest headache for passengers, is security, which can become a choke point in the airport.
"With 5G, security can take be enhanced throughout the airport. With all the different sensors, cameras, data processing, low latency and so on, 5G can make an airport more secure while delivering a seamless experience to the passenger," describes Scott Ewalt, vice president of product and customer experience at Boingo, a wireless service provider to large venues around the globe, including major airports.
In addition to security, getting more devices online, from baggage to rubbish bins, will help provide a real-time understanding of how the various processes and services are performing within the airport. As Bloch-Morhange says, "This data will be invaluable when used together with artificial intelligence or business intelligence tools in driving new improvements to the operational performances of the airports. It will deliver new insights and information that will allow airports to make more informed decisions. This is where SITA sees the real benefit of 5G."
It's logical to think that, with the rise of IoT and the increasing number of devices streaming data, there will now be more data that needs to be stored and managed. While Bloch-Morhange believes that there are several solution providers that are already developing applications to manage these data lakes and that storage and processing of the data in general is already something that is being done in the industry, for him the real challenge with 5G will be how relevant data is extracted and then used to drive value. "At SITA we are working on developing artificial and business intelligence solutions that will allow us to use this data in a more meaningful way for the air transport industry," he says. 
Getting connected
However, before any data can be collected, airports first need to make 5G live. When it comes to 5G, while many providers are using the mmWave band, 5G technology will not be limited to this high-band spectrum. Instead 5G is being designed to support a multitude of technologies. Next-generation networks will combine different spectrum bands and converge licensed and unlicensed wireless technologies, including current 4G LTE networks and Wi-fi 6. "We used to think of it as getting people connected over wi-fi or cellular and that is going to transform in a big way. It's going to become much more diverse, with many different types of wireless technologies working together, both to connect the end user, as well as connecting the many types of IoT devices, from massive machine type communications for long range, low data rate devices to ultra reliable, low latency communications for highly responsive connections," says Ewalt.
Being a neutral host service provider, Boingo delivers connectivity to clients by leveraging converged wi-fi, cellular and IoT solutions. It has already partnered with airports to deliver connectivity solutions for the 5G era. At John Wayne Airport in California, a Wi-fi 6 network trial has been launched, and at Dallas Love Field a private LTE cellular network has been deployed.
Interestingly, as part of its 5G strategy, Helsinki Airport has also implemented a private 4G LTE network. "For us, this was an opportunity to develop airport area wireless data services independently of network operators for Finavia's internal use as well as for other stakeholders at the airports," says Finavia's Koski.
Whatever route the airport decides to take in implementing 5G, the key message, certainly from Boingo, is to work with partners and providers to get a strategy in place. With 5G services rolling out across the world, and with many 5G smartphones ready for launch by the end of this year, airports need to get on board now.
This article was originally published in the September 2019 issue of Passenger Terminal World