As part of Passenger Terminal World's 25th anniversary celebrations, Helen Norman put a series of questions on the industry's future to Angela Gittens, director general, ACI World.
What do you believe the airport will look like in 20 years' time?
There are many different touchpoints for passengers throughout the airport experience and many of them are not the direct responsibility of the airport. Rather, the airport experience is delivered by many partners – airlines, commercial partners and government agencies, for instance. These partners are pursuing greater cooperation, coordination and collaboration in facilitating a seamless process. According to ACI data, global passenger traffic is expected to exceed 20 billion by 2039, and aviation stakeholders must work together to prepare for this growth while meeting the evolving needs and expectations of passengers in a competitive environment.
Given the cost and complexity of infrastructure change, airports, airlines and other stakeholders need to collaborate to make the best use of technological advances and advanced processes as a means of providing capacity while reducing aviation's greenhouse gas emissions.
New Experience Travel Technologies [NEXTT], a joint ACI and IATA initiative, connects different innovations and initiatives to create one vision for the future.
The NEXTT vision seeks to determine what could be implemented over the next 20 years to provide the change needed. The goal of the program is to ensure that the transport of passengers, baggage and cargo harnesses the latest technological developments to improve the customer experience, reliably and efficiently.
What key processes within the airport will change the most, and how?
Emerging technology has the potential to increase operational efficiency, safety and security, reduce queues and processing times, and create a seamless experience for passengers and staff.
Probably one of the most significant changes will be moving some processes off-airport to a location that best suits the customer. This is enabled by digital transformation. Activities that historically required a manual check could now occur as a digital process. For those elements that will always require a physical interface – such as baggage check-in – locations throughout cities could be used. This will improve the convenience for customers and alleviate pressure on processing at the airport.
Passenger experience has undergone substantial improvements, with automation a major factor. For example, when it comes to identity management, biometric technology can be used to identify passengers throughout their journey, which could eliminate the need for manual checks and repetition of processes. We are already seeing many airports and governments implementing trials of biometric systems, but we envisage biometrics being an enabler for all processes that can be used seamlessly and securely at both departures and arrivals, linked with security, customs and immigration.
It could also enable a personalized service for passengers. Baggage may be identified with similar biometric technology using a 3D image capture of smart tags embedded in the bag, enabling easier identification.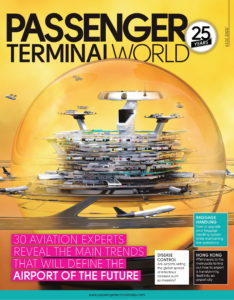 Non-customer-facing operations on the airport ramp and for cargo operations will advance with automation. Numerous repetitive tasks that need high levels of synchronization will be optimized in conjunction with other tasks. Deploying autonomous vehicles and equipment will offer new levels of efficiency.
Developments in threat detection equipment will make security screening less intrusive and reduce queues and waiting times. Advanced algorithms will eliminate the need for physical separation of specific higher risk elements (such as laptops and liquids) and will facilitate effective threat detection while reducing the burden for passengers with items to divest. ACI's Smart Security Programme looks at new technologies and innovative processes that will enable security to become more efficient and effective, as well as providing a better passenger experience.
Do you see any major challenges affecting the airport sector?
With growing passenger numbers, the aviation stakeholders and regulators will need to work together to accommodate the change in passenger demands and focus on delivering exceptional passenger experience while keeping up with new and emerging technologies. A coordinated industry effort is needed to determine how the travel experience may change and how technology and process innovation will help to meet the ever-changing needs of customers.
Implementation of progressive programs such as NEXTT and Smart Security could create a technology economy which may lead to the evolution of new business models and aviation-sector companies. Without a central, coordinated vision, the benefits of these programs will not be realized at scale. 

How will passenger demand change?
With global air passenger traffic expected to exceed 20 billion by 2039, airports are placing ever-increasing importance on improving the passenger experience as passengers are demanding higher levels of service. One of the keys to increasing capacity while also improving the passenger journey through airports will be for the industry to look beyond standard offerings when it comes to new technology and innovation.
Passenger demands have changed substantially over recent years. With an ever-changing demographic, there are different profiles of passengers with different needs. Today's passengers are seeking a seamless, secure and efficient journey that is highly personalized throughout. There is no doubt that technology will play a very important role in the aviation industry. Going forward, it will be imperative for aviation stakeholders to anticipate future passengers' needs in order to provide a seamless user interface. Adopting a customer-centric approach while continuously striving to deliver high-quality passenger experience will be crucial for future success.
What new technologies do you see having the biggest impact on the sector?
We do see several technology trends as key enablers for change.
First, greater and more seamless interaction is needed between passengers, airlines, government agencies and authorities, baggage handlers, air navigation service providers, freight forwarders, ground handlers, and others. Better use of data and communication is the key to improving airport and airline operations. Coordinating data sources and using distributed technologies or cloud applications should also allow customers to access real-time tracking of flights, baggage and shipments, providing control and peace of mind.
Secondly, the use of predictive modeling and artificial intelligence will enable swifter, more timely decisions using a wider array of data. Awareness of the changes to a passenger's journey, the status of aircraft, cargo or baggage will enable the airport to optimize decision making across its whole operation, and will enable airlines to coordinate their activities across their entire network.
Thirdly, the opportunities for automation, autonomous vehicles and robotics are numerous, given the repetitive nature of many processes. Automation of non-customer-facing operations on the airport ramp and for cargo operations, which have remained broadly the same for decades, will advance with automation. We can already see driverless tugs doing aircraft pushback and there are many more opportunities for increased safety, improved efficiency and better use of human resources.
Can you make one key prediction for the future of the airport for the next 20 years?
With a significant increase in global air passenger traffic demand, it has become clear that many airports are currently facing a capacity crunch. As the industry grapples with the challenge of meeting this demand, it is evident that different solutions will be needed. We expect to see major deployment of automation, and data will be a key enabler for improved airport management and smoother passenger experiences.
We would also hope to see the industry moving ever-closer to reaching net zero carbon emissions. This will require a good deal of collaboration with governments to enable renewable energy sources and sustainable aircraft fuels. Airport operators are already well on their way with activities they control, as we can see from the progress on Airport Carbon Accreditation.
Is there anything else you would like to add?
We also need to look at workforce capacity, both in terms of attracting tomorrow's workforce as well as the capacity of the current workforce.
As ACI continues to push for greater investment in tomorrow's talent pool, we are aware that the industry must also keep track of larger trends in the labor market that have the potential to influence future skills.
Trends include technological change, globalization, demographic change, environmental sustainability, urbanization, increasing inequality and political uncertainty among others. We will need to forecast how such changes in the labor market will interact with those in our industry as we fight to get our fair share of talent. This includes how technology is going to change the workforce.
This will also include supporting and promoting women in aviation. ACI, along with others in our industry, understand that we cannot ignore half of the world's population and expect to fill our workforce demand. We joined with IATA and six other stakeholder organizations in the aviation and aerospace industry to launch a global study, Soaring Through the Glass Ceiling, to identify and promote means by which the aviation and aerospace industry can more effectively recruit and advance women into leadership roles. The study is scheduled for release this year.
On another critical topic, there must be greater coordination between airports and decision-makers – usually local government – on proper land use planning around airports. Around the world, airport operators have invested heavily in noise management, sustainability, and community programs to help ensure they remain good neighbors. By being a good neighbor and supporting their communities, airports help to ensure they have a license to grow. Governments must be mindful, however, that if airports are going to meet the soaring demand for air services and realize the social and economic benefits that this will bring, sensible land use policies that prevent the encroachment of urban development on airport operations need to be introduced and enforced.
The June 2019 edition of Passenger Terminal World is now available to read online.