With more than 26 years of experience in the airline and airport sector, DESKO is your ideal partner within the fields of passenger handling, passenger flow control, access control, security checks and passport and boarding pass scanning. DESKO´s wide product range offers a perfect solution for every passenger touch-point, and its devices guarantee a smooth passenger journey from check-in to boarding.
With its subsidiaries in Singapore and the US, DESKO is eager to cement its position as a high-quality product supplier on the airline and airport market, and to continue setting new standards for the industry.
Water Resistant Integrated Keyboard – NEPTUN chrom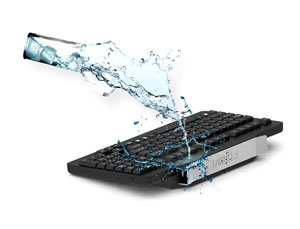 We are very proud to introduce our latest product to the market, our brand-new integrated keyboard NEPTUN chrom. The NEPTUN keyboard will be equipped with DESKO´s well-known MRZ and MSR technology for passport or ID card reading and mag stripe card reading. But for the first time ever in the history of integrated keyboards it will also be completely water and dust resistant according to IP54 regulations. Not just the keymatrix and the key caps, the entire keyboard including swipe slot will be water and dust resistant. No more damaged keyboards due to water spillage. No more closed counters due to equipment replacements.
For more information visit our website: www.desko.com/neptun-chrom
Boarding Pass Scanner – BGR 504 pro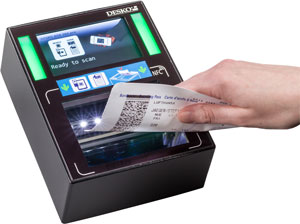 Our BGR 504 pro is your perfect device for boarding pass scanning. It reads barcodes faster than ever and thanks to its flatbed design it detects barcodes already from a distance of 10cm. Jut tap-and-go and your boarding pass is read. Its large and multicolor display with two big LEDs on each side give an immediate and highly visible feedback whether the scanned ticket is valid or not, to the passenger as well as the agent. A buzzer sound, volume controllable, even supports this message acoustically.
BGR 504 pro, the ultimate boarding pass scanner.
For more information visit our website: https://www.desko.de/en/products/travel/boarding/bgr-504-pro.php
Versatile Document Scanners – PENTA Technology


Our PENTA platform consists of different scanners, every single one developed to be class-leading and future-proof in its division. The PENTA platform includes the PENTA Scanner CKI made for check-in applications, the PENTA Scanner BGR our high-class boarding gate reader, the PENTA Scanner ID Terminal including a touch display for user guidance, perfect for self-service applications, and the PENTA Scanner Cube Line, our OEM versions, specially made for kiosk or eGate integrations.
All PENTAs are equipped per default with our OCR/MRZ and barcode reading technology for passport and ID card reading. All scanners can be upgraded with, for example, a NFC reader, mag stripe card reader or smart card reader. Nevertheless, each of them has their own individual package according their fields of expertise. The entire PENTA platform is certified with all common use providers to guarantee an easy and simple integration into your system.
For more information visit our website: https://www.desko.de/en/products/travel/security-access-control-passanger-flow-control/penta-scanner-id-terminal.php
Swipe Reader for ID documents and magnetic stripe cards – IDenty chrom


DESKO´s brand new swipe reader IDenty chrom® is the latest addition to the chrom family (see also NEPTUN chrom keyboard) and the perfect companion for a fast and efficient data capture from ID documents such as passports, ID cards or visas. In addition, it also reads magnetic stripe and chip cards.
The entire device including swipe slot is water and dust resistant according to IP54 standard. It withstands water spillages without functional restrictions. Due to its small and compact design, the IDenty chrom fits in even the narrowest workstation.
For more information visit our website: https://www.desko.de/en/products/travel/check-in/