eezeetags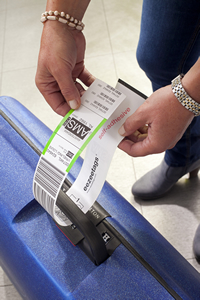 eezeetags is a Dutch based company that develops and produces bag tag solutions under the same name for self-service bag-drop processes. A totally new approach is needed with the upcoming self-service bag-drop operations where we expect passengers to self-tag a bag.
eezeetags makes self tagging real easy. eezeetags have a magic adhesive that only sticks to itself and not to bags, clothes, children or floors. eezeetags need no backing to remove and therefore create no waste at the tagging point. With the magic adhesive only sticking to itself there is no possibility to stick eezeetags the wrong way. eezeetags is the key component in making the self-service bag-drop process really live up to its potential.
eezeetags addresses the challenges that airport and airlines face with the increasing passenger numbers. eezeetags improve the passenger experience because dropping a bag becomes really easy, very fast and creates lesser or shorter lines therefore increase the capacity of the terminal. Agents will only be needed to assist the passengers that really need help. Passengers have more dwell time to spend before boarding, creating not only happy passengers but also a happy retail area with passengers in their shops and bars, instead of rushing by to catch their flights.
eezeetags already serve over 8 million passengers a year at a number of major European airports. eezeetags is more than dedicated to its products and willing to work closely together with existing and future customers by jointly analysing specific needs and customising the eezeetags where necessary.