Schiphol Group Aviation Solutions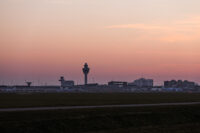 Making proven products at Amsterdam Airport Schiphol available to other airports, worldwide. That's the mission of Schiphol Group Aviation Solutions. There are currently thee products available and two are soon to be added. 
Products currently available for other airports: 
Deep Turnaround  
Historic, real-time and predictive insights for all sector partners to improve turnaround predictability, efficiency, safety, and increase the On-Time Performance.  
Position Assignment System  
A sensor-enabled, dynamic system to guide passengers towards the next available security desk. 
Schiphol | Position Assignment System 
Self-Service Unit 
Optimise the passenger experience with on-demand passenger information and assistance. A proven UX, customisable hardware and modular software. 
 Products which are currently being developed and tested: 
AIrport Inspector  
Improve the concrete lifespan and shorten the time for inspections by using high quality LC-MS imaging, assisted by artificial intelligence.  
Pangiam: 
A collaboration with security technology company Pangiam to develop a new way to screen hand baggage quickly and safely, using Artificial Intelligence. 
About Schiphol Group Aviation Solutions: 
Airports around the world want to continuously improve passenger experience and optimise operational performance, all whilst minimising environmental impact. But success doesn't come easy. Innovation takes time and requires capital and hard work. And even with the right investments, results aren't guaranteed. That's something we want to change by sharing what's worked well at our airport so that other airports can also benefit. Airports can skip the entire development cycle and immediately start implementing to get the business results of the product, quickly.