SICK AG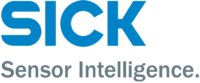 In line with its brand claim 'Sensor Intelligence', the SICK Group focuses on the development, production, and distribution of sensors, systems, and services for industrial automation technology. Business activities center on creating added value for customers from a wide range of target industries with intelligent sensor solutions. The SICK Group divides its business activities into factory automation, logistics automation, and process automation business fields.
Numerous logistics processes at the airport run smoothly thanks to sensors and sensor solutions from SICK. SICK sensors control and monitor each critical movement accurately and reliably. They are used in many applications, such as passenger boarding bridges, ground support vehicles, baggage handling systems and cargo facilities, access control systems, security systems for buildings and for ground surveillance, and within catering facilities.

Sensor solutions from SICK:
Measure: Exact data on distance, overhang, profile, volume and weight enables optimized workflows and maximum reliability of all processes. The sensors support the docking process for the passenger boarding bridge, detect oversized baggage, determine the volume of air freight, and check the contour of ULDs.
Detect: Check for the presence of persons and objects of all types. The sensors detect the direction of movement not only of passengers, but also of leading edges, levels and protrusions of baggage and air freight.
Identify: Fast and reliable identification of codes on baggage and air freight is the basic requirement for automated sorting and storage. SICK offers scalable solutions with all identification technologies (laser, camera, RFID) that can be easily adapted to the respective application requirements.
Protect: Reliably monitor transfers from landside to airside and protect the airport building efficiently. Hazardous areas must be secured to ensure personal protection and the highest level of system throughput. Sensor solutions from SICK support these efforts.
Automated reading of the baggage label
ALIS (Airport Luggage Identification System) is the most commonly used identification system for baggage at airports. ALIS systems meet the standards of the International Air Transport Association (IATA)  and, depending on the model, can attain reading rates of up to 99%. They therefore fulfill the requirements for smooth baggage transportation within extensive airport conveyor systems and ensure that cases, bags, and rucksacks can be sorted and directed reliably to the correct make-up station.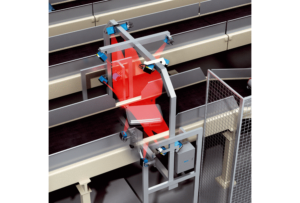 Driver assistance on aircraft tractors
The APS (Aircraft Protection System) driver assistance system provides reliable warnings against collisions with other ground vehicles and the airport infrastructure. It also provides the tractor driver with assistance during push-back, maintenance and maneuver towing. The display shows all the obstacles that are in the vicinity of the aircraft. The driver receives an acoustic and optical warning when there are obstacles in the aircraft's towing corridor.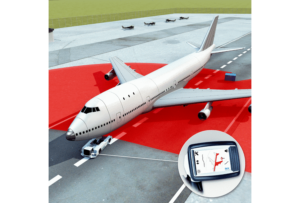 Contact:
solvejg.hannemann@sick.de, +49 7681 202-4636