With 81% of its landmass lying beneath an ice sheet and a population of just 56,000, predominantly in sparse settlements on rocky coasts bereft of soil, Greenland isn't an obvious choice for a US$305m airport investment project. But in 2016, the country's government created Kalaallit Airports (KAIR) to build, own and operate international airports in Nuuk and Ilulissat and a regional airport in Qaqortoq, heralding a new era of opportunity. Greenland is investing Dkr2.1bn (US$304m) in the three airports, supplemented by a Dkr7m (US$1m) injection from the Danish government and loans from the Danish National and Nordic Investment banks.
"The Greenlandic economy is subsidized by Denmark, then its income is basically fish exports," says KAIR CEO Jens Lauridsen. "If fish prices fall, the economy is in a downturn. "We have potential for tourism," he continues. "The glacier at Ilulissat throws out icebergs [big enough] to sink the Titanic and south Greenland has Viking ruins. We have abundant raw materials, gold and titanium. But tourism and mining require easy access, which doesn't exist today."
Currently, international flights come only from Denmark and Iceland and none directly serve the capital, Nuuk, or northerly Ilulissat. Few Greenlandic runways accommodate larger aircraft, which must land at Kangerlussuaq Airport, formerly Sondrestrom US military air base, home to perhaps 500 people. The 65% of international travelers bound for Nuuk and 25% for Ilulissat must transfer to small Dash 8 aircraft to reach these destinations.
"Inability to fly to the capital is problematic," says Kelly Andrew Nelson, a partner at Zeso Architects, which produced the initial concept design for all three terminals. "Greenland is part of the Commonwealth of Denmark and flies people to hospital in Copenhagen for specialist healthcare. Because of the climate, a stop is asking for trouble. A delay in Greenland is not an hour, but sometimes several days."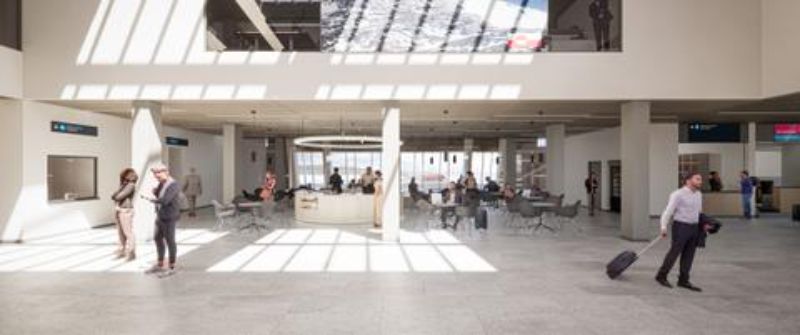 Designing for the elements
Zeso Architects is now working for Danish contractor MT Højgaard on the project in Nuuk. The essential principle was to create a recognizable family of buildings, harmonized with the landscape but differentiated by articulation specific to each place. "The common expression is a simple shell form that folds down to embrace the interior functions," explains Nelson. "In Nuuk, the façade is inspired by the cliff landscape. Ilulissat is about icebergs, articulated by shapes in metal cladding. In Qaqortoq, wood cladding reflects a milder climate. We don't mimic nature, but suggest a subtler relationship."
Greenland's extreme climate imposes constraints on terminal design, precluding features common to many airports. Zeso Architects began by consulting a local engineering partner on the principles of building to withstand the frigid elements. "First, they said, 'Just limit your curtain walling,'" Nelson recalls. "The intense wind pressure makes it impossible to keep traditional curtain walling systems watertight. They advised simple roof forms, to best handle the snow. Then, no gutters. There's so much precipitation that gutters fill up and break off, so we're draining everything down the façade."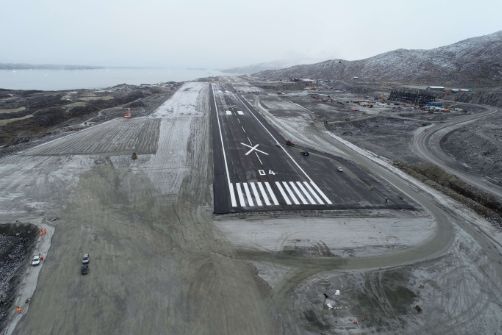 "We won't have the normal fingers of gates connecting the terminals to aircraft," adds Lauridsen. "The wind in Nuuk comes always from the north or south. The terminal stands parallel to the runway, which runs north-south to accommodate it to the wind. Therefore, the fingers would run east-west, putting a sail against the wind."
Curtain walling is used strategically in Nuuk to frame a particular view of the apron and fjord beyond. The sporadic and challenging Greenlandic light will be attuned to passenger comfort by triple-paned glass with an inner reflective coating.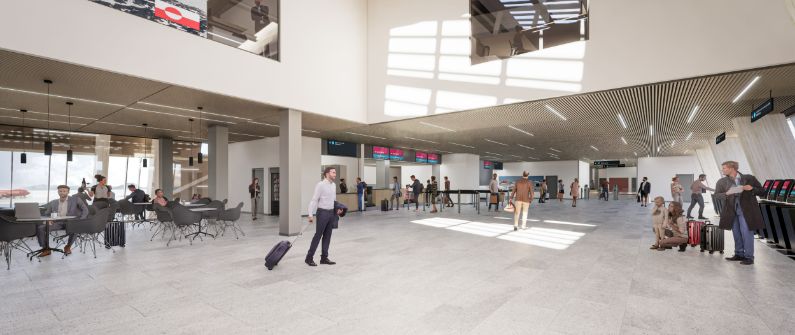 "Greenland is frequently overcast, creating very diffuse light," explains Nelson. "Then there's one day of stunning blue sky, like I've never seen before, and sharp sunlight coming in at a low angle. Coated glass is a relatively low-tech solution. In that initial conversation, the local engineers said, 'Don't do anything complex, because [it's a big problem when] things will break'."
If something breaks at Copenhagen Airport, a repairer attends within hours. But in Greenland, support takes days to arrive, especially in adverse weather. This creates an requirement for reliable, low-maintenance systems, which also informed the delivery of the technology solutions provided by Embross.
Tech solutions
Each terminal will provide a state-of-the-art experience worthy of any global airport. Embross will deliver its full technology portfolio, which includes agent-supervised (CUPPS) and common-use self-service (CUSS) kiosks for check-in. These allow each airline to run its own application, with all airlines expected to offer a choice between traditional and automated check-in. Embross will provide self-service bag drops (SSBDs), security e-gates and transfer and boarding desks with CUPPS workstations.
"It's a greenfield SSBD system with RFID bag tags," comments Embross director Frank Mikkelsen. "Greenland's whole baggage handling system is built on RFID technology. That's pretty unique. It's only possible in a country where you control all the airports and don't inherit old technology. RFID has a much higher read rate than traditional barcode scanning, the tags are easy to track and various data can be added into them."
When it comes to maintenance and servicing, a remote solution was needed. "Our whole CUPPS environment, the software controlling the kiosks, will be cloud-based," Mikkelsen comments. "It means there are no on-premises servers to maintain. For the hardware, it's about ensuring the first level of support is local. Up here, they can't rely on us. They must be able to help themselves. We give their personnel the highest level of training to do so."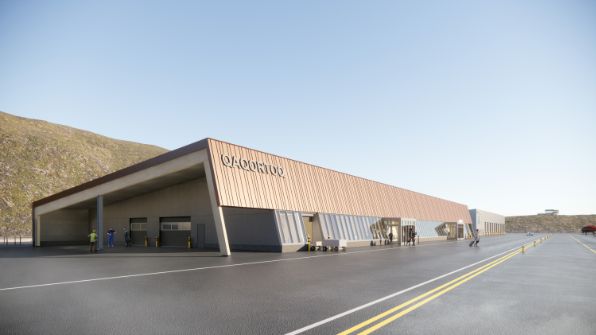 Complex passenger flows
Greenland does not belong to the Schengen Zone but must accommodate passenger flows from Schengen countries. As well as Schengen, non-Schengen and third-country travelers, Greenland adds a fourth flow into the mix: domestic travelers who are not security checked. This creates flow separation challenges, especially in the single-level terminals at Ilulissat and Qaqortoq.
"These are complex flow machines, condensed into the smallest-possible space," says Nelson. "Their per-m2 complexity is greater than European airports with multilevel arrivals. It may require parallel passages separated by a glass wall. Flexible process points mean they can open or close doors to set the passport area to non-Schengen or third-country flights, which are unlikely to arrive simultaneously."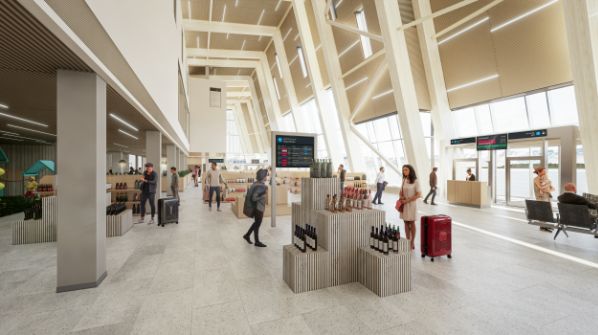 A sense of place
When Greenlanders travel, they are often dropped off or collected not by one person but by a whole extended family, which Nelson tentatively ascribes to the cultural memory of journeys fraught with danger across icy wastes. In former times, when or even if hunters would return was a matter of uncertainty. The Nuuk terminal dedicates space to this ritual of collective leave-taking.
"It's called the Hello-Goodbye Zone," explains Nelson. "Behind the café is an area with two levels of stadium-like seating and a line-of-sight through the waiting area for departing and arriving passengers to the apron itself. Families can sit in this area and wave to someone until they walk out on the tarmac and actually board the airplane."
Terminal interiors are defined by visible wooden or wood-clad structural frames at 6m intervals. These repeat the exterior sense of the building's folding embrace, reinforced by lamellas descending from the ceilings. Creamy, off-white surfaces create a cosy intimacy that satisfies a psychology of sanctuary from the frozen wastes outside.
"Our experience traveling in Greenland is that people keep their homes far warmer than I would keep my apartment in Copenhagen," Nelson says. "Outside it's maybe -25°C, then you come inside to this comforting warmth. A granulate gives the ceramic tile floor a stony look characteristic to Nuuk. We went up on the cliffs and laid out samples to see which fitted best."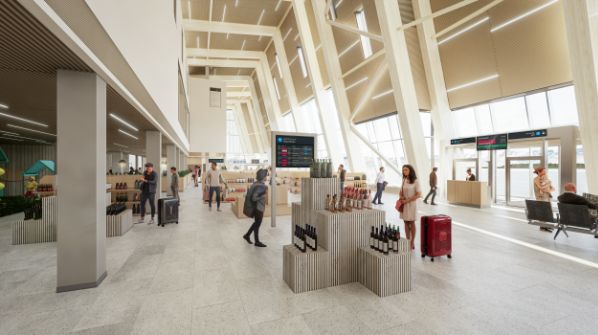 Challenging topography
Despite its name, given to the country by Erik the Red in 985 to attract fellow settlers to the frozen land, Greenland has little soil and vegetation. So to create level ground, you don't dig – you blast. "Greenland doesn't have many flat spots, so we have to make a plateau," explains Lauridsen. "We're blasting away 6,000,000m3 of rock in both Nuuk and Ilulissat, then 2,000,000m3 in Qaqortoq – 14,000,000m3 in total."
Mikkelsen adds, "I haven't seen a tree since I landed. In Nuuk, the airport is one big mountain. They break down 4m-diameter rocks into 1m-diameter rocks then eventually down into gravel, which they use for foundations. I've never seen anything like it."
Further north, construction work in Ilulissat has proceeded through an Arctic winter where temperatures of -25°C are not uncommon. This requires first building a camp to accommodate labor – a small city with housing, canteen and social facilities, even a gym. Logistical planning allows little room for error.
"Everything is sailed in from Europe or North America," continues Lauridsen. "We have no steel production. If something is missing, it takes over three weeks to arrive. Last year, Ilulissat was closed for three months because the ocean froze up. We can't just haul things in by truck."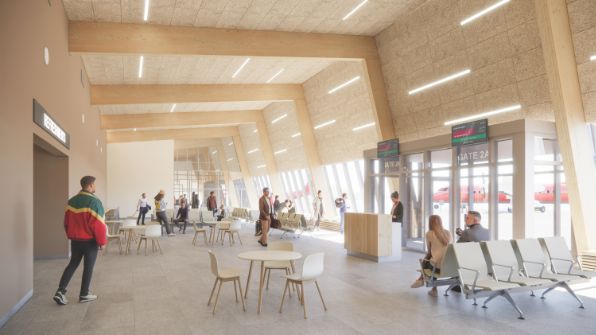 Blasting is not particularly eco-friendly, but the buildings will be. Nelson expects them to achieve a level of sustainability at least equivalent to LEED Silver simply by following the Greenlandic building code with requirements for insulation thicknesses, curtain-wall U values and heating systems far more stringent than US standards. But when it comes to low-carbon materials, the options are limited.
"Recently, someone asked me how much local material we're using," says Nelson. "I had to tell them, 'There are no materials!' There are no trees in Greenland. There's stone, but it's cheaper to ship granite from China than quarry it in Greenland. It's a crazy situation but nevertheless, the situation."
Nelson reflects on an approach to development that has tried to show humility in respecting a unique topographical and cultural context. He believes the new airport infrastructure will deliver opportunities to Greenland for growth and independence.
"Flying from Nuuk to New York today means first flying to Reykjavík or Copenhagen, then back across the Atlantic," he explains. "When the new airport opens, the flying time from Nuuk will be 15 minutes less to New York than from Copenhagen. It will be easier for Greenlanders to go to North America, which scares some people in Denmark [as they will lose business]."
Those who travel in Greenland report finding a robust, pragmatic people. In Europe, we discuss carbon emissions and limiting global warming with electric cars or sustainable fuels. But Greenlanders can already see the ice retreating. Infrastructure will mean they are ready for a new, warmer age in which Greenland is open for business.
This article originally appeared in the June 2023 issue of Passenger Terminal World. To view the magazine in full, click here.