Michelle Brantley, Aviation Capital Program Management – Development Manager, Seattle-Tacoma International Airport, discusses the dark art of successful project development when renovating an existing terminal facility in advance of her presentation on this subject at Passenger Terminal Conference 2019. 
Describe your presentation?
This presentation explores the unique challenges of renovating existing terminal buildings in constrained environments. As airport infrastructure around the world ages, there is a need to renew and modernize existing facilities. Development of these projects should not be rushed, even if many airport owners/operators might be pressed for time to meet the needs of increased passenger traffic and evolving security and operating protocols. Purposeful and thorough project development is the first step to designing and delivering successful projects.
Can you give some examples of the 'unique challenges' you refer to?
When planning a new airport terminal, limitations can include current (or planned) airside separation minimums and height restrictions; landside connections and property setbacks; existing neighbors that can't relocate; and maybe topography.  But when you are renovating an existing facility in a constrained environment, you are often limited to the existing footprint, existing structural support systems, vertical circulation cores and other building infrastructure.
In addition, you usually must be able to continue to operate in the building during construction.  Many terminals were built for a very different passenger experience than we have today, and functional areas like check-in and security screening must often be rearranged to make the most of the space you have.  That can be a massive challenge.
There is rarely a 'perfect' plan for renovating an existing facility. This could be one of the reasons why many US airports have built new terminals to replace old (Denver International in the 90s, Detroit Metropolitan in 2008, New Orleans in 2019) rather than renovate existing facilities.  But the owners and operators of many of the world's oldest passenger airports don't have a choice. Passenger traffic is way up, new sites haven't been identified for replacement airports and the cities have grown up around the current properties and restrict the ability to build new terminals in the current property footprint. This is the case in Seattle where our Master Plan won't be able to deliver a new terminal for another decade.
Although we aspire to meet all IATA ADRM (Airport Development Reference Manual) standards for optimal passenger experience, the constraints of renovation frequently force us to find other standards and minimums. We might benchmark against other airports or look to push the limits of new technology or modify operating agreements to maximize efficiency in current spaces. Unfortunately, all the stakeholders won't be satisfied, let alone happy, with the results of your planning effort. That is why the planning and development of these projects must be done thoroughly and methodically in constant consultation with key stakeholders.
How is SEA-TAC's own renovation progressing, and what feedback have you had from stakeholders?
We have completed the plan and are now working toward implementation. There is widespread support for the plan. Even though we could not give everyone what they wanted, there is no stakeholder opposition. This is because we kept them involved every step of the way. They understand the need and reasoning behind the final plan and they are all committed to making the projects successful. Everyone has been able to negotiate their must-have's and has been willing to be flexible in other areas.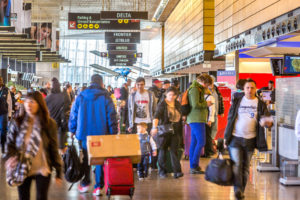 The implementation of the plan has been broken up into 15 distinct project areas to accommodate ongoing operations and to allow for flexibility as we step through each phase.  When we plan to design and construct in this step-by-step way we can accommodate any changes in the passenger flow or processing that occur and implement lessons learned in each of the successive projects. Everyone from the airport director, to behind the scenes operations and administrative personnel, to frontline customer service and maintenance staff know what's coming and feel invested in the success of the projects that will optimize our Main Terminal Space.
Michelle Brantley, Aviation Capital Program Management – Development Manager, Seattle-Tacoma International Airport, and Eileen Francisco, Senior Manager, Aviation Capital Programs, Seattle-Tacoma International Airport, will give a joint presentation titled Successful project development when renovating existing terminal facilities at this year's Passenger Terminal Conference, which takes place during Passenger Terminal Expo, March 26, 27 and 28, 2019, in London. Register here for your delegate pass.