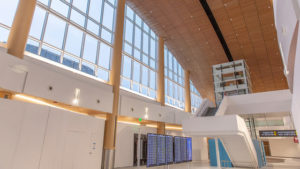 The Port of Seattle has opened five new gates as part of the first expansion phase of the North Satellite Modernization Project at Seattle-Tacoma International Airport, Washington.
Opening the 201,000ft² extension for limited services will enable construction to continue while giving passengers early access to more room and seating with built-in charging stations. New concessions will open in February and March, including Bambuza Vietnamese Kitchen, Caffe D'arte, The New Stand, and Skillet.
"Passengers will be thrilled with the open spaces, natural light and incredible views in the expansion," said Lance Lyttle, managing director of Sea-Tac Airport.
"The new North Satellite makes a dramatic comparison to the old 46-year old facility. This project shows how high we are raising our standards on sustainability and efficiency while celebrating what we love about the Pacific Northwest."
North Satellite holdroom
Those traveling through the expanded North Satellite will experience an open space with a wood-clad clerestory roof that enables filtered sunlight into the center of the building. The development looks to invoke a Northwest sense of place with earth-toned textured finishes in carpeted holdrooms, each with a view of the airfield and mountains.
For the grand opening this summer, the Port and Alaska Airlines will unveil an upper level mezzanine, additional gates, and the Alaska Lounge.
"We are excited about this first important step in the transformation of the North Satellite into a modern, world class facility," said Shane Jones, vice president, airport real estate and development at Alaska Airlines.
"We look forward to continuing our close partnership with the Port of Seattle to complete the remaining phases of construction, including a new flagship lounge that is expected to open in the first half of 2019."
All operations in the North Satellite will transition to the new expanded section by June 2019 at which time the current facility will be closed and renovated over the following two years to match the new facilities.
Full renovation of the existing North Satellite will be complete in 2021 with double the dining and retail space and 20 new and renovated gates, which is eight more gates than the current facility.
Michelle Brantley, Aviation Capital Program Management – Development Manager, Seattle-Tacoma International Airport, and Eileen Francisco, Senior Manager, Aviation Capital Programs, Seattle-Tacoma International Airport, will give a joint presentation titled Successful project development when renovating existing terminal facilities at this year's Passenger Terminal Conference, which takes place during Passenger Terminal Expo, March 26, 27 and 28, 2019, in London. Register here for your delegate pass.