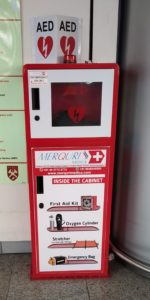 GMR Hyderabad International Airport Ltd (GHIAL), the operator of Rajiv Gandhi International Airport in Hyderabad, India, has installed seven Cardiac Emergency Resuscitation Stations (ERS) under its new signature program, #PassengerIsPrime.
The stations have been set up to provide immediate assistance to any visitor hit by sudden cardiac arrest and with strategic locations in the domestic Security Hold Area (SHA), international SHA, check-in area, domestic arrivals, international arrivals and the airport village.
Each ERS has an automated external defibrillator, an emergency bag with tracheal intubation, an oxygen cylinder, first-aid kit and a stretcher, all packed inside the compact cabinet. Regular training sessions are now being provided to the airport community, with more than 100 volunteers from airport stakeholders so far.
The airport also has a 24/7 medical center with 17 emergency beds, operated by Apollo Hospitals Enterprise. The center has trained doctors, paramedics and a pharmacy, as well as three ambulances.