Adelaide Airport has unveiled a A$165m (US$123m) expansion project for its main terminal, which will upgrade international arrivals and departures and provide more retail and dining options for both domestic and international travelers. Work will begin immediately following the appointment of Watpac as the project builder, with completion scheduled for 2021.
Mark Young, managing director, Adelaide Airport, said, "Our aim is to provide a seamless, connected experience from the time you drive into the airport until you board your aircraft, and vice versa.
"Since we opened the existing terminal in 2005, our overall passenger numbers have increased by close to 50%. Our international passenger numbers alone have almost tripled over the same period.
"This expansion will allow us to be fit-for-purpose based on our future growth forecasts. It's expected the workforce on this project will reach 200 at the peak of construction."
International upgrades include a second, longer baggage belt for arrivals, more space for emigration and immigration processing, expanded security screening, a larger duty-free precinct for arrivals and departures, and expanded dining and retail options.
Gate 18 will become a permanent international gate and will be the focus of the improved retail and boarding facilities. Other international gates will continue to utilize Adelaide Airport's unique swing gate system to allow both international and domestic operations.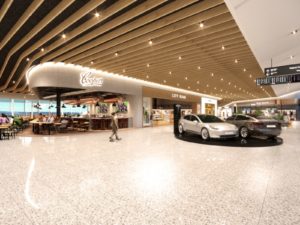 The expansion will also see a complete refurbishment of retail areas, resulting in an 80% increase in the overall size of the terminal's retail and dining precinct.
Other improvements include a new common-user premium international lounge; VIP facilities for international arrivals and departures; relocation of the Virgin Australia Lounge; and expansion of office space for terminal tenants including airlines and regulatory agencies.
Rob Chapman, Adelaide Airport Chairman, said, "Creating additional space will open up more options when negotiating new services and destinations with international airline partners. This is by far our biggest infrastructure project since the completion of the existing terminal in 2005."