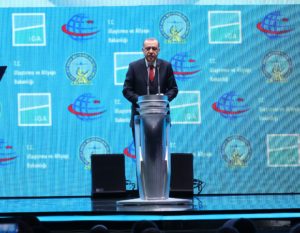 Istanbul New Airport – Turkey's new €7.5bn (US$8.5bn) flagship airport – was officially opened today (Oct 29) by Turkish President Recep Tayyip Erdoğan (left), following four years of construction and nearly two years of operational readiness and airport transfer (ORAT) preparations.
Capable of serving up to 90 million passengers annually, Istanbul New Airport has the potential to overtake London Heathrow as Europe's busiest airport, with plans to further increase capacity to 200 million passengers annually once fully complete in 2025.
Istanbul New Airport will host flights to more than 350 destinations and will be supported by approximately 143 passenger boarding bridges, 468 check-in desks, 114 self-service check-in kiosks, 228 passport control counters and 51 bag-drop units.
The three ORAT trials undertaken in the lead up to the opening involved more than 9,000 volunteers, nine aircraft and several thousand items of luggage.
Operator IGA also consulted with Copenhagen and Incheon airports as part of the ORAT project and assembled a team comprising eight consultants, 60 specialists and 100 operational staff, all with aviation experience from airports, airlines and ground handlers.