Los Angeles World Airports (LAWA), in partnership with the City of Los Angeles Department of Cultural Affairs (DCA), has announced two new site-specific mural installations at Los Angeles International Airport (LAX). The new murals can be found in Terminal 7 and the connection between Terminals 7 and 8.
In Terminal 7, Tofer Chin's new mural, Intentions, greets departing airport guests at the United Airlines ticketing lobby. Through the use of form, color and scale, Intentions encourages viewers to reflect on both their physical surroundings and their inner emotional state. The mural is on view for the public until September 2019.
Chin's mural features an abstract urban landscape of bold shapes and a spare paint palette of white, black and bright apricot. The shapes emulate shadows of buildings, and the glow of the apricot color is reminiscent of Los Angeles's vivid sunsets. For Chin, who was born and raised in this city, the spirit of Los Angeles shifts at sunset as the metropolis's iconic atmospheric light changes and becomes filled with deep oranges and pinks.
Displayed in the corridor connecting Terminals 7 and 8, Renée Fox's 200ft-long(61m) intricate mural, Songs of Freedom: Renée Fox + WriteGirl, pairs delicate graphite drawings of different species of local and regional birds with poetry by young writers mentored by the non-profit organization WriteGirl.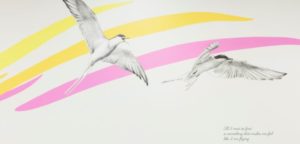 This stunning mural collaboration was curated by Elizabeta Betinski and is on view for ticketed guests until early February 2020. WriteGirl is a creative writing and mentoring association that promotes creativity and self-expression to empower girls.
The exhibition's premise is based on the concept of call-and-response: a form of communication in which the speaker's 'calls' are punctuated by the responses of the listeners. After viewing Fox's art, 27 girls wrote haikus inspired by the artist's detailed drawings of birds in motion. The 36 haikus are interspersed throughout the hallway along with Fox's 34 large-scale, meticulously hand-drawn birds placed against colorful painted streamers.
"Los Angeles World Airports is creating dynamic and thought-provoking public spaces at LAX by showcasing the city's vibrant contemporary art scene and creating a unique sense of place at the airport," said Sarah Cifarelli, Director of LAX's Art Program.
"We are excited about these collaborations with talented local artists who are bringing their fresh voices to our art program."