Vinci Airports has been testing the world's first entirely contactless, biometrics-based traveler experience at Lyon-Saint Exupéry Airport in France. Idemia interviews Pascal Deborde, project manager at Lyon-Saint Exupéry Airport, to find out more about Phase 1 of the contactless passenger journey that was launched on October 5, 2020, and the new experimentation phase that will further improve the passenger journey and will start at the end of 2023.
Can you tell us about the biometric experience project?
It is the world's first, remote, smartphone-based traveler biometric registration. It provides travelers with a smooth, contactless experience, from ID enrollment to boarding. On a voluntary basis, travelers enroll from the comfort of their homes using the biometric experience (BE) proposed by Mona, an app provided by Vinci Airports in Lyon-Saint Exupéry Airport. After the initial ID verification at the airport, travelers no longer need to present their documents. They can fast-track through the automatic gates using their face biometrics – this is Phase 1.
The one-year trial started on October 5, 2020, for inter-EU flights. It was aimed at travelers departing from Lyon-Saint Exupéry Airport to Lisbon, Porto and Corsica through three airline partners: TAP Air Portugal, Transavia and Air Corsica.
The technology behind this solution is provided by Idemia, which is working alongside Resa Airport Data Systems – a leading airport systems integrator. Thus far, Idemia has provided a biometric self-registration kiosk, biometric and document capture SDKs, five biometric gates and two standalone MFACE devices.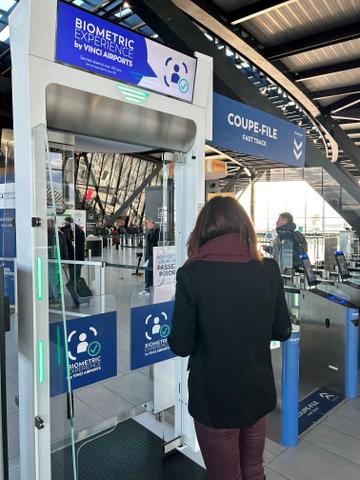 After more than two years of trialling the biometric experience, what have the results been so far and what observations have been made?
From the outset of the project, there was substantial passenger interest, especially as it helped streamline their trip and therefore reduce anxiety that is often associated with airports and flights. The figures speak for themselves! The number of volunteer passengers grew steadily: in October 2020, 8% of passengers used the BE, and by May 2023 it was 25%; 92% of passengers were satisfied and 96% intended to use the biometric experience again for future trips.
Traveler data privacy is always a priority, and this project is no exception. Once travelers' data has been validated, it is securely stored on their smartphones for subsequent trips, enabling them to keep control of their data at all times.
In addition to passenger satisfaction, the BE has demonstrated an indisputable operational gain. For example, you do not need to have all passengers of a flight enrolled in the biometric system to see an improvement in the boarding process. If 52% of passengers use the BE, then the boarding time is reduced by 50% and if only 30% use it, there will still be a visible reduction in the boarding time.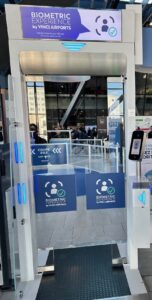 What will be included in the extension of the pilot program?
As a first quick win, we will continue to promote remote passenger enrollment through the app to simplify the opt-in process (for the moment, most passengers are using on-site enrollment). We are planning to add innovative field-proven technology that will not only further streamline the traveler's journey, but make sure that all processes are foolproof and airtight. For example, when travelers enroll remotely, Idemia's identity proofing platform will authenticate the ID document and ensure that it does indeed belong to the person claiming the identity and that all the details are correct.
At the airport, Idemia's traveler identity management platform will enhance the management of travelers' unique biometric tokens, enabling them to breeze through airport touchpoints faster than ever before. Finally, the biometric boarding will be extended to all airlines departing from Lyon-Saint Exupéry Airport. This will ensure the consistency of the process and significantly increase operational benefits.
These platforms will also increase the level of security for airports, considerably facilitate airport agents with their daily tasks and fast-track the traveler's journey. Additionally, Idemia and Lyon-Saint Exupéry Airport are working closely to ensure that the project extension meets the stringent data privacy regulations.