Approval has been granted by the Australian government for the construction of the A$72m (US$47.8m) Queensland Regional Aeromedical Base at Brisbane Airport in Australia. Construction of the base is set to be completed in 2024.
The 14,470m2  multi-tenanted facility will be located between Brisbane Airport's two runways to accommodate faster access for the Royal Flying Doctor Service (RFDS), LifeFlight and Queensland Health. The new base will include a state-of-the-art short stay bay including 12 patient beds enabling overnight stays prior to transfer, if necessary, as well as a dedicated patient transfer facility where patients can be moved onto or off aeromedical aircraft out of the elements, in a clinical environment. This new base will act as a gateway for more than 5,000 Queenslanders who are aero-medically transferred to Brisbane's tertiary hospitals from right across the state each year.
It will also feature hangers for airplanes, helicopters, administration and a medical base for regional patients and donor transfers. The LifeFlight facility will accommodate the combination of two medically configured Challenger 604 fixed-wing aircraft and two AW139 helicopters in a purpose-built hangar.
Construction of the new Queensland Regional Aeromedical Base will support an estimated 200 jobs. Tenders for the project will be called by Brisbane Airport Corporation in the coming fortnight. The Royal Flying Doctor Service employs more than 400 people in Queensland and operates 20 aircraft, with its Brisbane base a pivotal link to eight operational bases across the state.
The Queensland government continues to provide major support for the RFDS and LifeFlight to assist with their contributions to the Aeromedical Base, as well as a A$334m (US$$334m) 10-year commitment to the Royal Flying Doctor Service to enable it to care for the people of regional and remote Queensland.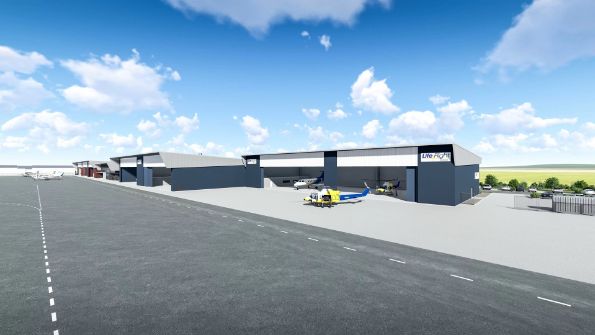 Meredith Staib, CEO of the Royal Flying Doctor Service (Queensland Section), said, "The new aeromedical facility will be unlike anything seen in the state before. For 95 years, the Flying Doctor has been looking at innovative ways to deliver even greater levels of patient care and increase the efficiency of healthcare delivery, and with this new, state-of-the-art patient transfer facility and short stay bay, will be able to do just that."
Jim Elder, deputy chair of LifeFlight Australia, commented, "This joint hub will be transformational for the aeromedical network in Queensland, housing our world-class service alongside our colleagues at RFDS and QGAir. To also have the strong and effective coordination of Retrieval Services Queensland based at the same facility, will be integral to continuing smooth operation, as the demand for aeromedical services grows. This is a fantastic outcome for the future and those who will benefit most, are the people of Queensland; especially those in remote and regional areas who rely on services such as ours to ensure they have access to the same levels of medical care, as those who live in our urban centers."
Martin Ryan, executive general manager of commercial at Brisbane Airport Corporation, commented, "Brisbane Airport plays an essential role in the 24/7 connection of Queensland to urgent medical care. The Aeromedical Base will bring all providers together into one innovative world-class hub, with a transfer facility providing patients on the move with the very best clinical care possible."
To find out more about Brisbane Airport's latest developments, click here.