Restaurateur HMSHost has partnered with tech startup Airport Sherpa to provide passengers with app-based mobile food ordering and delivery across several North American airports.
The Airport Sherpa app enables travelers to order all types of food and beverages from anywhere inside the airport and have it delivered right to their gate or lounge.
"Airport Sherpa is a powerful technology and service solution that brings great convenience to the traveler journey," said Jim Schmitz, vice president of innovation, HMSHost.
"We are excited to implement Airport Sherpa as we are constantly looking for ways to enhance the dining experience for our busy, tech savvy guests."
Since launching at Baltimore/Washington International Thurgood Marshall Airport, Maryland, in 2017, Airport Sherpa has delivered thousands of orders to passengers and airport employees. The entire experience is personalized and based on each traveler's itinerary, including flight time, gate location and flight connections. The app even adjusts automatically when a user's flight is delayed or when a gate change occurs.
Patrick DellaValle, co-founder, Airport Sherpa, said, "We live by the mantra that the traveler experience is paramount, so we built this technology to revolve around the needs of our users.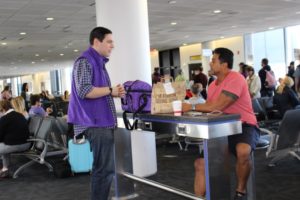 "For example, if a traveler is looking for foods to suit a specific diet, great local cuisine or a gift for someone special, and there is nothing appealing within the vicinity of the gate, Airport Sherpa is their guide to the airport's hidden treasures. We are extremely excited to bring this technology to HMSHost customers."
Integration with HMSHost operations will initially expand the Airport Sherpa service within BWI Marshall where Airport Sherpa is already available and will quickly introduce the technology with strategic airport partners throughout the USA. Apple and Android users can download Airport Sherpa for free in the App Store and Google Play.
Interested in learning more about how technology can enhance retail and F&B? Check out the 'Commercial Development, Retail, Concessions & Media' stream at the Passenger Terminal Conference, which takes place during Passenger Terminal Expo, on March 26, 27 and 28, 2019, in London.