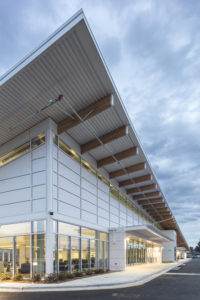 Architect HOK and construction firm The Walsh Group have completed the new two-story Concourse D Annex, opened at the north end of Seattle-Tacoma International Airport's (Sea-Tac's) main terminal.
The 32,400ft2 (3,010m2) building adds six passenger hold-room gates, concession stands, free wi-fi, a children's play area and charging stations for personal devices.
Lance Lyttle, managing director at Sea-Tac Airport, said, "Although it serves hardstand operations, it looks and functions like a traditional terminal. In fact, it rivals or exceeds the offerings in some of the airport's other hold-room areas."
The glass façade makes the most of natural light, while a light color palette for the interiors further contributes to the open and relaxed atmosphere. The distinctive glue-laminated (glulam) timber truss system constructed from locally sourced Douglas fir trees adds to the Pacific Northwest aesthetic and significantly reduces the building's carbon footprint. A glass art installation with blown-glass pieces representing spring, summer, winter and fall will soon be suspended from the pavilion's ceiling in four prominent locations.
"The elegant, beautiful form of this simple building evokes the joy of flight," said Alan Bright, senior design principal with HOK. "One of our inspirations for the design was the majestic great blue heron. The design creates a beautiful, day-lit open pavilion with an expressed structure. Integrating natural materials from the local landscape provides a calming, enjoyable experience for travelers and the people who work here."
Todd Buchanan, project manager and practice leader for HOK's Seattle studio, added, "The Port of Seattle is a great client that created an environment of trust and collaboration among all team members. This teamwork enabled us to design and build the Annex within the tight budget – and in just 18 months."
The Annex is expected to become North America's first airport terminal building to achieve Silver certification through the USGBC's LEED v4 for Building Design and Construction green building rating system.
In addition to the extensive day-lighting, sustainable design strategies include use of locally sourced materials; highly reflective roofing materials that decrease the heat island effect; a rainwater management system that recycles water run-off from the sloped roof to irrigate the native landscaping; and air curtains and a radiant floor heating system that reduce energy use and help maintain a comfortable indoor temperature. The team recycled 95% of the construction waste. By relieving congestion at the airport, the new Concourse D Annex reduces fuel use by airlines and saves greenhouse gas emissions.