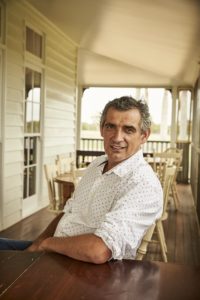 Michelin-star chef Bruno Loubet (left) has confirmed that his new healthy-dining concept Seeds will open at Brisbane Airport, Australia, in late 2018. The opening is part of the airport's A$40m (US$30m) redevelopment program for the Domestic Terminal.
Owned and operated by concessionaire Airport Retail Enterprises (ARE), Seeds offers fresh, natural and sustainable food including poke bowls, fruit salads, smoothies, juices and coffee.
Brisbane Airport will be the first airport in Australia to open a Seeds offering, which promises to deliver some of Bruno Loubet's famous salad and dressing recipes from his high-end restaurants.
Andrew Brodie, general manager, airline and retail management, Brisbane Airport Corporation (BAC), said, "Consumers are much more conscious of their diet than they were a decade ago and they expect and deserve to have the best food and beverage (F&B) offerings available to them at the airport.
"Not only does Seeds deliver an exciting menu that complements what is currently on offer in our Domestic Terminal, by using locally sourced produce the team at Seeds will literally be serving up the essence of Queensland with their colorful, nourishing and refreshing options."
John Chapman, CEO of ARE, said, "We are extremely excited to be continuing our partnership with BAC by bringing Seeds by Bruno Loubet to Brisbane Airport. BAC has always challenged its retailers as to their offerings and ARE will continue to put forward alternate style partnerships that will help redefine the food culture in Brisbane Airport."
ARE operates a number of other F&B stores on-site including Bar Roma, Bar Corretto, Graze, Hungry Jacks, Gateway, NRG Express, Subway, Velocity and Wok on Air.