Airport operator Los Angeles World Airports (LAWA) has unveiled a new automated payment system for parking structures near the Tom Bradley International Terminal at Los Angeles International Airport (LAX), California.
Customers exiting Parking Structures 3 (P3) and 4 (P4) now have the option to pay their parking fees by credit or debit card using new exit lanes. Starting next month, travelers also may pay by cash or card at conveniently located 'pay-on-foot' machines inside the garages before returning to their vehicles. This is the first time LAX will have an automated payment collection system for parking.
Keith Wilschetz, deputy executive director operations and emergency management, LAWA, said, "At LAX, one of our four strategic goals is to innovate for safety, security and efficiency, and the new automated payment systems at P3 and P4 will help us do just that. This new parking payment system, which will improve the guest experience by speeding up transactions and reducing wait times, is just one more way that LAWA is bringing in technology and improving our systems to create a more efficient travel experience at LAX."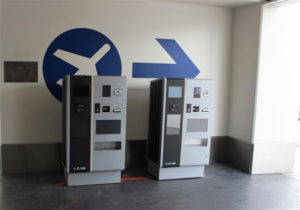 Parking Structure 7 (P7) will be equipped with the same technology later this spring, and a similar system is now in place at Economy Lot E.
Due to ongoing construction for the LAX Automated People Mover (APM), P3 and P7 will have four exit lanes and P4 will have five exit lanes.