Fort Lauderdale-Hollywood International Airport (FLL), Florida, has partnered with specialist Amadeus to facilitate biometric boarding of flights for all international departures.
The upgrade is said to deliver a touchless boarding experience while complying with US Customs & Border Protection Agency (CBP) requirements for all international travelers to biometrically validate they have departed the country.
The system uses facial-recognition technology to allow international travelers departing Fort Lauderdale to scan their face instead of a boarding pass. The airport notes that the system is capable of not only biometrically verifying the passenger with CBP, but also matching the passenger with their booking and automatically boarding the passenger in the airline's Departure Control System (DCS), delivering a fully contactless experience at the boarding gate.
Spirit Airlines is the first carrier at FLL to start boarding its international flights using the touchless procedures. Passengers are verified to depart when they step in front of a 'Biopod' from Amadeus company ICM Airport Technics. The Biopods are installed at 14 of Spirit's traditional departure gates in Terminal 4.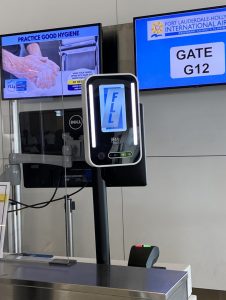 Each Biopod has a high-resolution 3D camera and secure encrypted connectivity to the CBP Traveler Verification System (TVS), where the image captured at the boarding gate is matched against the images stored by the CBP.
The service complies with privacy regulations as no personal biometric data is stored by Spirit, the airport, other airlines or Amadeus. When passengers are successfully verified, a unique, tokenized identity representing that specific traveler is generated and the airline is alerted to the fact that the passenger is boarding the plane and their seat.
Betros Wakim, President Airport IT Americas, Amadeus, noted, "Our mission is to deliver a safer and more streamlined passenger experience. We have therefore built an end-to-end and scalable biometric solution that is flexible enough to deploy any biometric hardware device from check-in kiosks to self-bag-drop devices to biometric boarding gates. The solution is easily integrated with airline systems allowing an airport to rapidly add biometric capability."