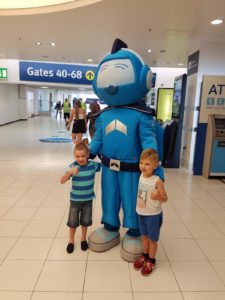 Birmingham Airport in the UK has enlisted the support of travel retail and staffing agency Blackjack Promotions to produce a series of family-friendly events and activities to celebrate the re-launch of its renovated SkyZone area.
The new look SkyZone – the airport's interactive and educational children's play area – was officially launched at the end of July to coincide with the start of the school summer holidays.
As part of the initiative, Blackjack Promotions supplied staff to appear as the airport's mascot Zoom and his friends, the Sky Cadets. The costume characters supported a range of creative sessions which allow children to create their own summer visors and have a temporary tattoo, as well as take selfies with the characters before boarding their flights.
Stuart Haseley-Nejrup, head of customer experience, Birmingham Airport, said, "Working with BlackJack has been a great experience, they have embraced our vision and created an exciting and interactive week of activities for children of all ages that our customers have loved. I look forward to working with them on similar projects in the near future."
Hamilton Sargent, contentainment and World Duty Free Group (WDFG) account manager at Blackjack Promotions, said, "We collaborated on activity that drove the airport's focus of placing the passenger at the heart of everything they do.
"Children and adults alike were surprised and delighted by the events with our team members. We look forward to creating more moments of magic in the future for this exciting and innovative airport."
As part of the celebrations, families are being encouraged to take the best family picture and upload it to social media using the hashtag #bhxskyzone to be in with a chance of winning a family hamper.