SSP America has opened the Jim Stump's Taproom + Kitchen restaurant in Terminal B at San José Mineta International Airport (SJC) in California.
Although this airport location is the restaurateur's sixth establishment across the South Bay, Jim Stump's Kitchen + Taproom is Stump's first namesake establishment and is the first of nine permanent concepts to be delivered by SSP America under its new SJC contract. The new restaurant, located near Gates 23 and 24, serves breakfast, lunch and dinner and is open from 6am to 9pm daily. It's the latest project delivered and operated by SSP America, a division of SSP Group. The gastropub-style menu features favorites that have made Jim Stump a favorite South Bay chef, from a light and tasty quinoa and kale salad to his trademark Bolognese. Adding to the local flavor, a list of craft beers, cocktails and wines includes San José-based J. Lohr Vineyards & Wines as the house brand.
Matt Mahan, Mayor of San José, said, "I'm thrilled to welcome Jim Stump's Taproom + Kitchen to SJC. Jim has a history of providing great food and unparalleled service in San José and can now share his culinary talents with the 11 million travelers that pass through our airport each year. SJC's commitment to showcasing the most innovative local business owners is exactly why we have the best airport in North America."
John Aitken, director of aviation at SJC, said, "Today, we cut the ribbon not only on a wonderful new dining experience at SJC but on a new opportunity to showcase the great talent generated right here in San José. It's another chance to serve our passengers with the world-class customer experience they have come to love and expect at our airport. My thanks go to Jim Stump and SSP America for their partnership, and to our airport team for their work to bring this vision to life."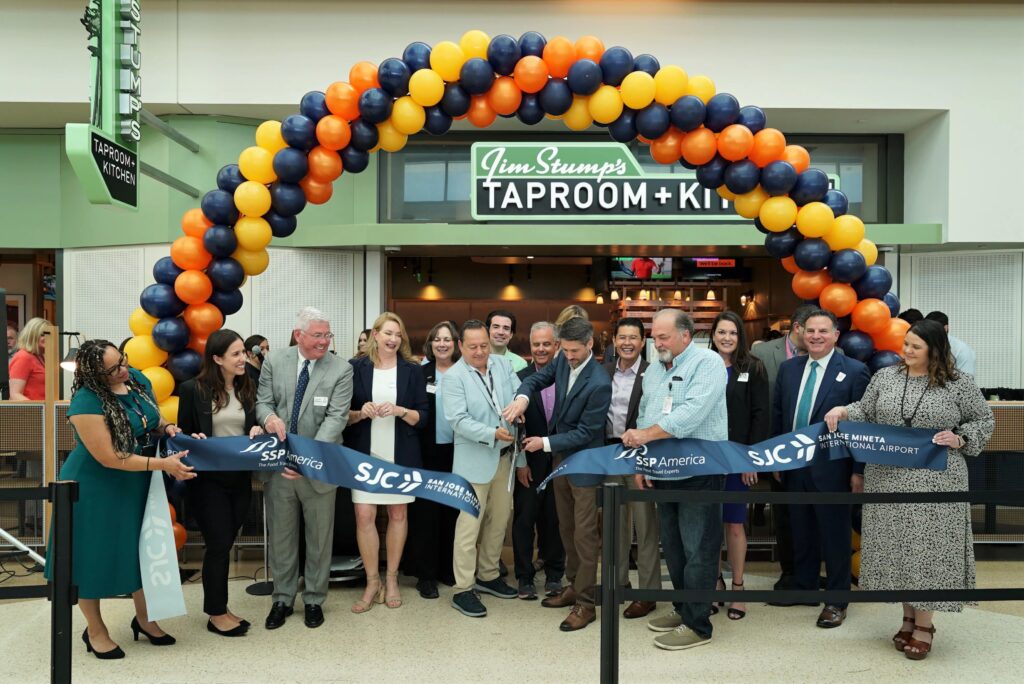 Paul Loupakos, senior vice president of business development and airport retention at SSP America, commented, "This is the first of the concepts we will develop here at SJC, and we're truly looking forward to a continued partnership with the airport team. Chef Jim Stump has been a fantastic partner and is a true culinary legend in the South Bay area. We couldn't be more delighted to bring a 'taste of place' to SJC with him."
Rebekah Bray, SJC's principal property manager, responsible for the airport's concessions program and tenant contracts, noted, "SSP America's acquisition of the airport concessions contract in 2019 presented us with an opportunity to reimagine our program, provide concepts that resonate with our passengers, and reflect the look and feel of Silicon Valley. The program includes concepts that showcase local and well-recognized chefs such as Jim Stump. SSP America's partnership with Jim Stump and J. Lohr Vineyards & Wines has resulted in a wonderful sense of place and a warm, family-friendly environment at the airport that draws the local community together and creates a memorable airport dining experience that we're proud to offer to travelers."
The City of San José in California also recently approved a contract for a dedicated transit system, named the Diridon-Airport Connector, to connect the city's transportation hubs – Diridon Station and San José Mineta International Airport (SJC). Find out more here.