Hospitality group OTG has announced it is to open two food and beverage concepts in the United Airlines Concourse B-East of Denver International Airport in Colorado – Starbucks and Sunset Loop Bar & Grill.
Sunset Loop Bar & Grill is a new concept curated specifically for Denver International Airport that celebrates the Mile High City's local food culture. It will be an all-day dining experience offering health-conscious cuisine and traditional American fare, with a locally sourced menu overseen by Denver-based chef Daniel Young. Young has spent the past 40 years in the Denver food scene and is an expert in creating healthy meals that are high in protein and low in carbs and fat. His proficiency in nutrition led him to his current role of more than 15 years as the personal chef of the Denver Nuggets basketball team.
Young's dishes will be served in an open space inspired by the Denver sunset – warm woods, rich materials and elegant brass and black metal accents are set against a hand-painted tile mural depicting the Sunset Loop trails, the restaurant's namesake series of hiking routes found in White Ranch Park in Golden, Colorado. The centerpiece of the restaurant will be a bar with over 30 seats. There, travelers will be able to relax and have signature cocktails inspired by the city, as well as a rotating menu of beers from Denver's famous craft beer scene, including Colorado Cider Company, New Belgium Brewing Company and Lone Tree Brewing.
In addition to bar seating and dining tables, Sunset Loop Bar & Grill will offer a 67ft market with locally sourced products and prepared foods for travelers in a hurry, as well as an adjacent communal seating area, where guests will be able to order dishes from the restaurant's menus while waiting at nearby gates. In the corner of Sunset Loop Bar & Grill will be a signature Starbucks with a sculptural build inspired by the natural rock formations found across the Colorado mountains. This location will be fully outfitted with mobile ordering capabilities, ultimately enabling travelers to place their coffee orders in advance and cut down on time spent waiting in line. The coffee served will be a product of responsible farming and purchasing practices and a company committed to reducing its environmental footprint.
OTG's hospitality concepts within Concourse B-East will be powered by its flo Xgen technology, which enables customers to place their food and beverage orders through a mobile platform across all OTG restaurants and retail markets. From wherever the order is placed, the platform's contactless payment ensures users can complete their transaction with either a credit card, Google Pay, Apple Pay, Venmo, PayPal or their United airline miles, all with one click. The technology aims to streamline travel for customers while easing operations in terminal restaurants.
Rick Blatstein, CEO of OTG, said, "OTG is passionate about introducing new culinary concepts that echo the airport's sense of place and serve as a true extension of the community's food scene. We are excited to partner with local community organizations and celebrate the chefs, farmers, brewers and purveyors that have turned Denver into the mecca of culinary innovation that it is today. Coupled with OTG's technology innovations, we're confident that Concourse B-East will be both a seamless and enjoyable experience for travelers and employees alike and assist Denver International Airport with its goal of serving 100 million annual passengers."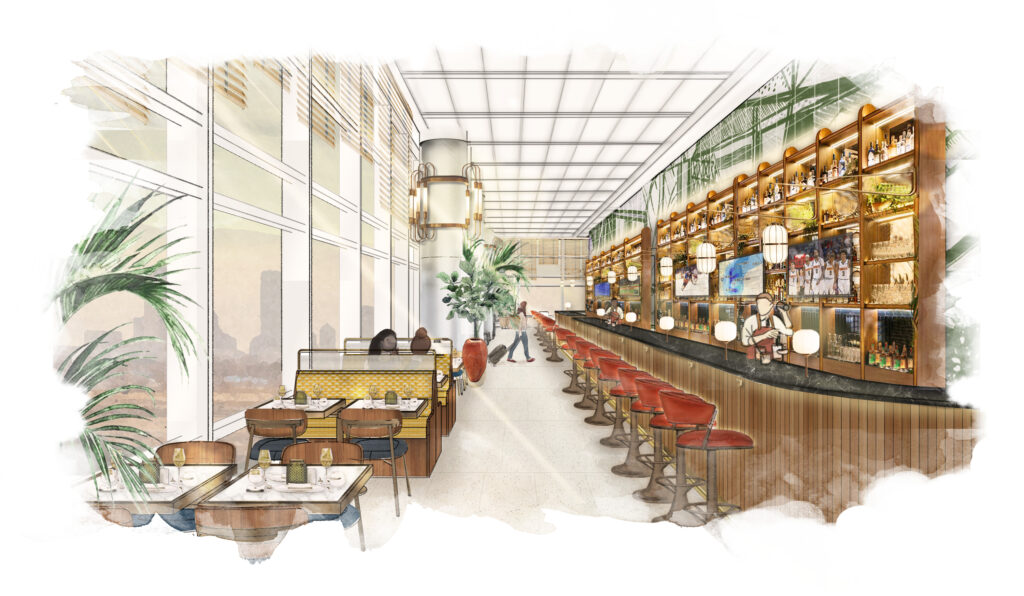 "Food is my life's passion, and I'm fortunate to have built a vibrant culinary career right here in the Colorado Rocky Mountains, where we enjoy a wealth of healthy and sustainable ingredients," said chef Daniel Young. "Whether you're departing from or passing through Denver, Sunset Loop Bar & Grill will be the perfect stop along your journey to experience a delicious selection of dishes and cocktails that truly reflect this region and all the natural resources it has to offer."
"We are excited to partner with OTG as they bring a fun, new concept to our airport," said Pam Dechant, senior vice president of concessions at DEN. "We're always looking for ways to make traveling through DEN a breeze, and the ability to bring mobile ordering to our passengers takes service to the next level."
For more key food and beverage updates from the passenger terminal industry, click here.