Airport lounge company Airport Dimensions has partnered with JPMorgan Chase & Co. to bring their first domestic Chase Sapphire Lounge by The Club to Boston Logan International Airport in Massachusetts.
This Chase Sapphire Lounge by The Club has been designed to offer a localized experience for travelers. The 11,640ft2 lounge provides dedicated areas for recharging, including two wellness rooms that feature anti-gravity massage chairs and guided meditations from master well-being educator and healer Devi Brown; two dual-head shower rooms; and all-gender restrooms stocked with Apotheke products. The space features artwork from Boston-based artist Silvia López Chavez, and offers views of the Boston Harbor and the Boston Logan airfield. The dining experience includes menu items from Boston chef Douglass Williams (of Boston's MIDA and APIZZA), a taproom offering local craft beer, and coffee from Atomic Coffee Roasters of Beverly, Massachusetts. The centerpiece bar serves wine and cocktails, as well as made-to-order and ready-to-eat food options.
The lounge will be available to Chase Sapphire Reserve card members that are enrolled as members of Priority Pass. Priority Pass Members without a Sapphire Reserve card can use their membership entitlements, both inclusive and Pay As You Go, for one visit per calendar year, in addition to future visits for both members and guests at a discounted rate. Chase Sapphire Reserve card members will also continue to enjoy Priority Pass Select membership.
"My entire career has been spent in the travel industry, I have visited many airport lounges, but this experience is like no other," said Nancy Knipp, president of Airport Dimensions Americas. "From the moment I stepped off the elevator, I realized we are setting a new trend in airport lounge hospitality. Guests are greeted by an attentive team that actively connects and engages, enhancing their journey. Hats off to the Airport Dimensions and JPMorgan Chase & Co. teams who successfully aligned to bring Chase Sapphire Lounge by The Club to life! It is gratifying to introduce this industry-leading, innovative lounge to the US market."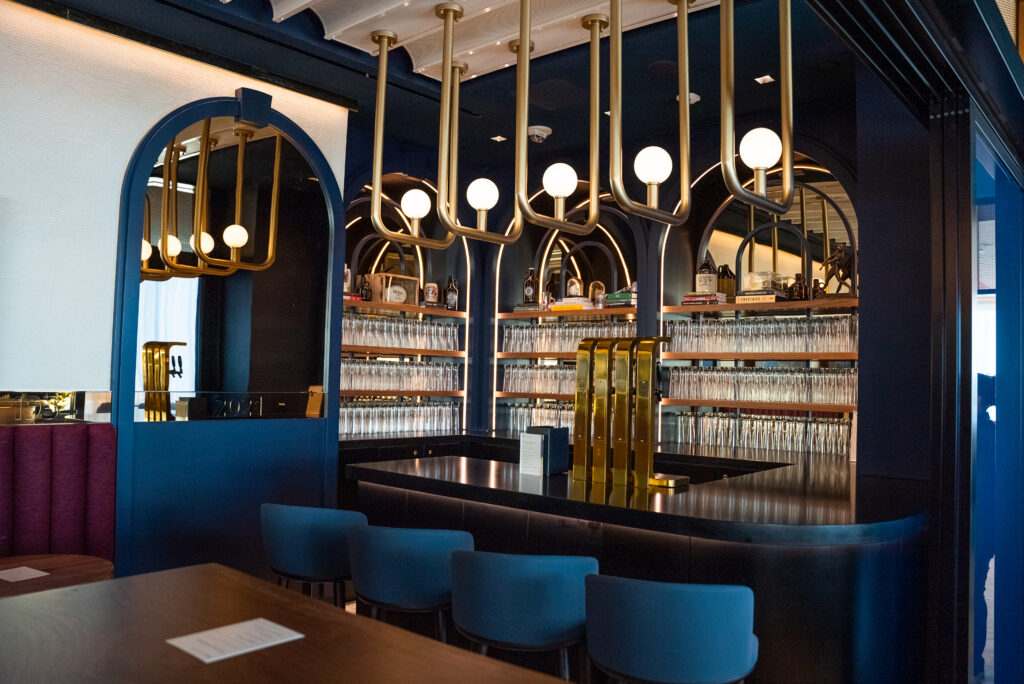 Ed Freni, aviation director at port authority Massport, said, "We are excited to partner with Chase and Airport Dimensions to celebrate the opening of the Sapphire Lounge by The Club at Logan Airport. Spaces like this one will enhance the travel experience for all passengers including the thousands of visitors that come to New England to enjoy everything the region has to offer."
Dana Pouwels, head of Chase Sapphire Partnerships, said, "Chase Sapphire is leading the charge when it comes to creating one-of-a-kind opportunities for its travelers and our new lounge in Boston paves the way for Sapphire's benefits to enhance our card members' airport experience. Sapphire Reserve card members are travelers by nature, so we're upgrading their travel journey with elevated airport lounges that unlock new dining, wellness and cultural experiences."
To read more about Boston Logan International Airport's modernization project, read Keri Allan's case study feature, here.
Keri Allan's case study feature originally appeared in the April 2023 issue of Passenger Terminal World. To view the magazine in full, click here.